How Sandra Oh Really Feels About Her Grey's Anatomy Past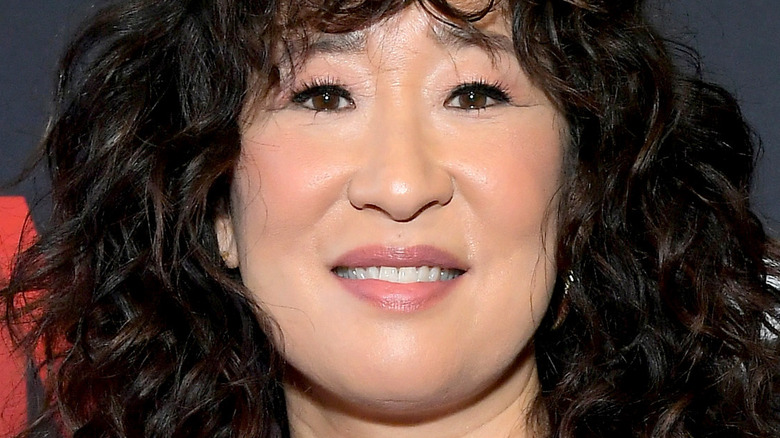 Charley Gallay/Getty Images
Though Sandra Oh has racked up an imposing list of film and television credits in her now decades-long acting career, it's safe to say she's best known for her roles in ABC's long-running medical drama "Grey's Anatomy" and the spy thriller "Killing Eve." The latter series wrapped its four-season run on BBC America in April 2022. While the final season of "Killing Eve" proved divisive among fans (per Forbes), the series arguably featured some of the best work of Oh's career.
However, fans of the former series might argue that point, given that Oh was a bona fide fan favorite during her "Grey's Anatomy" tenure, appearing as Dr. Cristina Yang in 220 episodes of the show prior to her 2014 departure. While some Cristina scenes go too far, fans love them. Along the way, both Oh and her character became legit icons in terms of Asian representation in Hollywood (via The Grassroots Journal). And yes, Oh's exit was a surprise to the "Grey's Anatomy" fandom. As for why Oh left the show that made her a household name, the actor candidly admitted to The Hollywood Reporter in 2013, "Creatively, I really feel like I gave it my all, and I feel ready to let [Cristina] go."
It seems "Grey's Anatomy" fans have had much more trouble letting go. So much so that Oh still gets asked whether or not she'll return. And in a recent interview, she clarified her feelings about "Grey's Anatomy" and the possibility of her return. 
Oh has mixed feelings about her time on Grey's Anatomy
Fear not, "Grey's Anatomy" fans; Sandra Oh apparently has no significant axes to grind with the series. Though she noted in a 2021 interview with the Today show that the sudden loss of anonymity that accompanied her rise to stardom on the show proved a major personal challenge, Oh has mostly spoken with sincere fondness of her time on "Grey's Anatomy" over the years. And she continued to do so during a 2021 interview with the Los Angeles Times' "Asian Enough" podcast.
During the interview, Oh was asked about her time on the show and openly admitted what a unique experience it was for her, gushing, "It was just such a privilege to play [Cristina] for a decade." She continued, "It's very rare, I would say, to be able to see in such a way the impact of a character ..." Oh was also asked whether she'd be open to returning to "Grey's Anatomy" as several former co-stars did in Season 17. Unfortunately, she shut down the possibility with a resounding, "Oh my gosh, no!" before stating in no uncertain terms that her time on "Grey's Anatomy" is indeed over, "... in my mind, it's gone. But for a lot of people, it's still very much alive. And while I understand and I love it, I have moved on."
That statement will surely crush the hearts of "Grey's Anatomy" fans who've been missing Cristina Yang. But at least they can take solace in knowing they'll always be able to have a good laugh and cry with the quippy character in reruns.