Sylvester Stallone Kept Two Adorable Props From The Original Rocky Film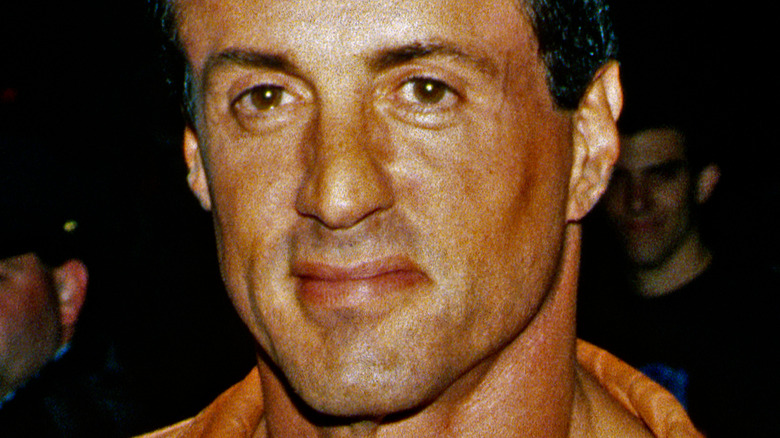 mark reinstein/Shutterstock
It's very common for stars to take something with them when a show or movie comes to a close to honor the memory of that production. Of the many things Sylvester Stallone kept from his days as Rocky Balboa, two props stand out as absolutely adorable keepsakes.
Stallone has had an illustrious career spanning several decades with a smorgasbord of credits. Over the years, he has played all kinds of tough guy roles, but he has also never been afraid to show his emotional side. Indeed, Sylvester Stallone has cried on camera more than a few times. Whether it's regrettably starring in "Stop Or My Mom Will Shoot" or entertaining audiences as the wartorn hero in the "Rambo" movies, there is no shortage of titles to watch starring the Oscar nominee. 
But the franchise that he is most known for is, without a doubt, the Rocky Balboa saga. The six "Rocky" films have gone on to spawn the Academy-award nominated spin-off "Creed" and the critically acclaimed sequel "Creed II" (via Rotten Tomatoes), both starring Michael B. Jordan. Notably, Stallone has kept several items from the sets of his films, many of which he has auctioned off in the past (via Reuters). But two props he kept from his tenure as Rocky Balboa were simply too precious for the Italian Stallion to ever part ways with.
Sylvester Stallone kept Rocky Balboa's pet turtles Cuff and Link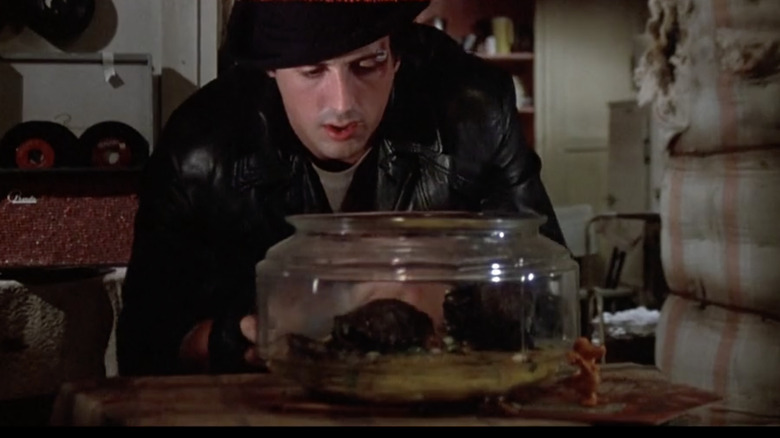 MGM Studios
Sylvester Stallone kept the titular fighter's two turtles from the 1976 feature "Rocky." Their names are Cuff and Link, and they were first introduced in the film when Rocky Balboa (Stallone) first gets home. He feeds the two and brings his fish, Moby Dick, over so the three can have a meal together. In the story, Rocky purchases them from Adrian Pennino (Talia Shire), and in the story, they share a sweet moment when he reintroduces them at his place.
Fans probably don't know that Stallone kept them in real life for over 40 years. In 2019, he posted a selfie on Instagram with the two swimming in their tank in the background. According to Stallone's caption, he estimates the two to be about 44 years old. It's no secret that Stallone has a big heart, especially regarding animals. In 2017, he also posted on Instagram about his dog Butkus, who was featured in "Rocky II" and "Rocky III." When the actor was at a very low point, he was forced to sell the dog for $40, only to buy back his K-9 companion for $15,000 after he sold the script for "Rocky."
The actor also revealed that the dynamic turtle duo made their presence known in "Creed II," where they reprised their roles as the former champion's pets. Rocky has kept them in his corner for good reason. Like their owner, Cuff and Link are part of cinematic history, with appearances in very well-received franchises solidifying their status as champions in their own right.