The Embarrassing Price Is Right Moment That Fans Find Incredibly Relatable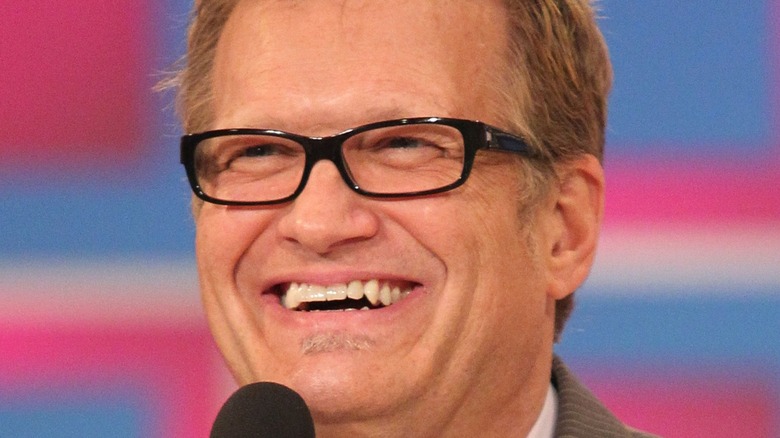 Frederick M. Brown/Getty Images
With a whopping 50 seasons under its belt, "The Price Is Right" has forever etched itself into television history as the de facto game show GOAT — with legendary moments, iconic hosts, and kooky contestants providing decades of entertainment to the daytime masses. And if there's one thing that people have loved most about "The Price Is Right," it's the unexpected humor.
Now yes, CBS does record the legendary game show in advance and then airs it at a later date, leaving room for editing and outtakes. But a lot of times, the hilarity and wholesomeness of a certain on-air flub or mess-up will make it into the final taping in all its awkward glory. Take Henry, an 85-year-old contestant from 2012, for example. 
After being called up and winning the "One Bid" round, Henry made his way onto the "Price Is Right" stage and proceeded to fall forward onto the ground and onto his knees — causing one of his teeth to lurch free and go flying (via YouTube). "My tooth came out!" the man said immediately, laughing, before planting a giant kiss on Drew Carey's cheek. "That's not the only person missing a tooth that's ever kissed me," Carey joked. The incident is just one example of all the fun and wacky times to have happened on "The Price Is Right" over the years. Getting embarrassed is just all part of the fun,  and if there's anyone who knows that, it's 2022 contestant Kari Kinder, who some fans believe had the most awkward — and relatable — gaffe in "Price Is Right" history.
Woman loses $8K and a brand new car, then fails to find the Price Is Right exit
It's a hilarious moment that happened during a February 2022 episode of "The Price Is Right," which featured mother-of-two Kari Kinder competing for a chance at $8,000 and a brand new car (via Inside Edition). After failing to win the Big Wheel round, Kinder was supposed to exit stage left off-camera, as all contestants do. But for some reason, she just couldn't find the exit. 
"Getting lost on the 'Price Is Right,' now that's priceless," Kinder told Inside Edition after clips of her flub up went viral. The poor mom tried repeatedly to find the official exit, even walking to the back of the stage and looking around at one point — all while the cameras were still rolling. 
"What I'm thinking is, I just lost $8,000 and a brand new car, so I'm just trying to get the heck off the stage," Kinder recalled. "The poor producer in the back behind the stage is whisper-screaming at me, 'This way, this way, no that way, no this way!'" Despite the embarrassment, most viewers and people on social media sympathized with Kinder and the relatability of the situation. "I feel her. She is me with life," wrote one YouTuber. "She took an awkward situation and made it funny," another said. "What a legend."