Did Disneyland Attendance Ever Bounce Back After The Pandemic?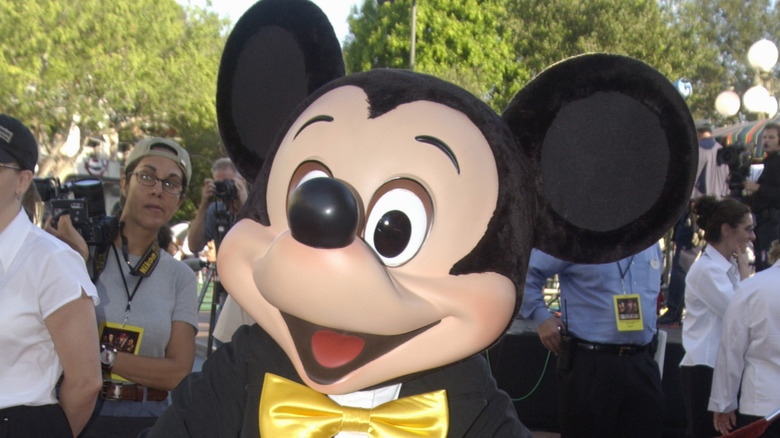 Featureflash Photo Agency/Shutterstock
Before Walt Disney World resorts and theme parks dotted the globe, and well before Disney+ teamed up with Marvel Studios to conquer the content world, there was Disneyland — a 160-acre park in Anaheim, California, containing a modest assortment of rides and attractions. In July of 1955, as PBS reports, almost half of America (at the time, over 80 million people) tuned in to witness ABC's live broadcast of the newly-minted amusement park's invitation-only pre-open. 
In less than three months, attendance reached one million, and in just five years, the park would be welcoming five million visitors annually. In the spring of 2006, Disneyland welcomed its two billionth guest: 12-year-old Emmalee Mason, of Colorado Springs, Colorado (via Orange County Register). That the park was, and remains, a wildly successful attraction darn near goes without saying. Unfortunately, even the "happiest place on earth" was not immune to the devastating impact of the Covid-19 pandemic, and in 2020, Disneyland temporarily closed its doors to the public. 
The shutdown, initially intended to last only through the end of the month, was not unprecedented. The 1963 assassination of President John F. Kennedy and the events of September 11, 2001, prompted similar pauses (via Washington Post). What was unprecedented, of course, was the duration of the closure: for 412 days beginning in March 2020 and ending in April 2021, Disneyland remained shuttered (per USA Today). It was a hard pill to swallow for the park, though the numbers suggest it's slowly regaining its former magic. 
COVID-19 had a major impact on Disneyland
As the above graph from Data Herald reveals, following Disneyland's 25% capacity re-opening (for California Residents only) in April of 2021, the park's foot traffic sat at around 4,500 guests daily. That number would dip to just over 4,000 by June, though by July (after Disneyland increased its capacity and welcomed out-of-state guests, per CNN), nearly 6,500 people were enjoying the park once more. 
Still, this was still a mere 14.8% of the park's pre-pandemic average of around 44,000 guests per day (via PBS), and foot traffic would continue to decrease throughout the remaining summer and into the fall. In November of that year, smack dab in the middle of the Delta and Omicron variants' arrivals in the U.S. (via CDC), park attendance reached a secondary low-point of fewer than 5,000 guests.
By February, numbers crept back up to over 6,000 people, but the park was, and remains, adamant about keeping an eye on its capacity.
Disney CFO explains why quality is better than quantity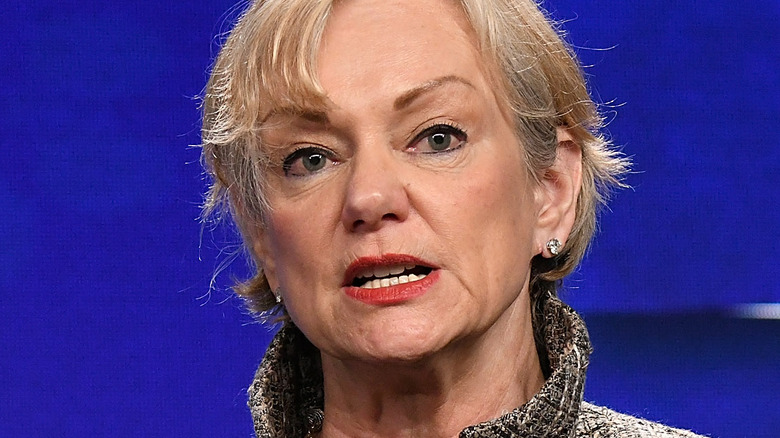 Michael Kovac/Getty Images
In March, Disney CFO Christine McCarthy reiterated the park's intentions while at Morgan Stanley's 2022 Technology, Media & Telecom Conference (per Orange County Register). 
"We don't want to have the parks bursting at the seams," she said, adding that the ticket reservation system introduced following the shutdown makes for a better guest experience. "It allows us to better balance load throughout the year, throughout the week, throughout the month," she said, calling the system "a toggle for how we're going to manage attendance." 
All this may seem to work against the park's ability to turn a much-needed post-pandemic profit. After all, as numerous outlets, including GBR, have estimated, it costs millions of dollars a day to operate even Disney's smallest park location. Surprisingly, McCarthy says Disneyland should do just fine with less foot traffic, shorter lines, and fewer pile-ups. "If you're having a good time, you're probably inclined to spend more money and that has been [our experience] since we've reopened," she told conference-goers.
Thus, while Disneyland may never return to its 2019 guest count (a year wherein the park welcomed almost 19 million guests, per Statista) it appears to be bouncing back in an entirely new, if decidedly less crowded, way.