House Of The Dragon Creators Tease The Scenes They're Most Excited For Fans To See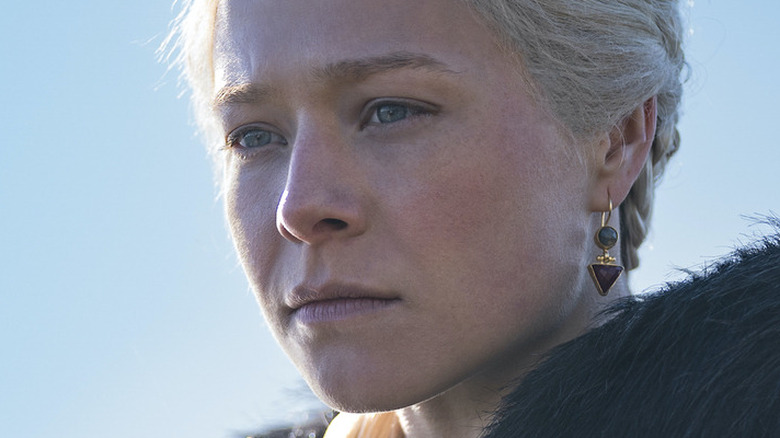 Ollie Upton/HBO
At this point, it's no secret that HBO's "Game of Thrones" prequel series has a lot of people talking. 
"House of the Dragon" takes place over 200 years before the events of "Game of Thrones," and focuses on the bloody history of the Targaryen family — who, at the time, still control a large number of dragons. Specifically, the series will chronicle the events which eventually lead to the "Dance of the Dragons," a civil war between opposing factions within the Targaryen family. One side will rally around Rhaenyra Targaryen (Emma D'Arcy) and the other will support Alicent Hightower (Olivia Cooke) and her son, King Aegon II (Tom Glynn-Carney). 
As fans of "Game of Thrones" might expect, this war is fraught with political intrigue, a multitude of betrayals, and numerous large-scale battles which involve (you guessed it) dragons. With that in mind, it's no surprise that "House of the Dragon" is filled with plenty of jaw-dropping moments that are sure to excite audiences around the world — and, indeed, the series' executive producers actually teased a few of these moments during a press event for the series.
Miguel Sapochik teased a scene which appears in the trailer for House of the Dragon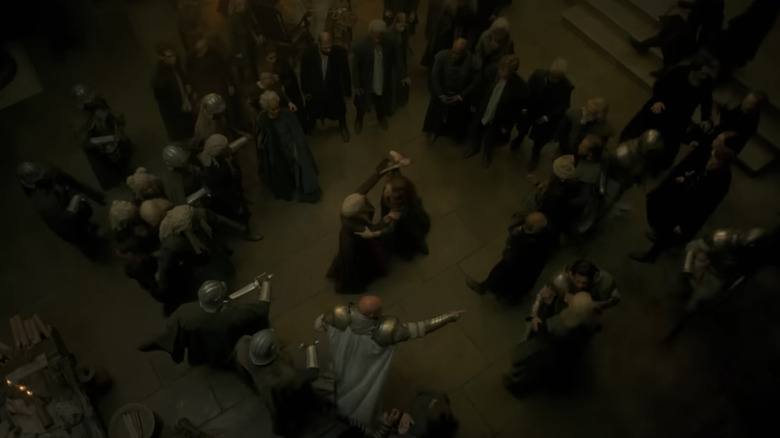 HBO/YouTube
During a recent HBO press event promoting "House of the Dragon," series creator Ryan J. Condal and executive producer Miguel Sapochnik detailed a few of the scenes they were most excited for fans to see — some of which will no doubt sound familiar to those who have read the books.
Sapochnik, for his part, teased one particular scene from Episode 7, which he simply calls "eye for an eye" (a phrase derived from an extremely important letter within the books). Sapochik described how the scene allowed actors Emma D'Arcy and Olivia Cooke to, in his words, "Go at each other for the first time, in a fit of rage that's been building for seven episodes." Sapochik said that shooting the scene was extremely enjoyable, and that both actors gave absolutely phenomenal performances, with Sapochik fondly remembering how D'Arcy finished nearly every take with puffy eyes.
For fans with keen eyes, Sapochik also confirmed that this particular scene appears in the July 20 "House of the Dragon" trailer, when we see Alicent Hightower (Cooke) attacking Rhaenyra Targaryen (D'Arcy) with a dagger while armed guards circle around them.
Ryan J. Condal is excited to hear people's reactions to one particularly shocking scene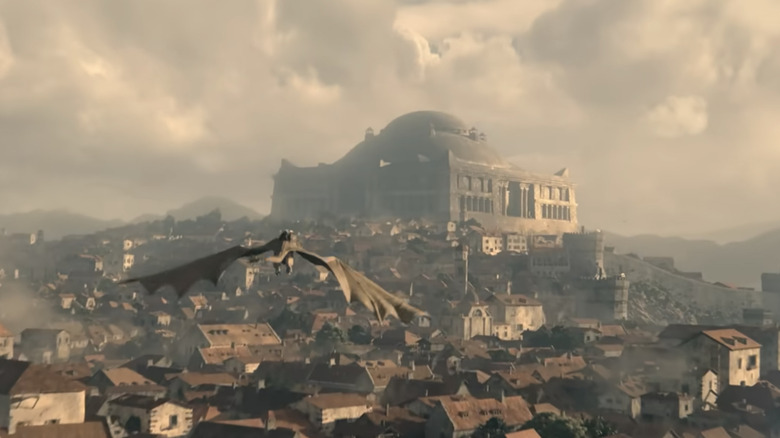 HBO/YouTube
Meanwhile, Condal — who created the series with author George R.R. Martin, and serves as an executive producer alongside Miguel Sapochik — chose to be a bit more secretive in describing which scene he was most excited to see on screen. "There's a particular one that I'm thinking of in Episode 8, that is a hearing over a certain succession," Condal said. "Not for the throne, but for something else, that involves all the members of the cast and everybody comes into the room carrying a lot of baggage from all of the things that happened over the course of the season."
Condal described how this scene in particular was a massive undertaking that required multiple days to shoot, particularly as they needed to cover the perspectives of all the characters who appear at once. He asserted that seeing this particular scene stood out to him because of the shocking way it ends, which he thinks will be, in his words, "On the list of the top five most memorable moments of 'House of the Dragon.'"
Although Condal did not come right out and say which particular scene he is referring to, it's nice to know that "House of the Dragon" is continuing the "Game of Thrones" tradition of stunning audiences with its incredibly shocking plot twists. In any case, the enthusiasm with which Condal and Sapochik speak of these scenes shows that they are just as excited for the series as all the die-hard fans out there.