Big Bang Theory Fans Can't Get Enough Of This Off-Screen Moment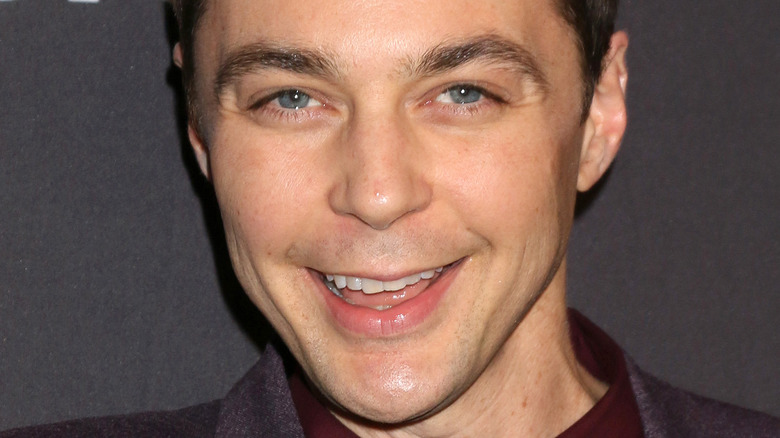 Kathy Hutchins/Shutterstock
For 12 seasons, viewers tuned in to watch the hilariously nerdy antics of Sheldon Cooper (Jim Parsons) and his friends on "The Big Bang Theory." Despite these beloved brainiacs experiencing the occasional tiff (especially when someone sits in Sheldon's spot on the couch), they're ultimately there for one another. But what about the real-life relationships of the actors who brought these characters to life?
While filming the sitcom and afterward, portions of the group have united off-set to enjoy a side project, special event, or simple hangout together. For example, Mayim Bialik, who plays Amy Farrah Fowler, and Johnny Galecki, who portrays Leonard Hofstadter, attended Penny actor Kaley Cuoco's wedding in 2018 (via TV Insider).
Professionally, Parsons executive produces "Call Me Kat" alongside Bialik, while the latter called on Simon Helberg, the man behind Howard Wolowitz, to star in her drama, "As They Made Us." The gang also doesn't forget important dates in each other's lives. In 2020, Kunal Nayyar, who plays Raj Koothrappali, wished his "sis" Cuoco a happy 35th birthday on Instagram.
It's clear that the emotions exuded on the final day of filming weren't just for show – real connections were formed on the CBS set. Nayyar told Variety, "There were more tears shed than words said." While each off-screen interaction among cast members is a special one for fans to witness, there's one in particular that truly tugs at the heartstrings.
Kaley Cuoco couldn't contain her excitement over Jim Parsons' Golden Globe win
Throughout "The Big Bang Theory," Penny and Sheldon have a love-hate friendship. Their personalities couldn't be more opposite, but at the end of the day, they're always there for one another. Who could forget when Penny sings "Soft Kitty" to a sick Sheldon? Or when Sheldon helps Penny get dressed after she dislocates her shoulder? This duo's on-screen bond may be odd at times, but in the real world, the actors' appreciation for one another isn't awkward at all.
In 2011, Kaley Cuoco and Matt Bomer presented the Golden Globe for best performance by an actor in a television series – comedy or musical, with the nominees including Jim Parsons for "The Big Bang Theory," Steve Carell for "The Office," and other industry giants. Cuoco opened the card and exclaimed, "And the Golden Globe goes to ... oh my God, Jim Parsons!" As her co-star of about four years gave his speech, Cuoco stood on the side of the stage holding back tears, hand over her heart.
On Reddit, many "Big Bang Theory" fans gushed over this moment. Redditor u/owlberightbach said, "So touching and genuine – made me teary eyed." Redditor u/MinutesTaker said, "That was so wholesome. They have such chemistry even off[-]screen." Redditor u/jackonager praised, "Genuine love for her cast mate." Redditor u/Kyle_Tomp added, "When co-stars become friends is quite honestly the best thing ever."
Cuoco and Parsons are truly supportive of each other in real life
The touching Golden Globes interaction is only one example of Jim Parsons and Kaley Cuoco's sibling-like dynamic. In an interview with E! News at the 2017 Screen Actors Guild Awards, Cuoco expressed mock annoyance when Parsons revealed he'd be sitting at the "Hidden Figures" table rather than the "Big Bang Theory" table. Parsons replied, "You shut up."
Parsons and Cuoco know how to poke fun at each other but also show mutual, unyielding support. Joking about Cuoco walking off set if she were ever to be told "no," he claimed, "I would go with her, though, so I'm not the one to ask." He also applauded her fashion choice for the evening: "Few people have ever looked better — and maybe no one. I don't know who picked this dress, but they are a damn genius."
Even when Parsons told the cast and crew that he couldn't continue with "The Big Bang Theory" after Season 12, Cuoco was understanding of his decision. Despite being willing to film a 13th season (or more), Cuoco refused to move forward without Parsons. She told Variety, "That was the one thing we all agreed on — we came in together, we go out together." Cuoco also praised Parsons, as well as Johnny Galecki, Simon Helberg, and Kunal Nayyar, for doing the unthinkable: "They made the nerd thing cool and popular and sexy and fun. It was silly and people loved it."