The Parks And Recreation Couple Fans Think Deserved More Attention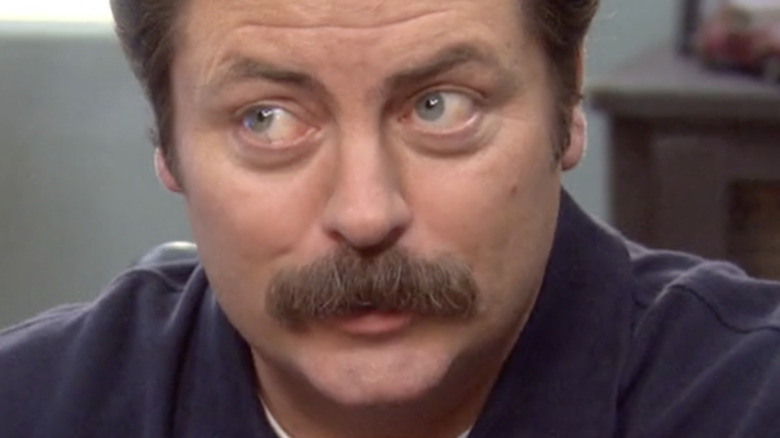 NBC
The only thing better than the individual characters on "Parks and Recreation" are the memorable couples featured throughout the show's impressive run. 
Fans got to watch the blossoming relationship between Ben Wyatt (Adam Scott) and Leslie Knope (Amy Poehler), and the show didn't skimp on showcasing the marriage of Andy Dwyer (Chris Pratt) and April Ludgate (Aubrey Plaza). Ann Perkins (Rashida Jones) and Chris Traeger (Rob Lowe) had a decent run until Jones and Lowe left the series, and even Tom Haverford (Aziz Ansari) eventually found someone in the end. While many of the love connections that make up the show's legacy had fulfilling arcs, not everyone on the series was so lucky, and some of the couples seen on "Parks and Recreation" may have been underutilized, according to certain fans.
Despite being a loner who loves privacy more than most, Ron Swanson (Nick Offerman) has his fair share of relationships on the series. But fans think that one couple he was a part of deserved much more attention on "Parks and Recreation."
Parks and Rec fans wanted more of Ron Swanson and Diane Lewis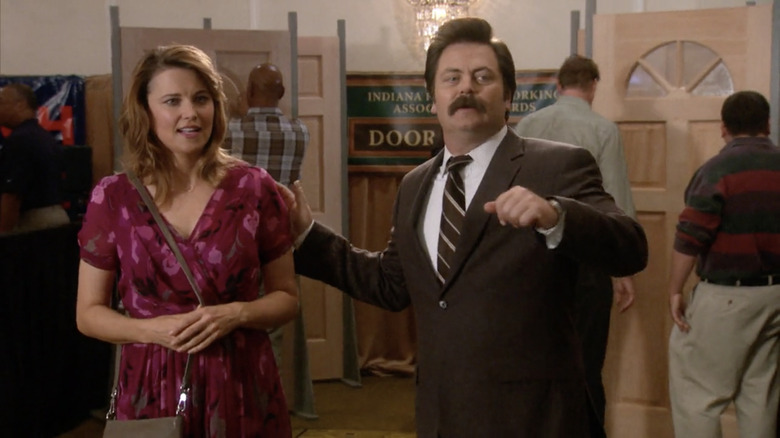 NBC
In Season 5, Ron Swanson meets Diane Lewis (Lucy Lawless), a middle school vice principal and tough-as-nails single mom. After a rocky start, the two begin dating, Diane gets pregnant, and then they finally tie the knot. However, the couple is really only seen in a handful of episodes throughout the series, and viewers don't see them on-screen together after Season 6.
Redditor u/sinopsisuty started a thread dedicated to Ron and Diane, where they pointed out that the couple is severely underrated. Several users agreed, including u/EasilyPreside726, who commented, "One of the best [couples] in the show imo." Meanwhile, u/gremlin340 stated their frustration that Diane doesn't make a single appearance in the final season of "Parks and Recreation." And u/Xumerledl posted, "Lucy Lawless is (pardon the rhyme) flawless. She is so good in P&r. She is so good. I love her and Ron."
Despite fans worrying about the state of Ron's family during Season 7, Lawless' busy schedule is the most likely reason that Diane doesn't appear in the final stretch of episodes. But she enjoyed working on the project and believes that Diane is Ron's ideal match. When speaking with Entertainment Weekly, Lawless said, "She's tough, funny, and shops at Food and Stuff. She's the perfect woman ... This is [Ron's] first mature relationship — she doesn't pervert his nature in any way. This is the sort of woman that you might want to see him with."
While they didn't have much screen time together, it's good to know that Ron and Diane will last eternally in the hearts and minds of fans and former warrior princesses.