The Stranger Things Star That Dove Into Deep Waters On Shark Week
Netflix has managed to make every season of "Strangers Things" a critically acclaimed (via Rotten Tomatoes) must-watch event for subscribers, and the program is arguably one of the streamer's most popular titles. Season 4 of "Stranger Things" was an all-out thrill ride that spanned multiple continents and dimensions that left the story with a somewhat tragic ending, setting things up for the highly anticipated final season. So far, the kids from Hawkins have dealt with a slew of nightmare-inducing creatures throughout the years, and it will be very exciting to see what horrors lie ahead in the show's final run.
Luckily, several of the show's main cast members have been fighting all kinds of monsters outside of "Stranger Things," with several options for fans to enjoy until the next chapter of the Netflix hit arrives. Millie Bobby Brown has encountered several Mind Flayer-sized foes in both "Godzilla: King of Monsters" and "Godzilla vs. Kong," and Finn Wolfhard proved he isn't afraid of ghosts in the film "Ghostbusters: Afterlife." But another talented player in the lineup boldly went headfirst into the depths of Shark Week against some of the deadliest creatures on the planet.
Noah Schnapp searched the depths for the strangest sharks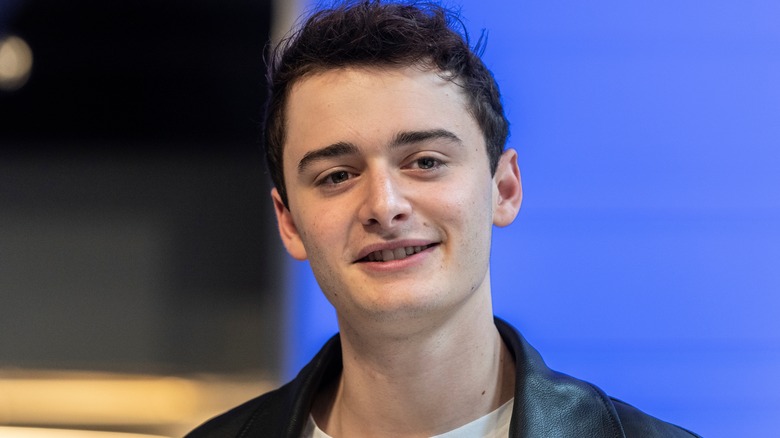 Lev Radin/Shutterstock
Noah Schnapp, who plays Will Byers on "Stranger Things," appeared on "Stranger Sharks," one of the many exciting specials in the 2022 "Shark Week" lineup with Master of Ceremonies Dwayne Johnson (via CNN). The actor was accompanied by former NASA and Apple engineer turned scientific YouTuber Mark Rober to hunt down the elusive predators, embarking on a perilous adventure in the name of science to explore the depths in search of the strangest sharks the world has ever seen (via Discovery+).
Whether he is learning how to make fish gut slushies or figuring out that the finned beasts treat GoPro cameras like candy, it's never a dull moment when the "Stranger Things" star is on the lookout for the next strange shark. A year before the episode aired, Schnapp posted an image on Instagram of himself with all his scuba gear, ready to dive into some "Stranger Sharks" fun. Rober also posted a picture on Instagram of the two after they were almost eaten alive in the Bermuda Triangle, all for the glory of Shark Week.
Visiting exotic locales and exploring undersea ruins is a step up from being stuck in the Upside Down, and after dealing with Demogorgorns and the Mind Flayer, sharks should be no match for Will the Wise. "Stranger Things" fans can sink their teeth into Noah Schnapp's shark-filled adventures on "Stranger Sharks" on Discovery+.