Stranger Things Just Cemented Two Major Viewership Records For Netflix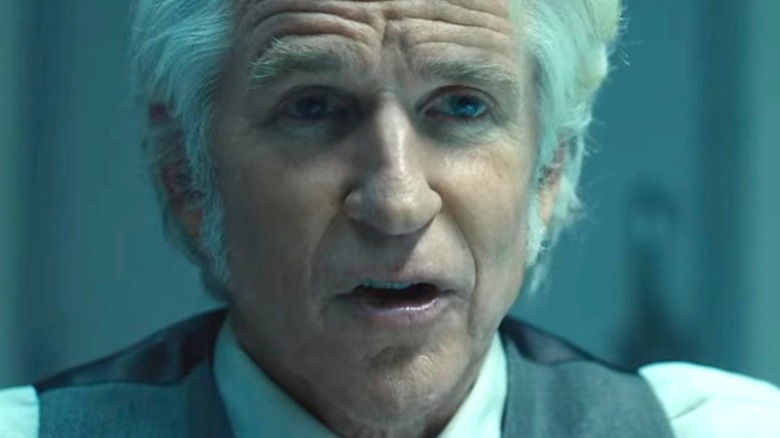 Netflix
As you've no doubt heard, Netflix's smash hit sci-fi creeper "Stranger Things" is back in a big, big way. The beloved series ended what was an excruciatingly long absence for fans in May by releasing the first volume of its super-sized 4th season. And it's safe to say the record-breaking viewership numbers for that first run of episodes (per Variety) are proof positive that "Stranger Things" didn't lose too many fans — if at all — during its three-year, pandemic-extended hiatus.
It's just as safe to say the new season of "Stranger Things" was well worth the wait too, with the ongoing battle against beastly bads from the Upside Down and the right-side-up continuing to thrill critics and streaming fans the world over (via Rotten Tomatoes). It's been a week since the second half of Season 4 made its way to Netflix, and "Stranger Things" continues to be a legitimate ratings powerhouse for Netflix. For proof of just how popular the series remains in its 4th season, Variety reported the two-part "Vol. 2" finale actually crashed the site when it was released on July 1. And with the whole of Season 4 now out in the world, "Stranger Things" has officially claimed a pair of viewership records for the streamer.
Stranger Things has become one of the biggest streaming hits in history
Netflix is, of course, no stranger to breaking such records, with Variety noting both "Tiger King" and "Ozark" claimed their own in 2020 when each claimed more than 5 billion minutes of viewing in a single week. While those numbers may have been inflated by viewers settling into the early days of pandemic-related lockdowns, that was not the case for "Stranger Things 4." And in its first week of release, the seven episodes in "Vol. 1" pushed the series to an astonishing 7.2 billion minutes of viewership.
According to the same Variety piece, that makes "Stranger Things 4" the new one-week viewership champion in the streaming realm. Even after a noticeable Week 2 ratings drop, "Vol. 1" also helped the show claim the No. 4 spot on that list. And unsurprisingly, the just-released two-part season finale is already scoring big numbers too, slotting in at the No. 5, thus giving "Stranger Things" a seriously impressive three of the five all-time top spots.
That's not the only record "Stranger Things" has set for Netflix with the release of the new season. Per a prior Variety piece published on June 14, those mind-boggling numbers make it the streamer's most-watched English-language program ever. As of this writing, however, "Stranger Things" remains in second place behind Netflix's Korean-language sensation "Squid Game" as the streamer's most-watched original program, and will likely fall short of that top spot, according to Forbes. But who knows, maybe the Hawkins gang can run up that particular hill with Season 5.