Chicago Fire Fans Don't Hold Back When It Comes To Rebecca Jones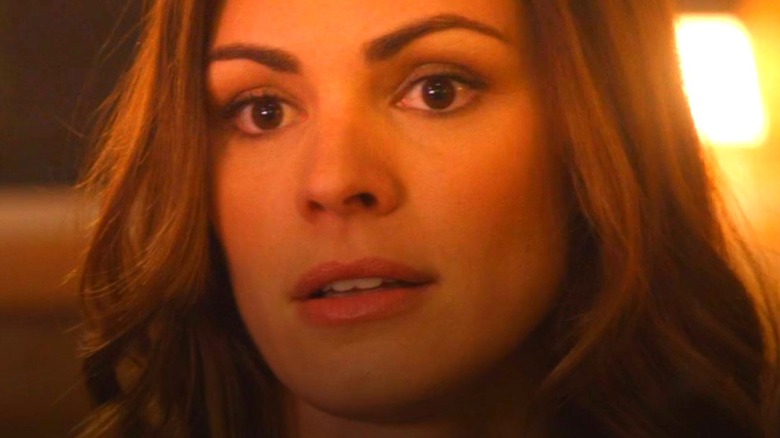 NBC
When it comes to the many memorable characters inhabiting the world of NBC's long-running hit "Chicago Fire," fans are quick to speak up when they feel anyone in Firehouse 51 is being slighted, overlooked, or poorly treated. Likewise, suppose a character in the series causes viewers' hackles to rise due to how they're misbehaving or mistreating another squad member. In that case, fans are also pleased to call them out.
In this respect, firefighter candidate Rebecca Jones, portrayed by Daisy Betts, first arrives on fans' radar in the Season 2 episode "Shoved in My Face." A relatively high-profile character in her seven episodes on the show, Jones at first pals up with Gabby Dawson (played by Monica Raymund, who left "Chicago Fire") when the two are still in training. But when Dawson catches Jones cheating on an Academy exam, their friendship goes south, even after Jones explains she only cheated to impress her overbearing father, who thinks women have no place in firefighting. Jones' tragic fate adds to the complicating factors to consider when thinking about her time on the show, and fans refuse to keep quiet about how her narrative eventually plays out. 
Fans are upset with how Rebecca Jones is treated
Overall, Chi-Hard viewers feel Rebecca Jones is never truly accepted as an equal player on the "Chicago Fire" team and that this was part of the reason the character takes her own life in Season 2. On the show's subreddit, u/moonismyonlyfriend started a discussion about Jones' fate on the show with a post titled, "What are y'all thoughts on the way Rebecca Jones was treated at 51?" adding how they have sympathy for the character being bullied. Redditor u/LowConstruction4611 agreed, saying, "I didn't like that storyline at all," explaining that even though Jones is portrayed as a driven, success-at-any-cost personality, they feel others are piling onto her. 
Yet another Reddit user chimed in that they think the show's writers generally pay too much attention to Gabby Dawson's character and that Firehouse 51 is basically "Gabby's place, and it really showed while Jones was there." They continued on to say that when things like Dawson's candidate training don't go her way, she unjustly paints Jones as the reason. The user concluded their post by explaining that while Dawson does try to make amends with Jones just before her untimely death, it doesn't matter because "[Dawson] had been pretty nasty to her basically the entire time."
If you or anyone you know is having suicidal thoughts, please call the National Suicide Prevention Lifeline by dialing 988 or by calling 1-800-273-TALK (8255)​.