Is Rudy Based On A True Story?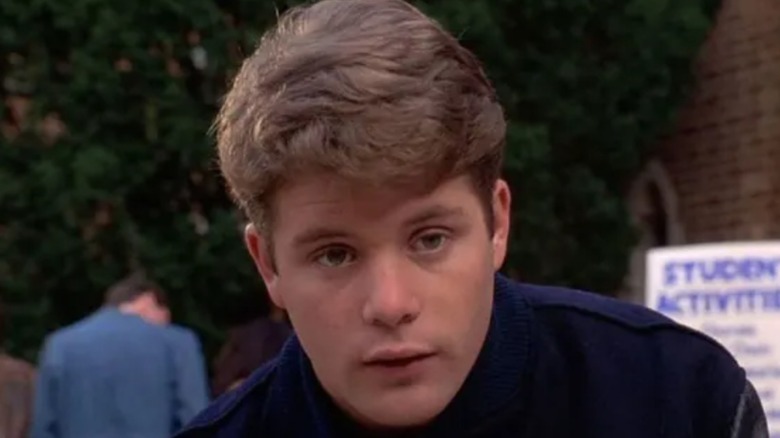 TriStar Pictures
It's a good bet that anyone watching the film "Rudy," whether it be for the first time or the 10th, will find themselves suddenly experiencing their own sense of life-changing motivation, even if it's just for a moment. Pressing play on this alleged "true story" that follows Daniel Eugene "Rudy" Ruettiger on his path to Notre Dame football legendary status may trigger not just Jerry Goldsmith's soundtrack in your head, but also the sudden conviction that nothing can stop you from reaching any lofty life goal you can possibly imagine.
However, before you start packing your duffel bag, it's best to know who the real "Rudy" was, and whether or not the film depicting his story actually represents true events. Did this 5'6" 165-pounder actually silence the countless nay-sayers who promised he would never play football for the great Notre Dame? Or did Hollywood producers and writers manipulate the story to give us all a false sense of inspiration?
The real Rudy turned tragedy into determination
TriStar Pictures
Born on August 23, 1948, Daniel Eugene Ruettiger was raised in Joliet, Illinois. Growing up among 13 other siblings, he experienced the same hardships the average blue-collar family at the time often found themselves facing. But Rudy's brother John told The Goshen News that loving Notre Dame football was something everyone had in common.
And for Rudy, simply watching the sport wasn't enough. Despite his small size, he actually thrived on the Joliet Catholic Academy football team, putting up defensive statistics that would catch the eye of most college football programs. However, it was clear to everyone that Ruettiger's physical frame would keep that from ever actually happening. Clear to everyone, of course, besides Ruettiger himself.
After a short stint in the Navy, Ruettiger went to work at a power plant. There, as he recalls vividly to ESPN, the tragic accidental death of his friend gave him the extra push needed to pursue head-on his dream of wearing that navy blue and gold uniform. However, Ruettiger soon discovered that due to dyslexia, his academic struggles would keep him from being accepted to Notre Dame right away (via USA Today).
So, focusing first on better grades, he attended nearby Holy Cross College, where he fought to improve his academic standing for two years until he was finally accepted into Notre Dame. He quickly tried out for football as a walk-on, and his inspiring strength and competitive drive landed him a spot on the scout team.
Did the film portray completely true events?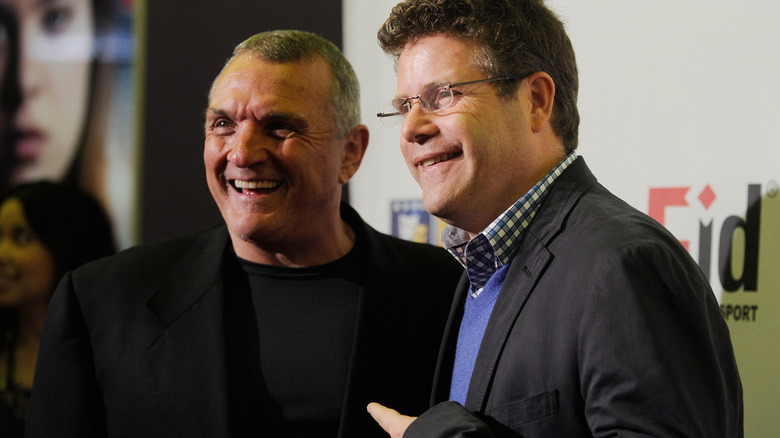 David Becker/Getty Images
According to the movie, Ruettiger gives it his all on the scout team, all the way through the final game of his college career. Up until then, he never actually gets to dress in uniform and run out onto the field. However, thanks to the protests of his teammates, the head coach is forced to give Rudy the one shot he had dreamt about. But is that how it really happened?
Well, like a lot of "true" sports movies, "Rudy" included some embellishment. According to ESPN, his fellow players did not line up at his coach's door, protesting to get him in uniform. He was simply given the chance because he earned it (which is pretty inspiring on its own). However, as the film depicts, Rudy Ruettiger was truly put in for the last play of the game against Georgia Tech on November 8, 1975. And on that play, the only one he would experience, he sacked the quarterback as time ran out — resulting in Ruettiger being hoisted off the field by his teammates to the sound of the crowd chanting his name.
So, no, "Rudy" is not 100% true. However, even when you strip the "Hollywood" away from Sean Astin's portrayal of the real Rudy, you are still left with an inspiring true story — 92% true, Ruettiger affirms to Sports Illustrated – that always seems to nudge you a bit closer to believing in your own dreams.