Stranger Things Fans Have A Brilliant Theory That Would Mean We Get To See Eddie Again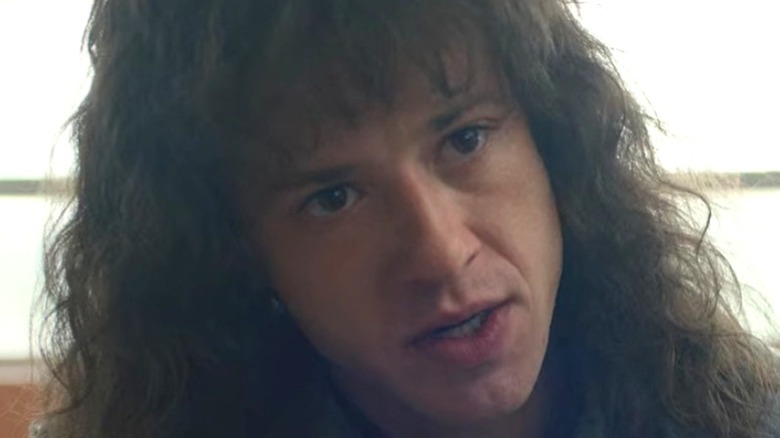 Netflix
Since its debut in 2016, "Stranger Things" has grown to a massive level of popularity, even as Netflix lost an alarming number of subscribers in the first half of 2022 (via BBC). Taking inspiration from horror movies such as "A Nightmare on Elm Street" and "The Silence of the Lambs" (via Entertainment Weekly), Season 4 has leaned further into the genre than any of the show's previous seasons.
While the change has been a jarring one, by and large, both fans and critics have cottoned to the new vibe considerably well (via Rotten Tomatoes). Undoubtedly, part of the viral success that the series gained in 2022 has come from the iconic musical moments, which feature '80s hits like "Running Up That Hill" by Kate Bush and "Master of Puppets" by Metallica. The latter of the two was largely dependent on series newcomer Joseph Quinn nailing his portrayal of geeky metalhead Eddie Munson, which he luckily did.
Fans think Eddie could return as a vampire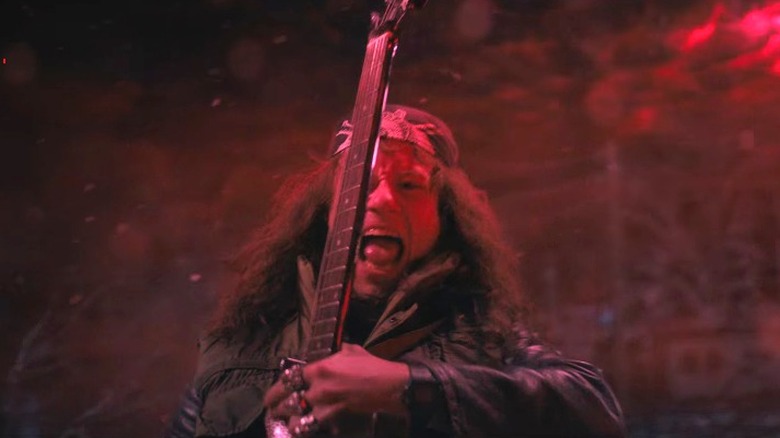 Netflix
Unfortunately, the character met his end in Season 4, Episode 9 ("Piggyback"). However, in the r/FanTheories subreddit, some "Stranger Things" fans speculated that we may not have seen the last of Eddie. Redditor u/WarrenRifkin provided an extensive look into all the little hints that might be signposting Dungeons & Dragons fans toward the character's true destiny.
The Redditor pointed out several signatures of the character Kas, an undead warrior in the fictional universe that Eddie could possibly become. Since the character is a vampire, they pointed to his bat tattoo and how he was killed by bats in the Upside-Down. Furthermore, Kas fights with a spiked shield, just like Eddie did. Finally, the Redditor pointed out his name being Eddie before comparing him to the Iron Maiden mascot of the same name (via Billboard).
"This is the only fan theory I've ever seen that I am truly behind happening. This would be so cool," said u/vanka7000 in a top comment. Meanwhile, u/Japjer offered further support for the theory. "Do you remember the D&D session they played at the start?" the Redditor asked. "Eddie told them they were swarmed by hooded cultists. When the cultists lowered their hoods, they were surrounded by familiar faces. People they knew," they went on. While it's a really solid theory given the deep lore of both "Stranger Things" and Dungeons & Dragons, there are definitely a couple of key roadblocks standing in the way of this coming true.
Joseph Quinn says Eddie is done for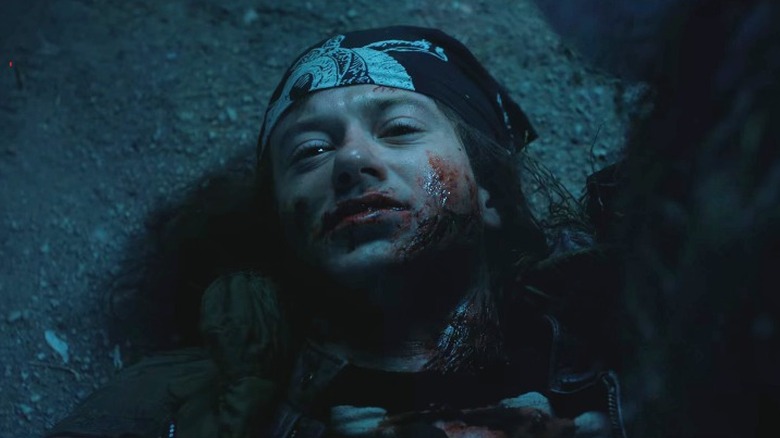 Netflix
Joseph Quinn sat down with Variety to discuss the fate of Eddie Munson on "Stranger Things." "The Duffer Brothers told me that I would be in at least four episodes, but I wasn't optioned for another season," Quinn said. "So I thought maybe if I did all right, they might invite me back. That didn't work, clearly! So they killed me, but that's OK, I guess. I'll dust myself off," he concluded.
While the fact that Quinn wasn't optioned for Season 5 is a pretty major blow to the fan theory about Eddie's return, all hope isn't lost yet. After all, Billy Hargrove (Dacre Montgomery) returned to the show as a nightmare vision for Max Mayfield (Sadie Sink) after meeting his end in the Season 3 finale.
Quinn imagined a similar possibility when he spoke with Radio Times. "Me and Joe Keery (Steve Harrington) were discussing ways in which I could kind of...maybe I'd be like a figment of Gaten's imagination or something," he said, referring to the actor who plays Dustin on "Stranger Things." "Like if there could be some kind of room for something like that, something a bit supernatural." Since the Duffer brothers definitely pay attention to their fans, it's not entirely out of the question that Eddie might return, especially given the massive fan reaction to the character.