Famous Actors You Forgot Showed Up On Miami Vice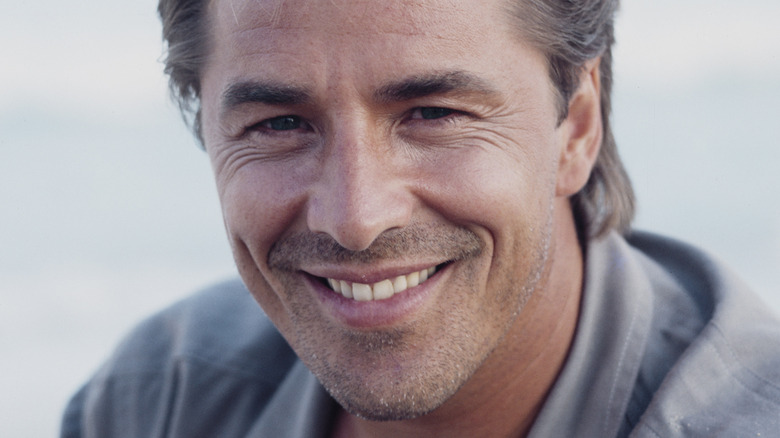 Michael Putland/Getty Images
One of the most beloved shows of the 1980s, "Miami Vice" is fondly remembered for its audacious fashion, pop music soundtrack, and gorgeous use of sunny Florida as its setting. Of course, the show also thrived due to its film noir-inspired storytelling and generation-defining performances from Don Johnson and Philip Michael Thomas. They played James "Sonny" Crockett and Ricardo "Rico" Tubbs, the coolest cops in Miami, though their slick veneer would slowly be chipped away by the cynical nature of the justice system and the inevitable failure of the ill-advised War on Drugs. 
Another defining element of "Miami Vice," at least in hindsight, is its roster of incredible guest stars. More than any other show of its time, guest stars and supporting players on "Miami Vice" would go on to enjoy rich careers across film and television. Some of today's most beloved actors got their start playing crooked cops or violent criminals on "Miami Vice." Here are a few famous actors you forgot appeared on "Miami Vice."
Jimmy Smits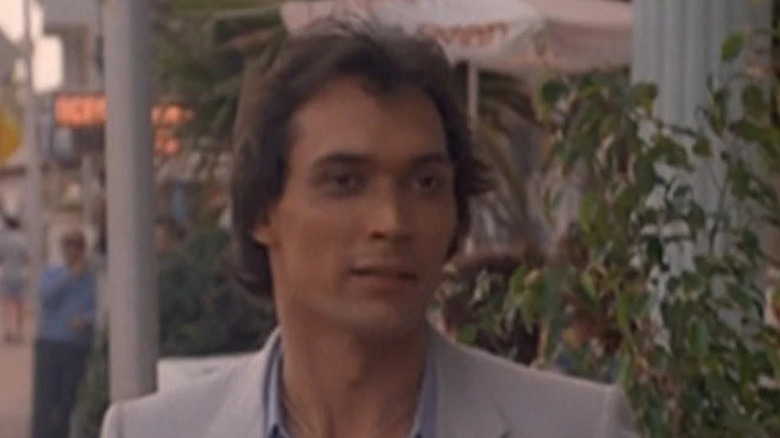 NBC
"Brother's Keeper," the pilot episode of "Miami Vice," was a turning point for the television medium. With its cinematic production values, MTV-esque editing, and use of music videos to enhance the storytelling, the show immediately set itself apart from other TV programs of the time. Simply put, there was nothing else like "Miami Vice."
The pilot episode is a complex film noir story about the drug trade in southern Florida. Following the death of his brother, Ricardo Tubbs goes rogue. He tracks cocaine kingpin Calderone to sunny Miami where he meets Sonny Crockett, who just lost his own partner in a car bomb. Said partner is played by Jimmy Smits, who would go on to star in "NYPD Blue," another cop show that revolutionized the genre. These days, sci-fi fans know Smits for his role as Bail Organa in the "Star Wars" saga, a part he first portrayed in 2002's "Attack of the Clones." The actor recently reprised the role on the Disney+ series "Obi-Wan Kenobi."
Bruce Willis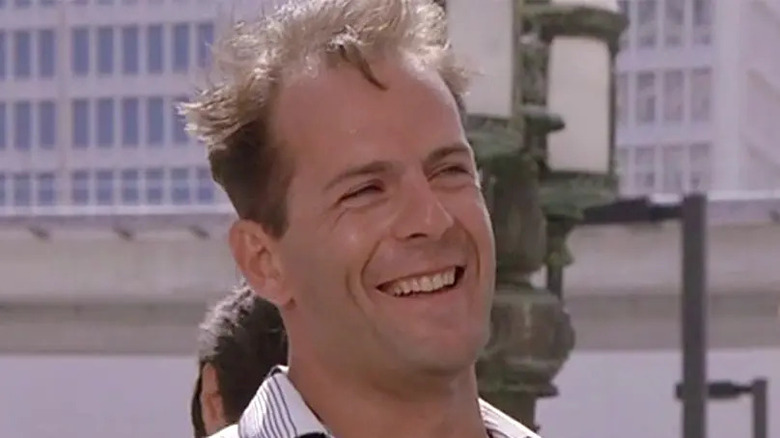 NBC
"No Exit" is a classic "Miami Vice" story with personal stakes, nihilistic sensibilities, and a foreboding sense of dread surrounding powerful criminals and their long-suffering victims. In this case, the criminal is Tony Amato, played by Bruce Willis in one of his first performances. Willis went on to star in the ABC dramedy "Moonlighting" before "Die Hard" made him one of the biggest movie stars in the world. A ruthless wife-beater and international arms dealer, Amato is one of the most vile and memorable villains in the history of "Miami Vice." His wife, Rita, is played by Katherine Borowitz, the real-life spouse of fellow "Miami Vice" guest star John Turturro.
In "Miami Vice," even when the heroes win, they can still end up losing. After busting Amato and bringing him to justice, the Vice cops find the smug criminal being freed by federal agents, who want to employ him to arm anti-communist efforts in Latin America. The episode ends on a freeze-frame as Rita, shocked at this development, takes the law into her own hands — she reaches into her purse and draws a pistol, shooting her no-good husband to death.
Ed O'Neill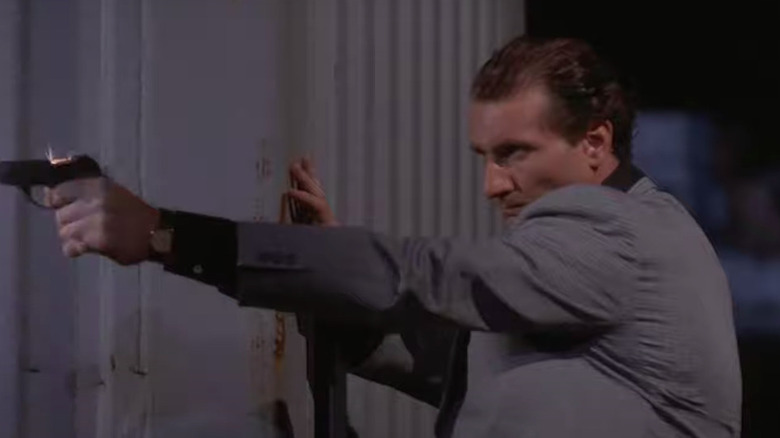 NBC
Before he played a wealthy suburbanite in "Modern Family," Ed O'Neill played a working-class suburbanite in the groundbreaking sitcom "Married... with Children." Prior to that, however, he played an undercover FBI agent in "Heart of Darkness," the second-ever episode of "Miami Vice."
Inspired by the Joseph Conrad story of the same name (which also served as source material for Francis Ford Coppola's "Apocalypse Now"), "Heart of Darkness" follows Crockett and Tubbs as they work alongside Arthur Lawson (O'Neill). Like Colonel Kurtz before him, Lawson crossed lines no man should cross in the course of his duty. He's learned to like being a criminal, and he doesn't know right from wrong anymore. O'Neill is fantastic as a good man who goes to extreme measures and can't come back from what he's done. "Heart of Darkness" is one of the best episodes of "Miami Vice" because it applies cinematic grandeur and thematic storytelling to the world of organized crime, all within the one-hour television format.
Ving Rhames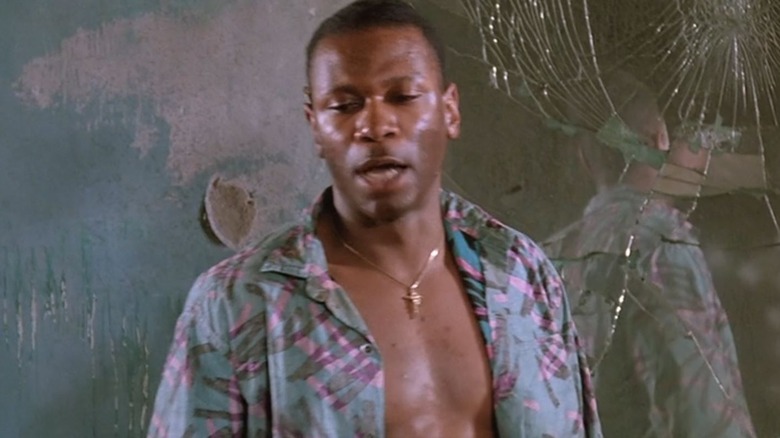 NBC
These days, Ving Rhames is best known as Luther Stickell in the "Mission: Impossible" franchise, but a certain subset of fans still hold a candle for his short-lived "Kojak" reboot. Fans of "Miami Vice" know him from the two roles he played in Season 1 and Season 4.
Rhames' first appearance on "Miami Vice" came in the episode "The Maze." This tense episode mostly revolves around a hostage standoff, with Tubbs trapped along with many homeless squatters by a group of armed and anxious gunmen. Rhames plays a homeless man who sacrifices his life to protect his sister from being sexually assaulted. The episode also features Joe Morton of "Brother from Another Planet" and "Zack Snyder's Justice League," in which he plays Dr. Silas Stone.
For his second appearance on "Miami Vice," Rhames plays a much less sympathetic character. The episode "Child's Play" is a particularly grim one, with Crockett spiraling after accidentally shooting a child who turns out to be a gang member, a revelation that does nothing to ease the cop's guilt. Rhames is a good villain, but his imposing presence is somewhat undercut by his dorky appearance. The episode also features an appearance from musician Isaac Hayes, who would later voice Chef in "South Park."
Julia Roberts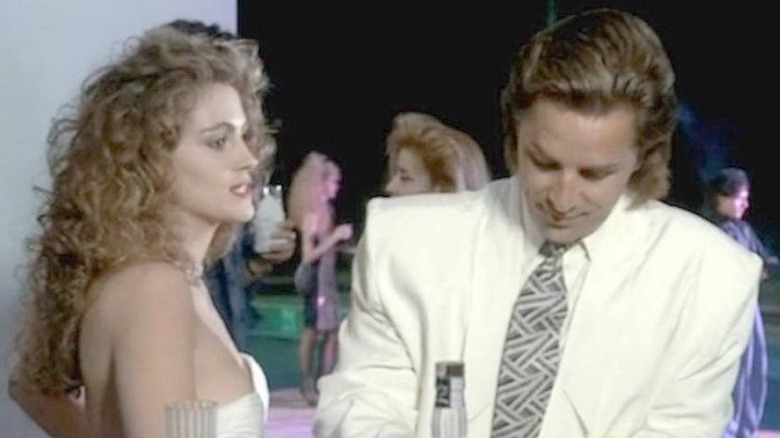 NBC
After making her debut in an episode of showrunner Michael Mann's other cop show, "Crime Story," a young Julia Roberts appeared in the Season 4 finale of "Miami Vice" as a drug dealer's assistant. She quickly falls for Crockett, who at this point has lost all memories of his life as a cop and believes himself to be his criminal alter ego, Sonny Burnett. It's a bit ridiculous, but it's handled well, especially since the last several episodes of the season are dedicated to delivering non-stop trauma to Crockett (he gets shot, his wife is murdered, and he kills a man in cold-blooded revenge), enough to shatter anyone's psyche.
Shortly after her "Miami Vice" role, Roberts was cast in "Mystic Pizza," which raised her profile significantly. Of course, her roles in "Steel Magnolias" and "Pretty Woman" made her one of the most popular actors in Hollywood. She was nominated for Academy Awards for both films, though she didn't win on either occasion. She would eventually take home an Oscar for her turn as the title character in "Erin Brockovich," and she was nominated again a few years later, this time in the best supporting actress category for her role in "August: Osage County."
Ian McShane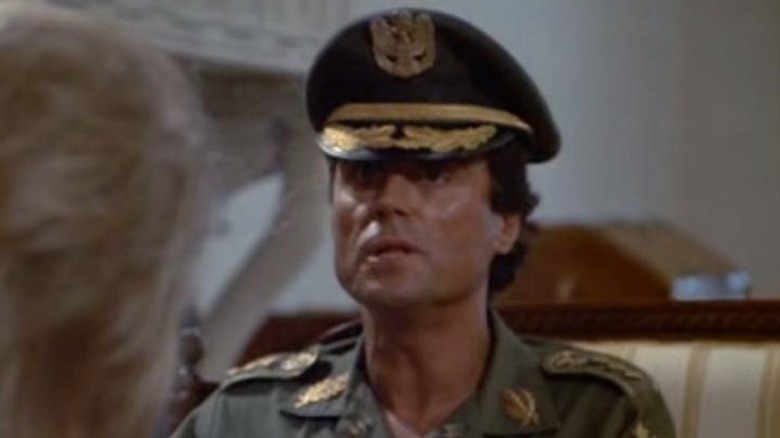 NBC
Bizarrely, British actor Ian McShane ((best known to American audiences for his work in the "Pirates of the Caribbean" and "John Wick" film franchises) played two different Latino characters in "Miami Vice." In Season 3's "Knock, Knock... Who's There?" he appears as Esteban Montoya, a drug dealer in line with a crooked DEA agent. Together, they organize fake raids and steal drug money, which the DEA agent uses to pay for her family's medical bills. As the episode attests, America's broken health care system is not a new phenomenon.
In the series finale, "Freefall," McShane plays a new character, General Manuel Borbon, the military dictator of the fictional Costa Morada. Crockett and Tubbs are sent in on a secret mission to extract him because he has valuable information on the drugs trade, but their mission becomes complicated. McShane's accent isn't particularly convincing, but he certainly brings gravitas to the role of a Noriega-esque military kingpin with complex ties to the United States government. Many episodes of "Miami Vice" condemn American intervention in Latin America, and making it a key plot point of the series finale underscores its relevance to the show as well as America's identity in the 1980s.
John Leguizamo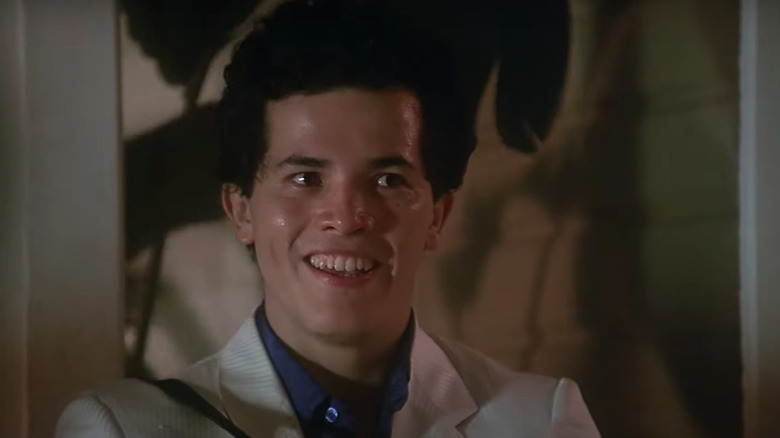 NBC
Before he shared the screen with Bob Hoskins in the infamous "Super Mario Bros." movie, John Leguizamo turned heads with his guest appearance in a great "Miami Vice" episode. The Season 2 finale "Sons and Lovers" continues a story arc that began with the pilot. Leguizamo plays Orlando, the son of slain drug kingpin Esteban Calderone. He is seeking revenge on Crockett and Tubbs over the death of his father. The episode features an open-ended conclusion, with Orlando murdering Tubbs' lover (Orlando's own sister!) and kidnapping Tubbs' son. Notably, Ricardo Jr would never make another appearance in "Miami Vice," making him one of the show's most provocative loose ends.
Orlando would return in Season 3's "The Afternoon Plane," in which he makes one last attempt to murder Tubbs but is killed by the vacationing Vice cop. It's something of an underwhelming finale for the show's most critical story arc. Two seasons later, Leguizamo (who went on to appear in films like "Romeo + Juliet" and "Moulin Rouge!") would play a different character, appearing opposite Karen Black in "Victims of Circumstance." He plays a gangster out for revenge after his drug dealer brothers are murdered. It's an oddly low-key role for someone who already played such a prominent character on the show.
Wesley Snipes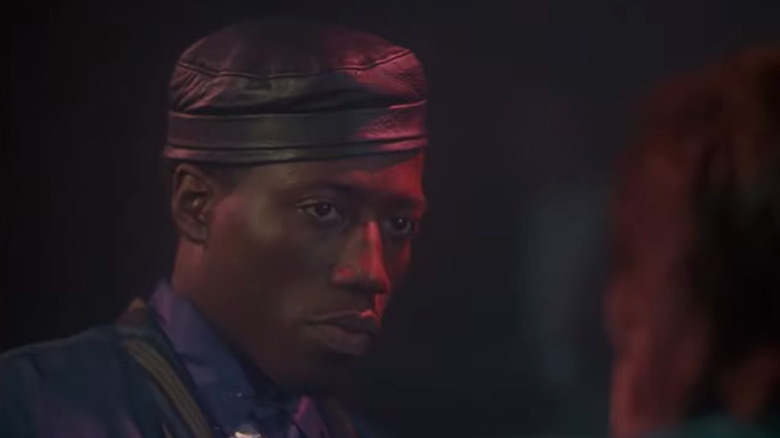 NBC
One of Wesley Snipes' first acting gigs was in "Streetwise," an episode from "Miami Vice" Season 3. This is without a doubt one of the darkest and most nihilistic episodes in the entire series. "Streetwise" also stars the late Bill Paxton as Romano, a married undercover cop in love with Carla, a local prostitute played by Alice Adair. Snipes plays Silk, a vicious pimp and drug dealer on a crash course with Romano due to their shared interest in Carla.
After "Miami Vice," Snipes quickly became one of Hollywood's biggest stars, with movies like "Major League" and "King of New York" paving the way for leading roles in "White Men Can't Jump" and "Passenger 57." The "Blade" trilogy (the first successful film series based on a Marvel comics property) cemented his status as one of the biggest action stars on the planet. Snipes' career was temporarily derailed due to his criminal conviction for tax evasion, and he has never fully regained the star power he once had. Still, he's made something of a comeback in recent years, starring alongside Eddie Murphy in both "Dolemite is My Name" and "Coming 2 America," as well as the Netflix miniseries "True Story," starring Kevin Hart.
Annette Bening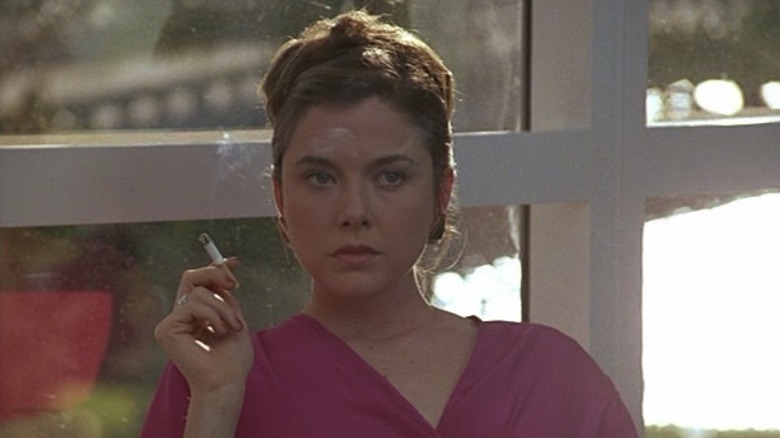 NBC
Season 3's "Red Tape" is stacked in terms of guest stars. In addition to Annette Bening, the episode also features Viggo Mortensen as Eddie Trumbull (who dies before his name even appears in the opening credits) and Lou Diamond Phillips as Bobby Cruz, who goes rogue following the death of his partner and best friend. Meanwhile, Tubbs goes deep undercover in an attempt to find out the source of the department leak that led to Eddie's death. As it turns out, the leak in the department is Vicky, a Justice Department clerk who works with her boyfriend to tip off criminals of impending search warrants.
Vicky is played by Annette Bening, who would go on to be nominated for four Academy Awards. She got a nod in the best supporting actress category for 1990's "The Grifters," and was later considered in the best actress category for "American Beauty," "Being Julia," and "The Kids Are All Right." Today's audiences might know her best for her turn in "Captain Marvel," opposite Brie Larson. She plays the Supreme Intelligence/Mar-Vell in the 2019 film, one of the most underrated MCU installments.
Liam Neeson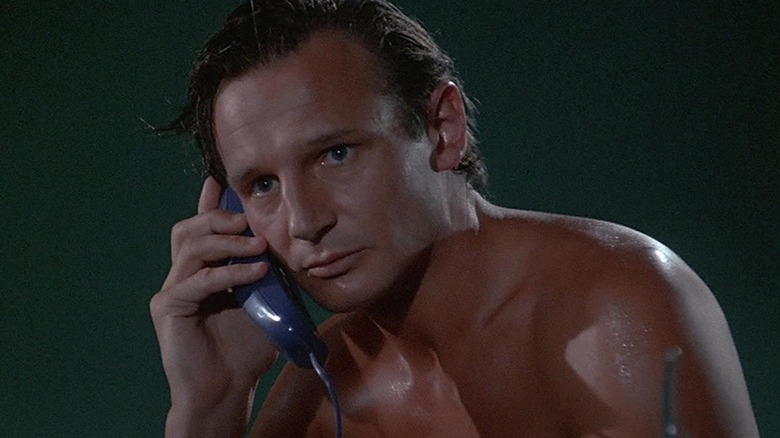 NBC
In the mid-1980s, as his star was just beginning to rise, Liam Neeson guest-starred in "When Irish Eyes Are Crying," the premiere of "Miami Vice" Season 3. The episode deals with an Irish terrorist aiming to shoot down a British passenger plane in a massive escalation of the war between the IRA and England. Neeson plays the Irish terrorist. "When Irish Eyes Are Crying" is also notable for featuring the destruction of Crockett's iconic 1972 Ferrari Daytona Spyder — it gets blown to bits by a Stinger missile "test fire" launched by an arms dealer played by Jeff Fahey.
Liam Neeson has had one heck of a career in Hollywood, starring in massive blockbusters like "Star Wars: The Phantom Menace" and "Batman Begins" as well as prestigious fare like "Schindler's List" and "Silence." He also anchored the "Taken" trilogy of action films, which grossed a combined $932 million at the global box office. He reprised his "Star Wars" role in 2022, making a brief cameo in "Obi-Wan Kenobi" on Disney+.
Helena Bonham Carter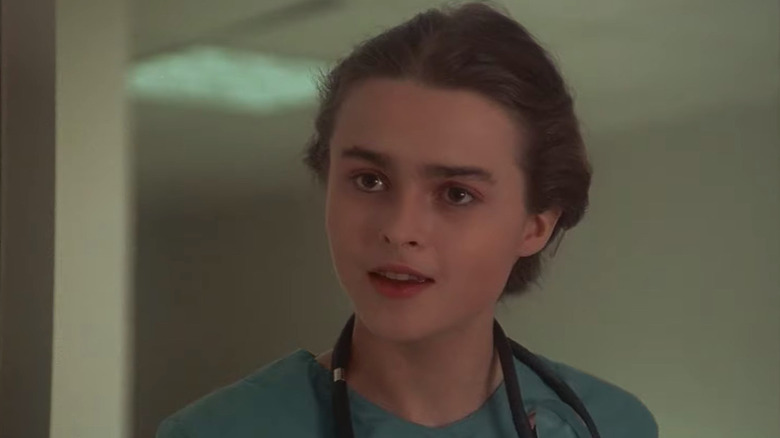 NBC
Helena Bonham Carter appeared in two episodes of "Miami Vice" as Dr. Theresa Lyons, Crockett's drug-addled girlfriend. While her role in "Duty and Honor" is just a quick cameo, her subsequent appearance is far more memorable. "Theresa" is a standout episode from Season 3, and it's anchored by her stellar performance as a hard-working professional in denial about her personal demons. In fact, her performance is strong enough for us to overlook the fact that Carter is 20 years old (and she looks it) playing a doctor, an extremely unlikely scenario that borders on "Doogie Howser" territory.
After "Miami Vice," Helena Bonham Carter became a movie star, featuring in many of the films made by her future (and now former) partner, Tim Burton. She also appeared in several of the "Harry Potter" movies as the deranged Death Eater and Voldemort loyalist Bellatrix Lestrange. In recent years, she's played roles in "Ocean's 8" and Netflix's "Enola Holmes." On the television front, she starred in Seasons 3 and 4 of "The Crown," playing Princess Margaret.
Steve Buscemi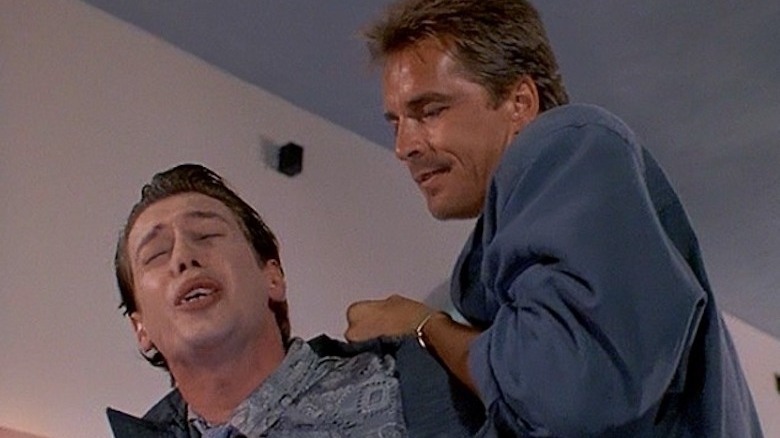 NBC
Season 3's "El Viejo" stars Willie Nelson as Jake Pierson, a retired Texas Ranger who jumps back into action to take down a specific drug dealer for deeply personal reasons. It's a great episode, with Sonny in awe of Pierson's credentials as one of the legendary Texas Rangers. Nelson himself is a great old-school lawman, a broken down old man brought into the fray by something more important than duty to his badge — loyalty to a fallen friend.
Alongside Willie Nelson, "El Viejo" features Steve Buscemi, one of Hollywood's most beloved character actors. Best known for roles in movies like "Con Air" and "Reservoir Dogs," Buscemi is famous for his numerous collaborations with filmmakers as varied as Michael Bay, the Coen Brothers, and Adam Sandler. In "Miami Vice," he plays a smooth-talking drug dealer who gets caught in the crossfire of Pierson's vendetta. Like many other characters, he underestimates the old man, and pays the price for his arrogance.
Melissa Leo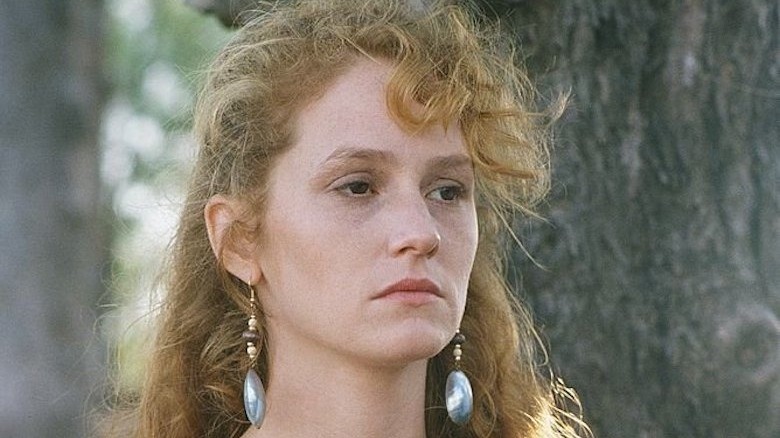 NBC
Season 5 begins with the resolution of the Sonny Burnett arc, in which an injured Crockett loses his memory and adopts the identity of his undercover alter-ego. While an unlikely scenario, it comes on the heels of Crockett going through tremendous hardship, blurring the line between cop and criminal. The episode, entitled "Bad Timing," is set in the wake of Crockett's descent into madness, trying to recover by going on a motorcycle vacation through the dirt roads of Florida. Of course, given the episode's title, he winds up crossing paths with a gang of escaped convicts.
These criminals become a test for him, a way to determine if he's still a good man. He sets off to take them down and rescue their hostage, Kathleen, played by Melissa Leo. "Miami Vice" marked one of Melissa Leo's earliest television roles. She would go on to be a series regular on shows like "Homicide: Life on the Street," "Treme," and "I'm Dying Up Here" before winning an Oscar for her performance in 2010's "The Fighter." She's a favorite of director Antoine Fuqua, having appeared in "Olympus Has Fallen" and the two "Equalizer" movies.
Karen Black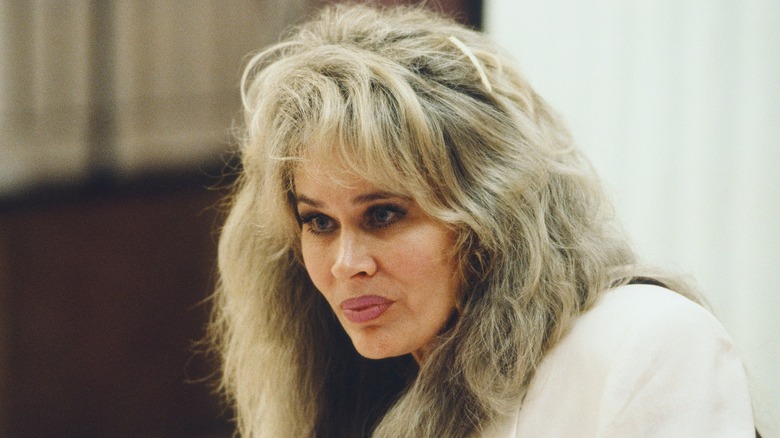 NBC
Season 5's "Victims of Circumstance" sees Crockett and Tubbs investigate a triple murder at a diner, where one of the victims is discovered to have been a Holocaust survivor. The other two victims are drug dealers. It's initially assumed that the dealers are the primary targets and the elderly Jewish man an unfortunate bystander, but the truth turns out to be just the opposite — someone is hunting down Holocaust survivors who can identify and testify against a Nazi war criminal. This dark and unsettling story features Karen Black as a reporter who turns out to be the war criminal's daughter. She becomes a serial killer in a misguided effort to protect her monster of a father.
Black's performance is haunting and vile, a nice precursor to her career in the 1990s and beyond, which would be defined by appearances in cult horror movies like "Mirror, Mirror," "Children of the Night," and "House of 1000 Corpses." Of course, Black was famous long before she guest-starred in "Miami Vice," having appeared in movies like "Easy Rider," "Five Easy Pieces" (for which she was nominated for an Oscar), and "The Great Gatsby," among many others. It's noteworthy, then, that "Victims of Circumstance" is a standout performance in her stellar career.
Esai Morales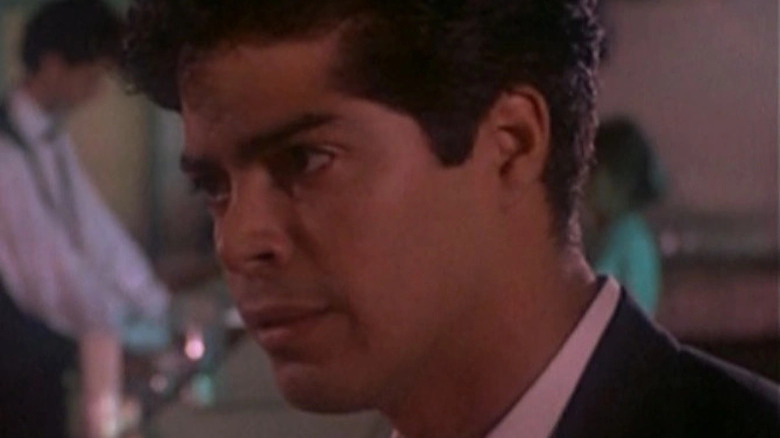 NBC
Hot off of his scene-stealing turn as Deathstroke in "Titans," Esai Morales is set to appear as the main villain in the upcoming "Mission: Impossible Dead Reckoning – Part 1" and its sequel. It's a big role for the popular actor, who also starred in the final three seasons of "NYPD Blue." When he was just a 23-year-old working actor in 1985, he appeared in "The Home Invaders," a noteworthy episode of "Miami Vice" directed by Abel Ferrara, who would go on to become an iconic filmmaker in his own right.
Three seasons later, Morales played a different character in Season 4's "God's Work," a controversial episode that dealt with themes of homosexuality and the AIDS epidemic that killed so many innocent people throughout the 1980s while those in power did precious little to help. Morales shines bright as the son of a mobster who returns home to spend time helping with his uncle's AIDS hospice center, where his old lover is slowly dying a tragic death. Many episodes of "Miami Vice" are grim and politically aware, and "God's Work" is among the finest examples of the show at its most socially conscious.