The Best Reality TV Shows Of The 2000s Ranked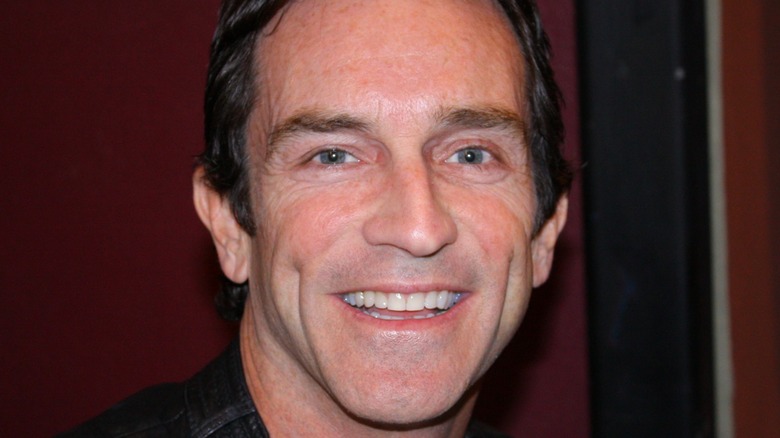 RoidRanger/Shutterstock
Whether you love it or hate it, reality television has become one of the most popular and successful genres on the small screen. The category comes in all shapes and sizes, ranging from talent shows like "American Idol" to intense competitions such as "Survivor." What is always constant, though, is the feeling of unpredictability that comes with unscripted (well, at least ostensibly unscripted) television, making these types of shows some of the most exciting and dramatic to watch.
The 2000s was a big year for the genre. While its modern form emerged during the 1990s, it cemented its place in the public zeitgeist in the following decade. The 2000s were when the format exploded, with every type of show imaginable making its way into people's living rooms. Franchises were established and stars made in what was arguably the best time for reality television.
The sheer number of shows that came out during the 2000s can make looking back a daunting task, but there were plenty of standouts in what quickly became a saturated market. There was truly something for everyone in this decade of reality television.
Keeping Up With the Kardashians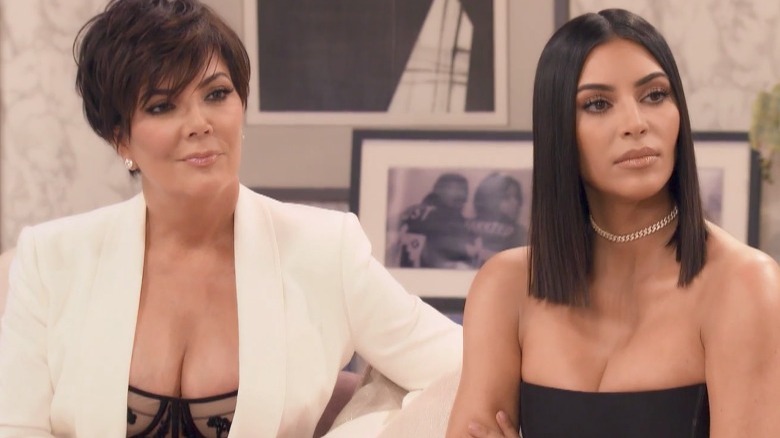 E!
"Keeping Up With the Kardashians" isn't everyone's cup of tea, but there's no denying the impact it has had on the entire genre of reality television. First airing in 2007 on E!, the show charted the lives of Kris Jenner and her daughters Kim, Kourtney, Khloe, Kendall, and Kylie, along with a wide array of others. Despite being panned by critics, it was a big ratings success for the network and IMDb lists a number of awards and nominations for the show.
The early seasons in particular were a constant source of drama and excitement as the contrasting personalities clashed. Kim dropping Khloe off at prison while posing for selfies was one of its more memorable moments, for example. The success of the show has made the entire cast wealthy, with Forbes reporting that Kim is now a billionaire. Running for 20 seasons before ending in 2021, the show's gang signed a lucrative multi-year deal with Disney and Hulu to produce a new series known as "The Kardashians," according to Vulture.
The Bachelorette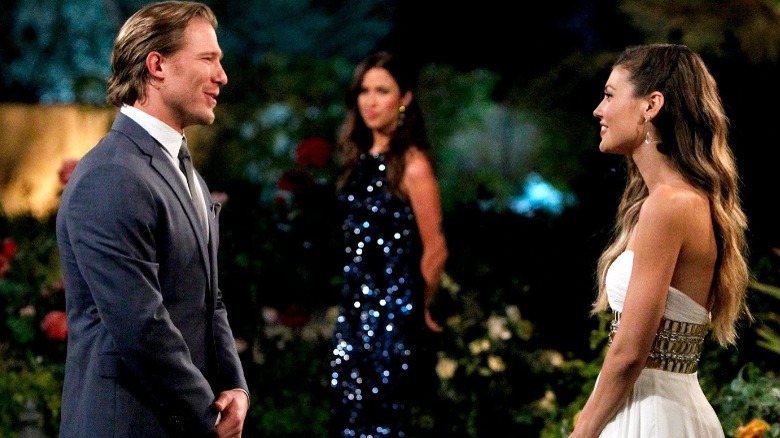 ABC
What started out as a spin-off has become a reality television behemoth that continues to this day. Essentially a dating show, "The Bachelorette" throws a single female in with 25 eligible bachelors who act as potential suitors. Over the course of the season, this group is whittled down until the bachelorette is left with a single man to couple up with. Like many reality shows, there have been questions about how authentic "The Bachelorette" really is, but that doesn't make it any less fun to watch. 
Reality television formats based on relationships and love have often proved to be big hits. The search for love brings out the vulnerable side in people but also stokes fear and jealousy. This creates the perfect formula for car-crash television, where those taking part do things they never normally would to create highly embarrassing but nevertheless entertaining moments. It's exactly the kind of TV that is hard to take your eyes off and it's little wonder it has reached 19 seasons since its debut in 2003.
The Hills
MTV
"The Hills" is another reality television series that was actually a spin-off of another show. Based on "Laguna Beach: The Real Orange County," it follows Lauren Conrad and other young adults living in Los Angeles. Airing on MTV between 2006 and 2010, the show largely tracked the lives of the cast as they attempted to establish their professional careers and find a good balance with their personal lives.
Although it was never a big hit with critics, with a Metacritic rating of just 52 for the first season, "The Hills" was a popular show on MTV. There were more than 100 episodes and its success even led to another spin-off called "The City," featuring Whitney Port as the lead. Meanwhile, viewing figures were consistently around the 3 million mark, according to TV Fanatic. The movie-like visuals and aspirational nature of "The Hills" distinguished it in the crowded world of reality TV, while the lengthy storylines of failed romances and betrayed friendships kept viewers engrossed.
Jersey Shore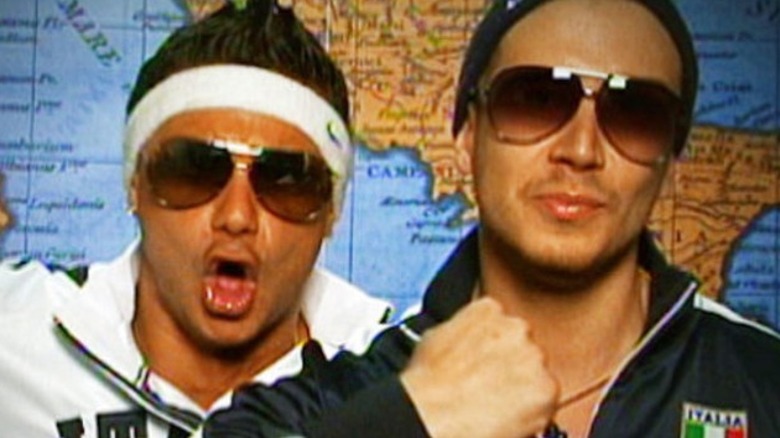 MTV
"Jersey Shore" arrived on television screens right at the end of the 2000s, with the first season airing on MTV in 2009. Over the course of three years, there were six seasons in total that followed the lives of eight roommates living in New Jersey. Its impact was immediate and the show quickly became what The Week described as a cultural phenomenon.
According to Entertainment Weekly, "Jersey Shore" rose to become the most-watched MTV series ever in 2011 and its influence spread around the US and the rest of the world. The cast set fashion trends and popularized previously niche terms and phrases.
At its heart, though, "Jersey Shore" was popular because of its outlandish, larger-than-life characters, who often found new ways to make bad decisions to land them in trouble. Sticking a group of 20-somethings together in a house with little idea of how the real world worked was always likely to be a recipe for delightful disaster and the endless drama this brought was always entertaining to watch.
The Real Housewives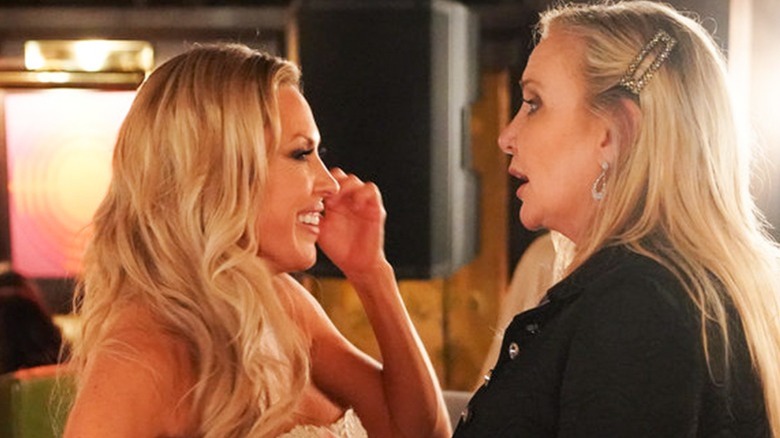 Bravo
Since it first aired in 2006 in the form of "The Real Housewives of Orange County," this franchise has grown and evolved into a property that spans some 11 different series and more than a dozen spin-offs. The cameras follow a bunch of rich housewives as they go about their daily lives. While that may sound a bit boring at first, the antics of the women involved always creates plenty of spectacle.
What makes "The Real Housewives" a hit with viewers? There's certainly the aspirational aspect at play in seeing these wealthy women live lives of lip fillers and luxury that many dream of. But it's undeniably the fights and bizarre behavior shown by the housewives that grab the attention and force you to keep watching. Despite (or perhaps because of) all their privilege, these people can be remarkably wild.  
American Idol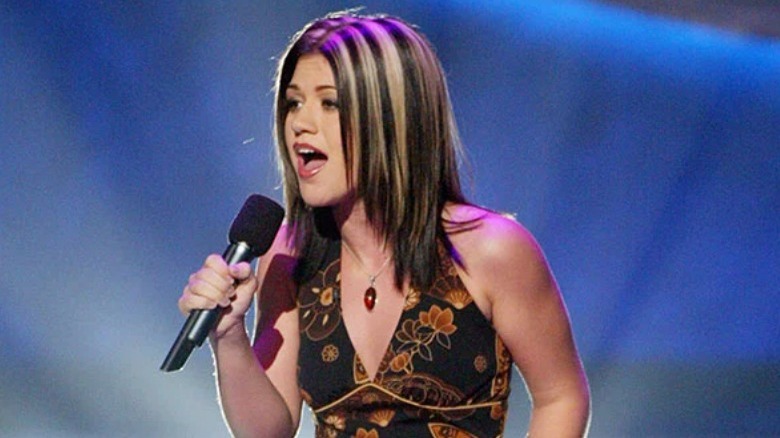 Fox
"American Idol" first hit television screens in 2002. It's been a fixture ever since. In this singing competition, contestants audition in front of a panel of judges before moving on to live shows where the audience can vote for their favorite acts.
While many people come to see the bad auditions as much as the great ones, "American Idol" does produce talent. From the very beginning, it has launched the careers of many successful artists. Many of those featured on the show have even gone on to score Grammy nominations.
People like to see ordinary people find success and "American Idol" does exactly that. It provides a means of escape for those who might otherwise have been overlooked, giving the audience the opportunity to back someone they really like. Add a great cast of judges (including the famously cranky Simon Cowell and the famously sunny Paula Abdul) and a hint of participatory drama when it comes to voting out contestants, and you've got a perfect blend for reality television.
Big Brother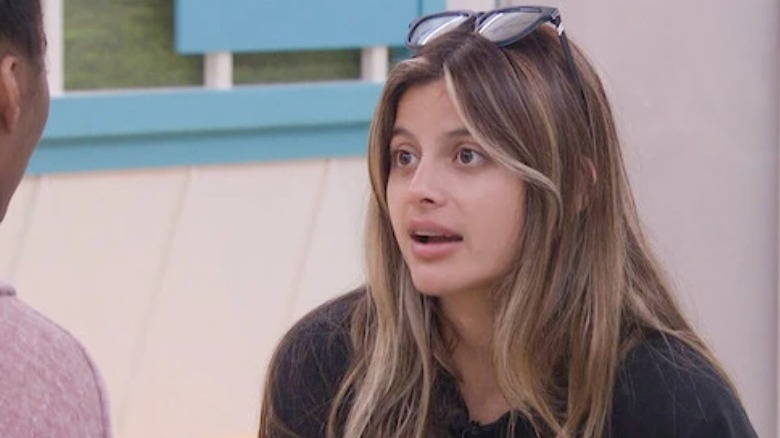 CBS
There's something slightly sinister about taking the name of the totalitarian leader from George Orwell's novel "1984" and turning it into a game show, but "Big Brother" did just that in 2000 when it first began airing on CBS. The premise is incredibly simple: a collection of unknown members of the public are forced to live together in a house cut off from the outside world. The catch? The group is under constant surveillance from video cameras, which track their every movement.
This sounds like the setup of a horror movie, yet it created some of the best reality television you could wish for. Having such a disparate group of people living so closely together was always bound to create conflict. "Big Brother" was known for the way relationships between contestants could quickly deteriorate as they have to work together to complete tasks and evict each other.
The Osbournes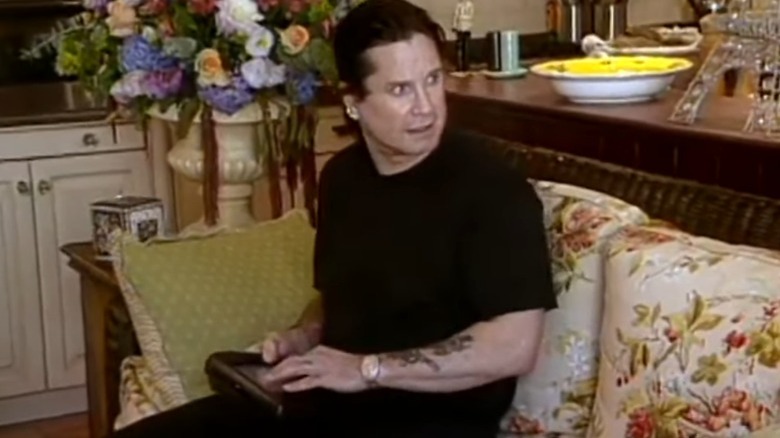 MTV
In many ways, "The Osbournes" was a precursor to other family-based shows such as "Keeping Up With the Kardashians." It was one of the first series that focused on a small group, featuring just Ozzy, Sharon, Kelly, and Jack in the main cast. Broadcast on MTV between 2002 and 2005, the show follows the four as they go about their daily lives.
Helping "The Osbournes" was the fact that many major events took place during filming, such as a famous accident that The Guardian said broke Ozzy's neck, collarbone, and ribs. Sharon was also diagnosed with colon cancer in 2002 (per Entertainment Weekly) while Kelly tried to launch a career as a singer. Even with all of this, though, it was simply the unconventional life that the family lived that was the biggest draw, alongside Ozzy's bumbling behavior, that was popular with viewers on both sides of the pond.
America's Next Top Model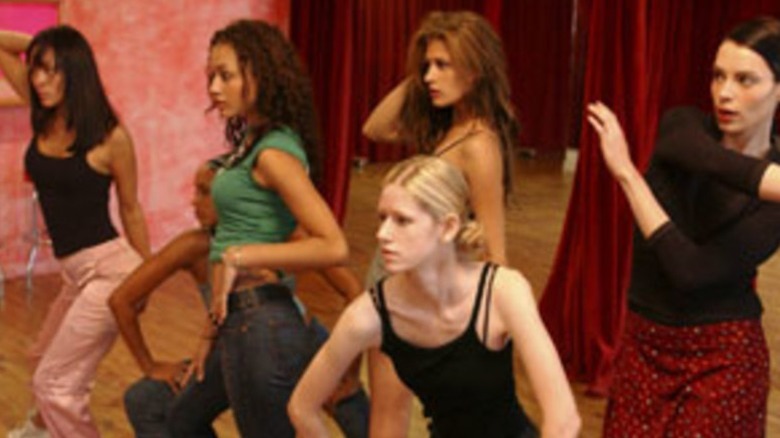 UPN
"America's Next Top Model" follows a group of aspiring models attempting to launch a career in the industry by winning the competition. Making its debut in 2003, it was hosted by Tyra Banks and saw the contestants take part in challenges while also battling it out to have the very best photoshoots.
There's no denying that "America's Next Top Model" could sometimes be very messy, especially in later seasons when the show introduced new ideas to try and keep it fresh in an ever more crowded reality television world. However, it was often enthralling to see the drama manufactured by host Banks and the over-the-top models.
In many ways, this series also helped to inspire other similar shows that were to follow. For example, "RuPaul's Drag Race" undoubtedly owes a debt of gratitude to "America's Next Top Model. Yet it was also a magnet for criticism thanks to the way it frequently humiliated the contestants and the jarring way it spoke about important topics such as body image.
Fear Factor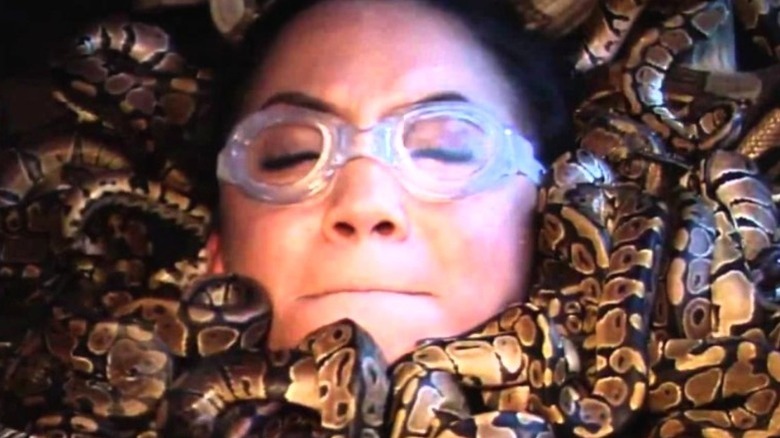 NBC
"Fear Factor" came right at the start of the reality television explosion, when networks were experimenting with formats to find the next big hit. First broadcast on NBC in 2001, it was hosted by Joe Rogan and saw a selection of participants competing to complete various challenges and dares. The narration given at the start of each episode sums up exactly what you should expect, telling viewers that "Fear Factor" is a "world where your greatest fears become reality."
The enjoyment in "Fear Factor" came from watching those taking part attempt the challenges. Some tested their physical capabilities, but the best and most shocking to watch were the second challenges, which were specifically designed to test the mental strength of contestants. These often involved some sort of disgusting act, like eating rat guts or bull testicles. Watching these truly gross tasks was fascinating and the reactions from the participants were normally just as compelling.
Pimp My Ride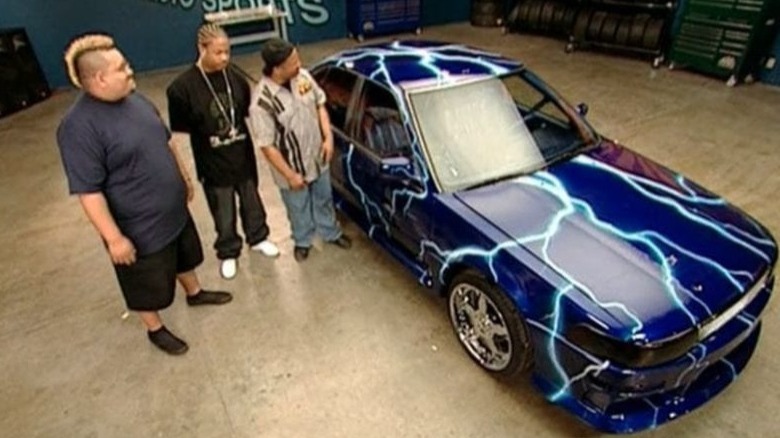 MTV
If "Pimp My Ride" did one thing, it was to make everyone who watched it bored with ordinary vehicles. The MTV show, which began hitting television screens back in 2004, saw West Coast Customs heavily modifying cars from members of the public. Each episode sees a young driver handing over their car to host Xzibit for a complete makeover from the automobile repair shop.
What made "Pimp My Ride" stand out is that the modifications were not standard upgrades. The mechanics would go all out to create frankly outlandish custom jobs that were designed to fit in with the personalities and interests of those taking part. It resulted in some truly remarkable vehicles that may not have been practicable but certainly had the wow factor. All of that made "Pimp My Ride" a must-watch, even if it was accused of some bad practices.
Queer Eye for the Straight Guy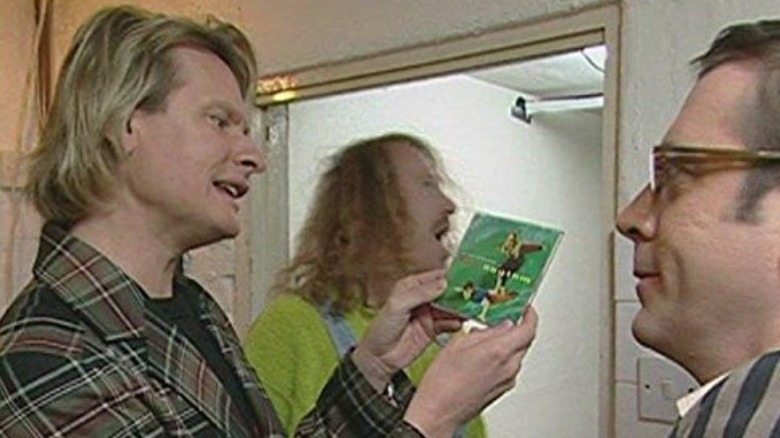 Bravo
"Queer Eye for the Straight Guy" was a hit for Bravo when it aired in 2003, so it makes sense that it went on to produce five seasons before later going on to be revived in 2018 on Netflix with a brand-new cast. Episodes see a member of the public go through a makeover, with members of the Fab Five trying to enhance their look and lifestyle. Each of the main cast was an expert in a different field, such as interior design or fashion, giving them the ability to transform every aspect of a person's life.
The show was a rare chance for gay culture to be shown on primetime television, where it was generally a positive influence. In contrast to most other reality television shows, which often had a more negative edge to them, "Queer Eye for the Straight Guy" was very much a warm and kind-hearted experience that produced nothing but feel-good vibes.
So You Think You Can Dance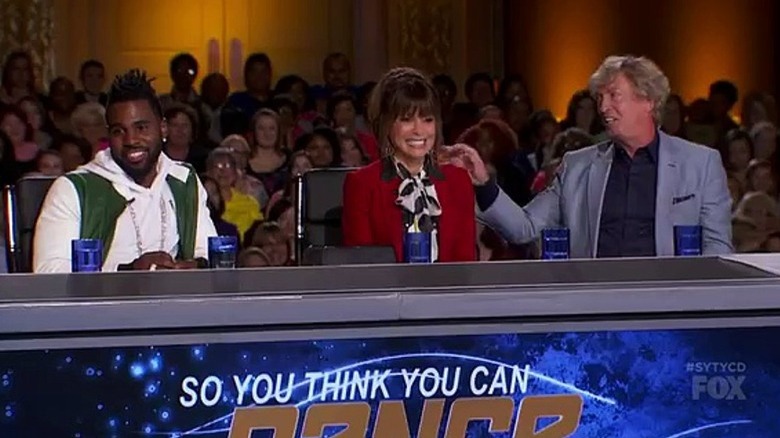 Fox
"So You Think You Can Dance" is essentially "American Idol" but for dancing. The show sees hopeful dancers audition around the country. Those who are selected face further auditions and challenges so the judges can find the best of the best and ensure that those who make the finals are capable of mastering a wide array of different dance styles. The finalists then move to the live stage, where they perform different acts and are voted on by both the judges and audience.
IMDb lists the show as having won a number of different Emmy Awards, while host Cat Deeley has been nominated five times. The presenter has been on the show since the second season and fans have often praised her for her kindness to contestants. Ratings for "So You Think You Can Dance" were very high for the first few seasons, with the series offering something different from other reality television shows and highlighting a talent that is rarely showcased on primetime television.
Project Runway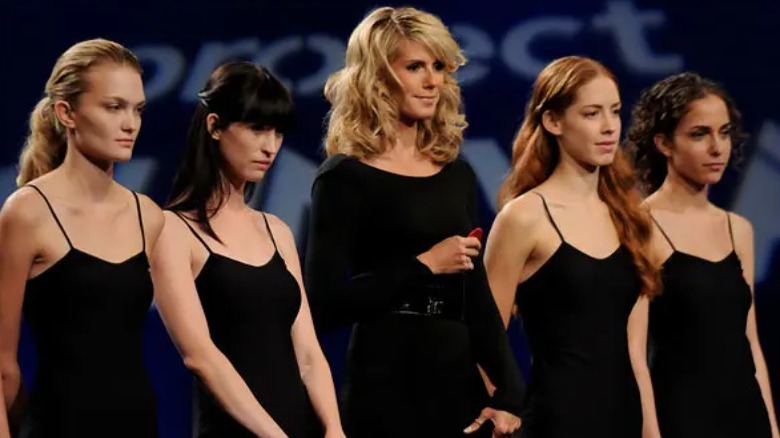 Bravo
"Project Runway" dropped onto television screens in 2004 and shows no sign of stopping yet. Featuring judges such as Heidi Klum, Nina Garcia, and Michael Kors, the series' contestants attempted to become fashion designers. Like most reality television shows in this genre, the format saw the participants gradually eliminated until just a small group was left, with those taking part competing in challenges that tested their ability to create clothing and accessories out of different materials and in various styles.
"Project Runway" stands out for highlighting the behind-the-scenes work that goes into fashion, with every step of the creative process shown. Viewers got an in-depth look at what it takes to produce a stunning dress or handbag, from initial sketches to choosing the material and sewing it all together. You'll learn something by watching the series and that's part of the reason it won a Peabody Award.
The Mole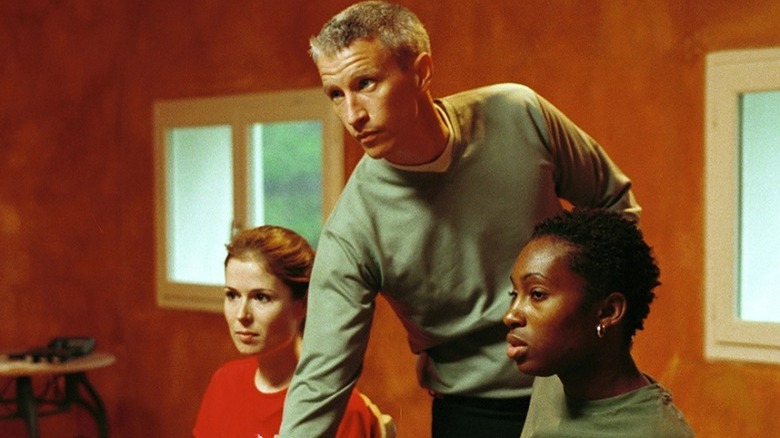 Based on a Belgian television series that was exported around the world, "The Mole" is a game show where contestants work together to complete tasks and add prize money to a fund that the winner will eventually receive at the end of the season. The catch, though, is that one of the participants is actually a saboteur known as the Mole whose job is to disrupt the group's efforts and sow confusion and dissent.
The challenges in "The Mole" were usually pretty simple. The excitement came from seeing how the group turned against each other as suspicions grew and getting a glimpse at how the Mole manipulated events. Yet, as Vox points out, the identity was never actually revealed to viewers, allowing them to feel like part of the show by solving the mystery from home. 
Top Chef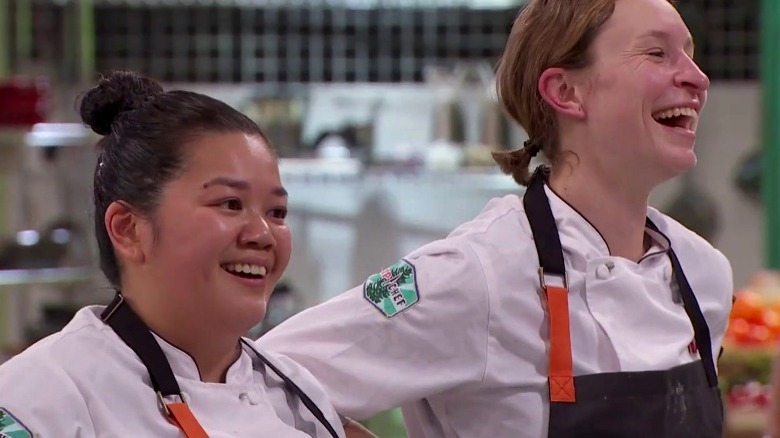 Bravo
While many reality shows pit amateurs against each other or see aspiring hopefuls try to break into an industry, "Top Chef" went in a different direction. In the food competition, professional chefs were forced to compete against each other. First broadcast on Bravo in 2006, the show involves two major challenges in each episode. The first is the Quickfire Challenge, where chefs cook a dish with one limitation, such as using a specific ingredient or skill. The second sees the contestants prepare a full meal for the judges.
The show's use of professionals gives it a sense of quality and even provides a learning experience for viewers, as they picked up helpful hints about the cooking process. Add in a dash of fun from the challenges and the drama inherent in all of these types of shows, and "Top Chef" flourishes. It's little wonder that the show is still going strong today.
Shark Tank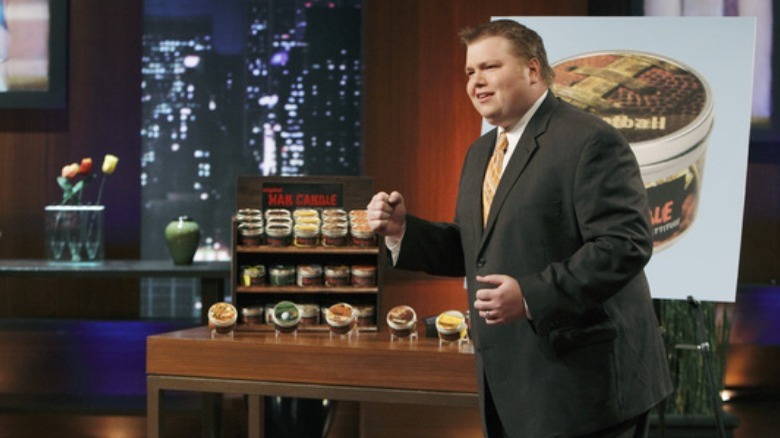 ABC
"Shark Tank" is a format that was first produced in Japan and has since been adapted for dozens of countries as "Dragons' Den." Like the other versions, the US edition sees budding entrepreneurs enter the studio as they try to convince a group of venture capitalists and business leaders to invest in their ideas.
The experts then pick apart the presentation, pointing out weaknesses in the business or valuation while investigating the product or service. Ultimately, the sharks must decide whether to invest, leading to intense negotiations with the entrepreneurs.
The group interrogations of participants by successful tycoons are what make "Shark Tank" shine. Some of those taking part flop under the pressure and end up embarrassing themselves, while others come into their own and deftly answer any questions put to them. Seeing both sides of this coin is satisfying and seeing exactly what goes into making a successful business idea is also enlightening.
The Amazing Race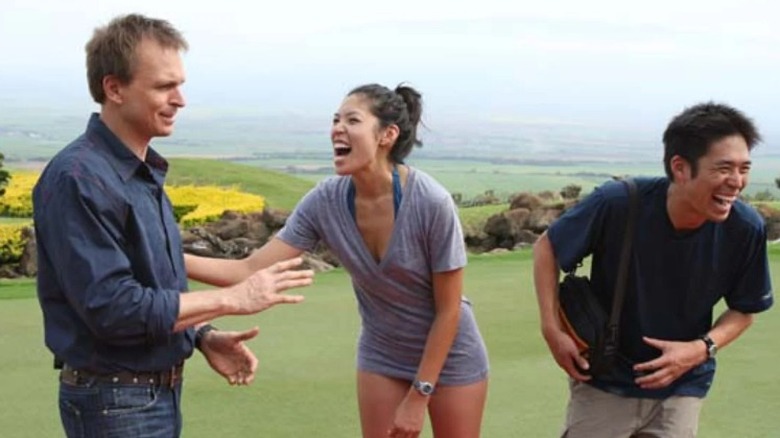 CBS
As the name suggests, "The Amazing Race" is a reality competition show where participants race around the world, following clues left in special envelopes to locate their destinations. Typically involving several teams of two players, each episode sees the slowest couple eliminated until there is an ultimate winner.
According to E!, the show attracted audiences of around 10 million viewers for its early seasons and ratings are still fairly strong to this day. Now in its 33rd season, there have been almost 400 episodes of the show. It has won the Emmy Award for Outstanding Reality-Competition Program some 10 times since its debut in 2001.
There are a lot of reasons why "The Amazing Race" has become such a popular show. It showcases countries from around the world, taking viewers into different cultures. The format is simple to follow, making it easy to pick a team and cheer them on. Finally, it's a series that is focused on the contestants themselves without the need for voting or any deceit, as the action is all about the race to the finish.
RuPaul's Drag Race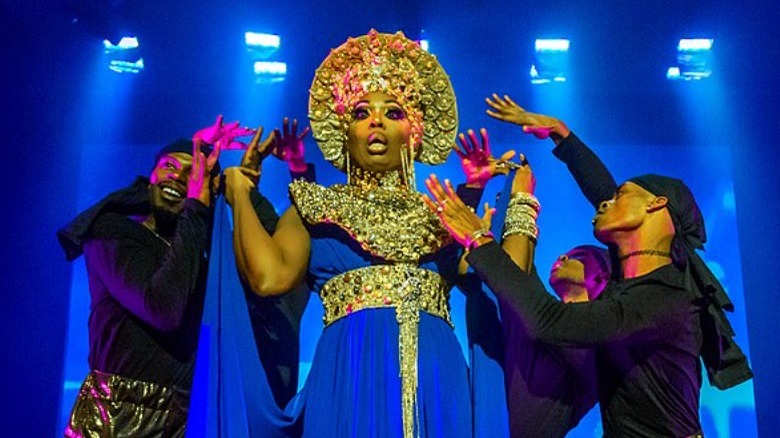 Logo TV
First airing in 2009, "RuPaul's Drag Race" is a reality television competition where drag queens compete against each other to be named the next drag superstar. RuPaul hosts the show and acts as head judge alongside Michelle Visage, Ross Mathews, and Carson Kressley, with celebrity guests appearing as judges in each episode. The format involves the contestants taking part in challenges and presenting a look on the runway. The bottom two finishers face off in a lip-sync battle, with the judges then choosing who is eliminated.
There's a sense of celebration in "RuPaul's Drag Race" that is incredibly uplifting. Few shows manage to combine humor, turmoil, and talent in a way that will leave you feeling as quite as good as this one. While it can be moving, don't think the series is all roses, though, as the participants are capable of causing drama and aren't afraid to verbally strike down their opposition with put-downs that are as hilarious as they are vicious.
Survivor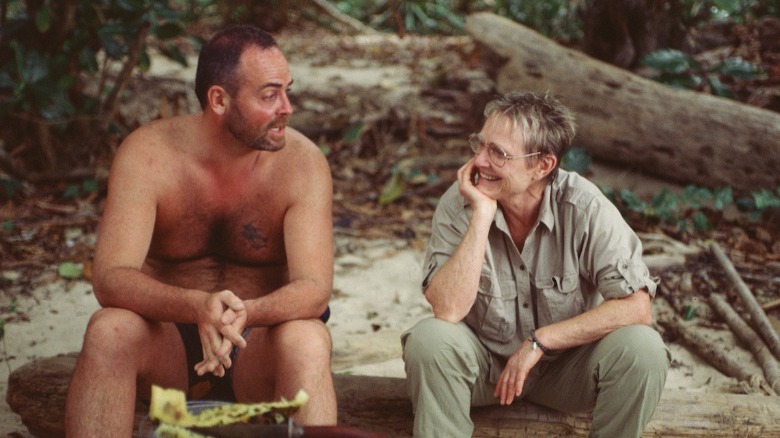 CBS
"Survivor" burst onto screens in 2000, right at the beginning of the reality television explosion that dominated TV for the next decade. Its concept is simple: a selection of strangers are placed on an isolated island and must survive there while taking part in a series of challenges. These tasks test everything from physical fortitude to mental ability and play an important role in determining who the contestants vote out. The show continues until only two remain, with one of them crowned the winner by the previously eliminated players.
Since its inception, "Survivor" has been one of the biggest reality television hits. Running for a total of 42 seasons so far, it has been nominated for dozens of Emmy Awards and still pulls in millions of viewers. With an IMDb rating of 7.4 out of 10, "Survivor" has stood the test of time and is widely regarded as one of the best reality shows ever made. What makes "Survivor" such an exciting show to watch is that anyone can seemingly win. The winners in the seasons so far have all been very different and this creates suspense, as you never know who is going to come out on top.