The Sandman Scene That Made Neil Gaiman Cry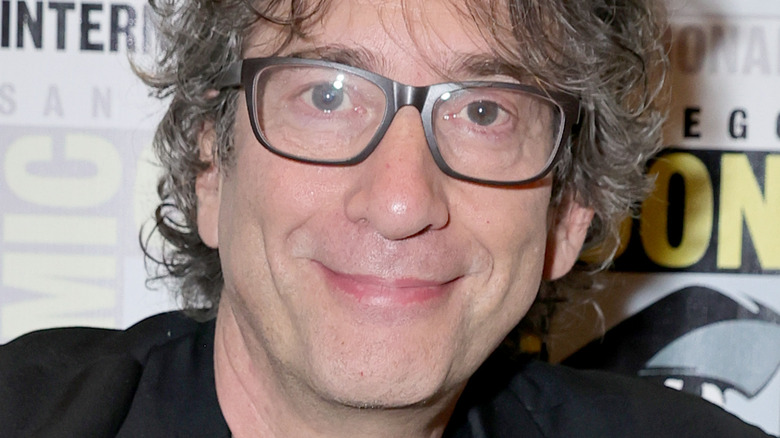 Matt Winkelmeyer/Getty Images
When discussing the most influential graphic novels of all time, "The Sandman" has to enter the conversation at some point. For 75 issues between 1989 and 1996, the arc told the story of Dream, one of seven Endless in the highly metaphysical tale. It's the kind of story that expands your mind upon reading it and opens up a whole new realm of possibilities. It showed what was possible within the medium of comic books, and hopefully, the upcoming Netflix series lives up to this legacy. 
It's been a long time in the making, but "The Sandman" will finally receive a live-action adaptation, with the story's original writer Neil Gaiman on board as an executive producer. Gaiman's involvement should assuage any fears fans might have about adapting one of the greatest graphic novels ever made, and to add to those hopes and dreams, Gaiman has discussed the series at length on social media, offering one intriguing tidbit that should allow fans to feel the adaptation is in good hands. 
A beautiful scene of Death
IGN shared a clip of the forthcoming "Sandman" adaptation to Twitter, which Gaiman retweeted along with the following message: "Small warning. I cried the first time I saw this scene in the finished episode. If you are wondering why I cast Kirby as Death, this is why." It certainly makes sense as to why. The clip shows Dream (Tom Sturridge) tagging along with Death (Kirby Howell-Baptiste) as she brings an elderly gentleman from one world to the next. 
At least Gaiman wasn't alone in the feeling. Plenty of others chimed in with their responses to the scene, which indeed got the waterworks going. Twitter user @BarmyCyril wrote, "Dammit, Neil. It's a beautiful sunny day in the mountains. I'm not supposed to be crying." And those kinds of responses are all thanks to the talents of Kirby Howell-Baptiste, and there was no shortage of praise on the Twitter thread commending her performance, including this from @ARainbowInBlack, "She's exactly perfect. I would love to meet her when it was time."
You can see the scene in its full context when "The Sandman" debuts on Netflix on August 5.