The Romance Movie Drew Barrymore Regrets Filming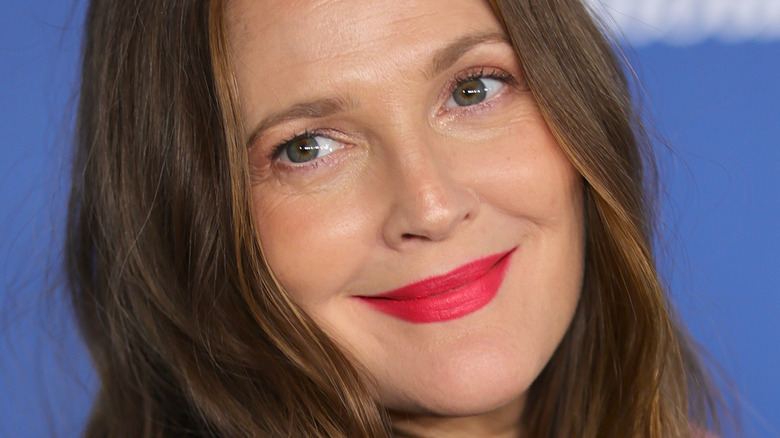 Michael Loccisano/Getty Images
Drew Barrymore began working in Hollywood as a child actor and had her breakout role in Steven Spielberg's "E.T. the Extra-Terrestrial" in 1982. Since then, Barrymore has racked up a whopping 78 acting credits to her name (via IMDb). Of those many credits, Barrymore has made a name for herself in the romance genre, with many of her most notable films being some of the best romantic comedies of all time.
For example, Barrymore starred in 1998's "The Wedding Singer," 2004's "50 First Dates," 2005's "Fever Pitch," and 2009's "He's Just Not That Into You." Meanwhile, her romantic dramas include 1995's "Mad Love," 1996's "Everyone Says I Love You," and 1998's "Ever After: A Cinderella Story."
It's likely safe to assume that the actress is happy with her decision to partake in these films. Well, as it turns out, that's not the case for at least one of the films listed above — here's which one it is.
Barrymore regrets working with Woody Allen for Everyone Says I Love You
In 1996, Drew Barrymore was a part of the ensemble cast of Woody Allen's "Everyone Says I Love You," which came out a few years after the Connecticut State Police investigated allegations made against Allen by his daughter, Dylan Farrow, who said that he molested her (via Vox). Allen denied the allegations and was ultimately not charged. In 2021, the allegations against him became a topic of public discussion once again with the release of the HBO documentary miniseries, "Allen v. Farrow," which chronicles the events of the allegations from the perspectives of Dylan and her mother, Mia Farrow.
After the series came out, Barrymore had Farrow on "The Drew Barrymore Show," during which Barrymore took the time to express her regret over working with Allen. The actress said, "There was no higher career calling card than to work with Woody Allen. Then I had children, and it changed me because I realized that I was one of the people who was basically gaslit into not looking at a narrative beyond what I was being told. And I see what's happening in the industry now, and that is because of you making that brave choice. So thank you for that."
Farrow expressed gratitude for Barrymore admitting her mistake and taking her story seriously. Farrow said, "It's so meaningful because it's so easy for me to say, 'Of course you shouldn't work with him. He's a jerk. He's a monster.' I just find it incredibly brave and incredibly generous that you would say to me that my story and what I went through was important enough to reconsider that."
If you or anyone you know has been a victim of sexual assault, help is available. Visit the Rape, Abuse & Incest National Network website or contact RAINN's National Helpline at 1-800-656-HOPE (4673).
Other actors have expressed regret over working with Allen
Rich Fury/Getty Images
Drew Barrymore is far from the only actor who has expressed their regret about working with Woody Allen in the past. Kate Winslet, who worked with Allen on 2017's "Wonder Wheel," was very outspoken about her regret in a 2020 Vanity Fair interview. Winslet said, "It's like, what the f*** was I doing working with Woody Allen and Roman Polanski? It's unbelievable to me now how those men were held in such high regard, so widely in the film industry, and for as long as they were. It's f***ing disgraceful. And I have to take responsibility for the fact that I worked with them both."
Meanwhile, actor and director Greta Gerwig, who acted in Allen's 2012 film "To Rome with Love," expressed her regret in a New York Times op-ed, in which she stated, "If I had known then what I know now, I would not have acted in the film. I have not worked for him again, and I will not work for him again." Gerwig continued that she was heartbroken to realize that she had contributed to Dylan Farrow's pain.
Furthermore, two actors from 2018's "A Rainy Day in New York," Rebecca Hall and Timothée Chalamet, have spoken up about the matter. Hall posted a statement on Instagram in which she expressed regret, apologized for deciding to work with Allen, and declared that she would donate her entire salary to Time's Up (via IndieWire). Similarly, Chalamet took to Instagram to announce that he would donate his salary to three charities: Time's Up, the LGBT Center in New York, and Rainn (via The Guardian).
Other actors who regret working with Allen or declared they wouldn't work with him again include Elliot Page, Mira Sorvino, Colin Firth, and Michael Caine, amongst others (via Mashable).