David Warner's Incredible Career Left The Actor With A Massive Net Worth At The Time Of His Death
Although David Warner may not be one of the most recognizable names in Hollywood, his visage has appeared in films and television shows spanning a variety of genres. According to TV Guide, he originally worked as a bookseller before making his stage debut in the English Stage Company's production of "A Midsummer Night's Dream" in 1962. At the time of Warner's devastating death in July 2022, he had accrued over 200 on-screen acting credits (via IMDb). People may recognize him for his roles in a multitude of "Star Trek" properties, as well as fan-favorite features including 1976's "The Omen," "Tron," "Titanic," "Mary Poppins Returns," and even "Teenage Mutant Ninja Turtles II: The Secret of the Ooze."
Speaking with Star Trek in August 2011, Warner was asked what it was like appearing at conventions for his work. He replied, "What's interesting is people are bringing up things that I did 20, 25 years ago, so it's not always easy to remember everything. I also make a practice of not seeing a lot of what I've done. That's just one of those superstitions I have. I do a job and I don't necessarily watch it, so sometimes it's very hard to talk about it. Some things I may have just seen once. It's not that I don't like the work; I just don't enjoy watching myself." 
Considering his extensive career, it may come as a surprise to some of Warner's fans the total net worth he had for his acting efforts at the time of his passing.
Warner is believed to have left behind a net worth of $8 million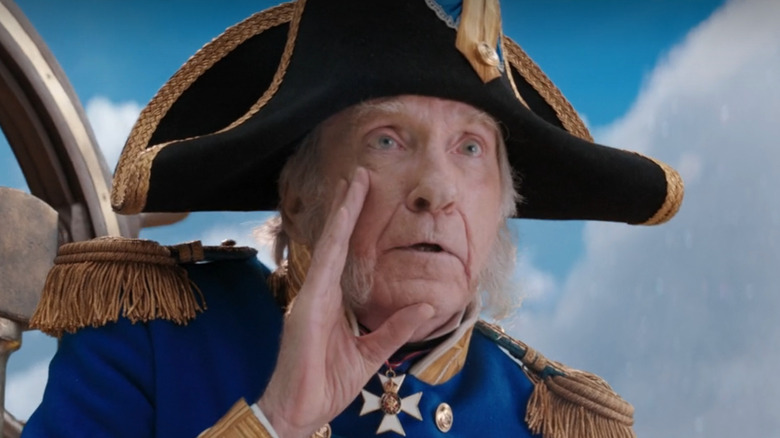 Walt Disney Studios Motion Pictures
As reported by Celebrity Net Worth, David Warner has an estimated net worth of $8 million. This approximate total may come as a shock to some. However, Warner was not often put into lead roles during his nearly 60-year onscreen career; instead, he would often appear in a supporting or guest part. Roles at this level in the film industry food chain pay less than what big-name actors can command.
According to Backstage, television guest stars usually make between $1,500 to $3,000 for a single day's worth of work, while rates can be somewhat different if running more than one day. For a guest appearance on a one-hour drama, actors can make around $8,000 for eight days of work or around $5,000 for a half-hour comedy show at five days of work. Go Banking Rates takes the analysis further and notes that the mathematical mean salary for an actor across the United States is around $58,000.
With this in mind, it is truly amazing that Warner was able to accumulate as much wealth as he did. Though he never received some massive pay-out for a marquee performance, with over 200 acting credits, he certainly was able to parlay several smaller (albeit notable) roles into an impressive amount of wealth.