Ash Vs. Evil Dead May Be Returning In A Very Unexpected Form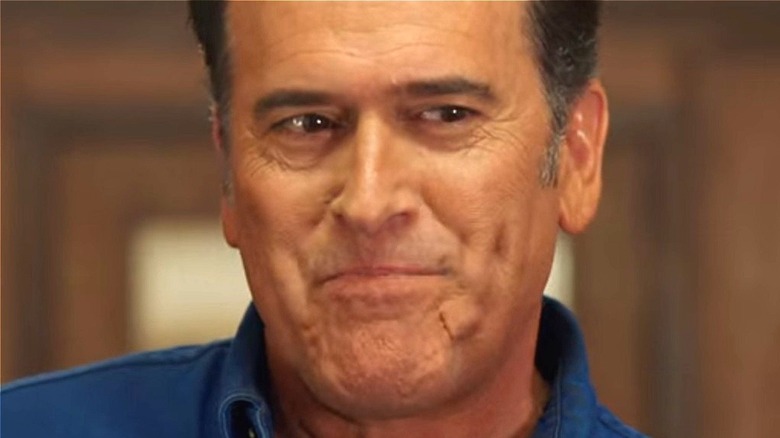 Starz
The horror genre took a delightfully unexpected detour in 1981 with the release of "The Evil Dead," an inventive low-budget film from writer-director Sam Raimi, producer Rob Tapert, and actor Bruce Campbell. It developed a big enough cult following to merit a sequel in 1987 with "Evil Dead II," where loads of Three Stooges-inspired physical comedy entered the mix; and the trio seemingly made their battles against the forces of evil complete with the 1992 threequel "Army of Darkness."
Perhaps what Raimi, Tapert, and Campbell didn't anticipate was the demand for more "Evil Dead" as the franchise continued to grow in popularity. Before too long, video games based on the "Evil Dead" saga were being produced, as well as action figures featuring the likes of the trilogy's chainsaw-handed antihero, Ash Williams (Campbell), and his demonic foes, dubbed "Deadites" in the films.
Meeting the public's need for more chapters of Ash and the "Necronomicon Ex-Mortis," the filmmaking trio seized an opportunity and created the TV series "Ash vs. Evil Dead" in 2015. Set about 30 years after "Army of Darkness," the comedic, blood-soaked gore fest starred Campbell, naturally, in the titular role, but along for the ride were a new pair of sidekicks: Kelly Maxwell (Dana DeLorenzo) and Pablo Simon Bolivar (Ray Santiago). "Ash vs. Evil Dead" aired for three seasons on Starz before it was canceled in 2018, leaving a wave of disappointed fans in its wake.
Now, four years after the final scene of "Ash vs. Evil Dead," where Ash appears in the future with a new, augmented sidekick, Lexx (Jessica Green), and of course, his trusty Delta 88, aka "the Classic," Campbell and company appear to be revved up for more adventures. This time, however, they'll be appearing in a much different medium.
Campbell says talks are happening for an Ash vs. Evil Dead animated series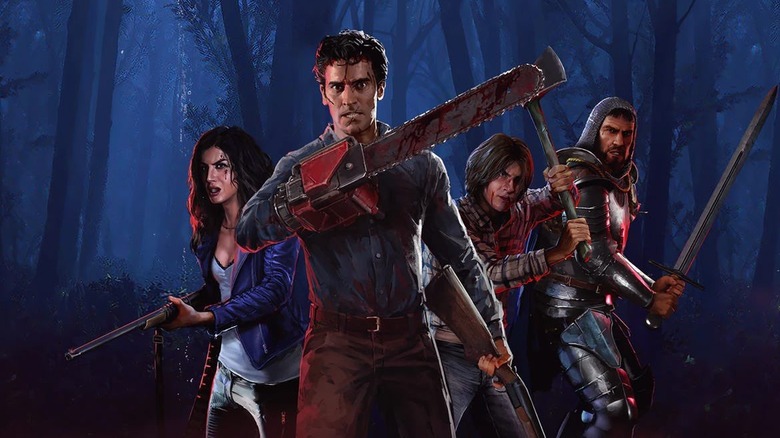 Boss Team Games/Saber Interactive
After decades of taking a playful battering by Sam Raimi, Bruce Campbell retired from playing Ash in physical form when "Ash vs. Evil Dead" was canceled, although he was more than happy to reprise the role in video game form, returning for "Evil Dead: The Game." And while "Evil Dead: The Game" gave fans characters and settings from all three "Evil Dead" movies, as well as "Ash vs. Evil Dead," the demand apparently remains high enough for the creators to explore an animated series based on the TV series.
In an interview with Collider at San Diego Comic-Con 2022, Campbell hinted that more "Ash vs. Evil Dead" — in animated form — may be on the way. "You can do the future a lot easier in animation. I still sound like Ash, and you know, my voice hasn't been as beat up as my body has been so I can still do that crap," the actor said. "So I'll still do the video game. And we're already talking about an animated [series]."
It's hard to say judging by Campbell's comments what an "Ash vs. Evil Dead" animated series would encompass, but since he mentioned the future, it's conceivable that the series would pick up where the final live-action episode left off, as Ash and Lexx embark on an adventure to find Ash's daughter, Brandy (Arielle Carver-O'Neill). Whether Dana DeLorenzo and Ray Santiago will be back for the animated series if it materializes is yet to be seen, but since both reprised their roles in voice form for "Evil Dead: The Game," their days as Ash's sidekicks may not be over.