Are WWE's Vince McMahon And Stone Cold Steve Austin Friends In Real Life?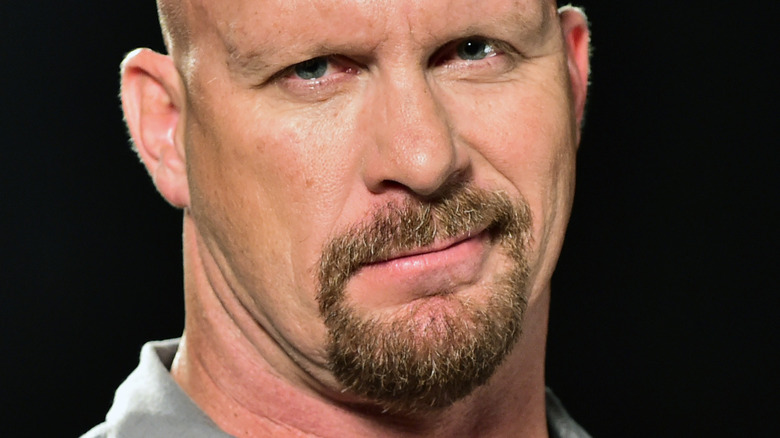 Moses Robinson/Getty Images
Vince McMahon and "Stone Cold" Steve Austin have had their ups and downs throughout the years — both on and off the screen. During WWE's infamous Attitude Era, their characters were bitter storyline enemies whose legendary feud dominated the company's programming and helped turn WWE into a ratings sensation. Behind the scenes, however, they had a professional and positive relationship which led to them working closely together.
Of course, a wedge developed between the pair back in 2002 after Austin walked out of the company due to creative differences with McMahon. The "Texas Rattlesnake" was upset after the WWE owner told him that he was going to lose a match against Brock Lesnar on an episode of "Monday Night Raw." Austin felt that this was a poor business decision as the bout had the potential to headline a pay-per-view, so he decided not to show up to work that day. Austin was subsequently suspended and fined, and WWE proceeded to take shots at him on television (per The Sportster).
Austin would ultimately return to the company and he's remained a semi-regular part of WWE programming ever since. He even appeared at this year's "WrestleMania" to give McMahon a stunner for old time's sake. That means they must be friends behind the scenes, right? 
Steve Austin and Vince McMahon are friends, but they aren't as close as they used to be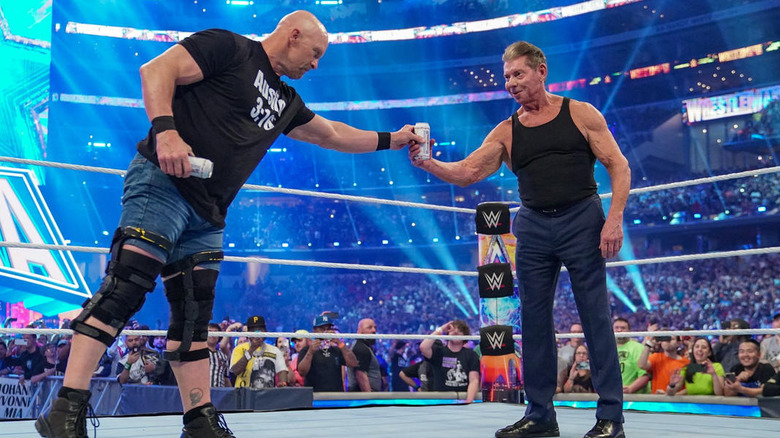 WWE
Steve Austin continues to work closely with WWE. In addition to appearing at this year's "WrestleMania," his "Broken Skull Sessions" series, which sees him interview some of the biggest names in sports entertainment, continues to air on the WWE Network. However, the Hall of Famer has been open about the fact that he and Vince McMahon aren't as close as they used to be.
During an interview with Wrestling Inc, Austin revealed that it's difficult for him to get a response from McMahon these days. "He don't even take my phone calls but let me tell you, back when I was working on top, when I called Vince, that phone didn't ring a half time before he picked it up. Now I'll send him a text message and I'll get an answer back in a couple of days." Now that Vince McMahon has officially retired from WWE, he'll probably have more time on his hands to respond to calls and texts.
That said, Austin and McMahon do have a strong relationship, for the most part. While speaking on "The Pat McAfee Show," Austin said that they've managed to put their past differences aside, before stating that he loves his old boss. "I've got nothing but respect for the guy and we're in a real good place," Austin added.