Dwayne Johnson Drops Hints At His DCEU Future After Black Adam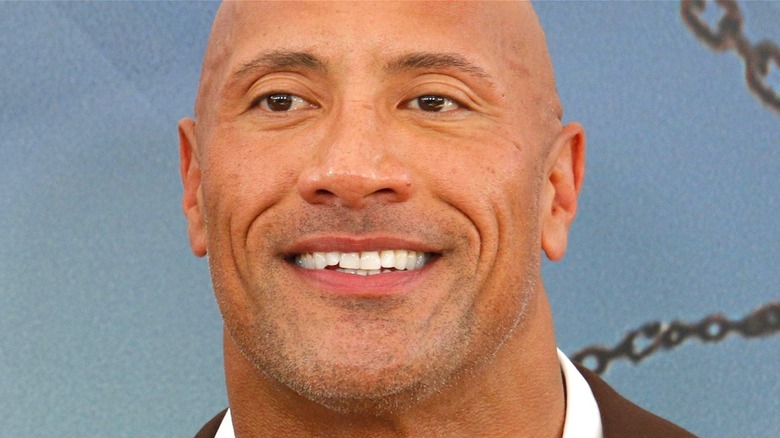 Tinseltown/Shutterstock
DC Films has long attempted to catch up to the cinematic powerhouse that is the Marvel Cinematic Universe. Starting with "Man of Steel" in 2013, the production company began to craft its own stable of interconnected movies called the DC Extended Universe, which has introduced characters such as Aquaman (Jason Momoa), Batman (Ben Affleck), Cyborg (Ray Fisher), the Flash (Ezra Miller), Shazam (Zachary Levi), Superman (Henry Cavill), and Wonder Woman (Gal Gadot).
Next up on the slate is Black Adam (Dwayne Johnson), a character to whom Johnson has been attached since 2014 and who was initially planned to appear in 2019's "Shazam!" (via Variety) before it was announced that he would be getting his own movie. Besides the eponymous antihero, "Black Adam" will feature members of the Justice Society of America (JSA), the predecessor to the Justice League of America. And according to Johnson, fan reaction to the film will affect how the DCEU goes forward with those characters.
If fans like the characters in Black Adam, they may get their own media properties
Dwayne Johnson spoke to Den of Geek about how "Black Adam" may influence the DCEU's future, explaining, "The whole goal was that our film was going to set off a larger universe, where we were able to introduce the JSA and then also build from there. If audiences respond to these characters—which we believed that they would, and now we see that they do—we want to honor their mythologies and build out their stories on their own in terms of spin-offs, movies, TV shows, and things like that. That was always important."
This makes it seem as though fan reaction to these new characters will help shape the DCEU's upcoming projects. While non-comic book fans have had very little exposure to classic DC characters like Hawkman (Aldis Hodge), Dr. Fate (Pierce Brosnan), and Atom Smasher (Noah Centineo), who tend to get overshadowed by the likes of Superman and Batman, audiences may find themselves wondering more about these characters after watching "Black Adam."
Considering DC Films' plans for an expanded and interwoven shared narrative akin to the MCU, we know there will be plenty of additional content either way. But it certainly sounds like Johnson has high hopes for the future of the DCEU.