What Is The Song In The Dungeons & Dragons: Honor Among Thieves Trailer?
"Dungeons and Dragons" is ripe for adaptation. Any number of stories can take place within its confines, filled with thieves, monsters, dragons, and all sorts of other creatures. As such, it should come as no surprise to hear that the tabletop RPG is getting a new big-screen adaptation, courtesy of "Dungeons & Dragons: Honor Among Thieves." 
The upcoming film stars Chris Pine, Michelle Rodriguez, Regé-Jean Page, Sophia Lillis, Justice Smith, and Hugh Grant, and if the trailer's any indication, this movie will have you and your friends talking about it at length at your next game night. Pine plays a charming thief who rounds up an eclectic mix of adventurers to pull off the heist to end all heists. Naturally, along the way, they run afoul of some powerful people, but it's all in a day's work within the realm of "D&D."
The trailer should be enough to get fans adequately excited for the adaptation. And a highly appropriate song is used to take viewers through the epic adventure.
The song is Whole Lotta Love by Led Zeppelin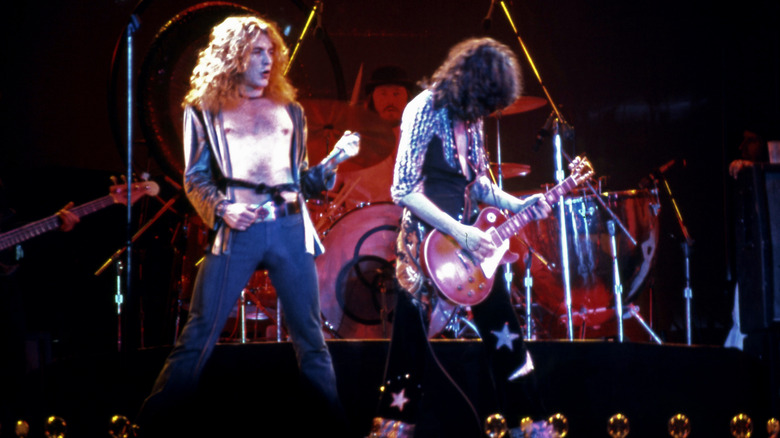 Bruce Alan Bennett/Shutterstock
Anyone who knows their classic rock knows that Led Zeppelin and fantasy go hand-in-hand. The band regularly incorporated elements of the genre into their lyrics, so it makes sense one of their songs would make its way into a "Dungeons & Dragons" trailer. 
After all, songs like "Ramble On," "Misty Mountain Hop," and "The Battle of Evermore" include copious references to "The Lord of the Rings" (via Rolling Stone), but it's "Whole Lotta Love" that receives its share of love in the newest "D&D" trailer. That song doesn't necessarily have a lot of fantasy going on in it, but it's a rousing track that suits the tone the film's clearly going for. It looks like a rip-roaring time, and hopefully, a little Led Zeppelin makes its way into the movie itself. 
The use of "Whole Lotta Love" is also noteworthy, seeing how, for years, Led Zeppelin's estate has been picky about licensing the band's songs (via The Los Angeles Times). The grip has loosened in recent years, allowing "Immigrant Song" to appear in "Thor: Ragnarok," but it's clear that movies are all the better with more Led Zeppelin in them.