Marvel's New Warriors Will Move From Freeform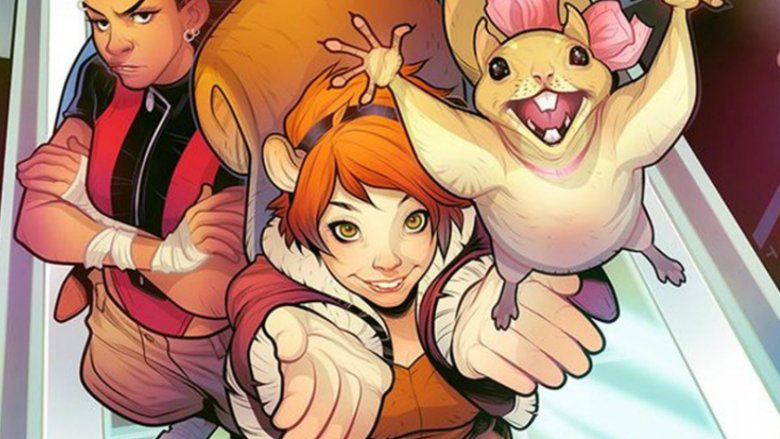 Marvel
Marvel's eagerly anticipated live-action New Warriors series is looking for a new home, but that could be a good thing.
According to The Hollywood Reporter, the half-hour comedy tested "through the roof" and Disney now wants to move the show from the cable network Freeform to another outlet. Sources said the 10-episode first season from Kevin Biegel (Enlisted) could move to Disney's upcoming streaming service, but there's reason to believe that won't happen. 
The show centers on six young people learning to deal with the superhuman abilities "in a world where bad guys can be as terrifying as bad dates." Milana Vayntrub (This Is Us) stars as the fan-favorite Squirrel Girl along with Derek Theler (Baby Daddy) as Mister Immortal, Jeremy Tardy (Dear White People) as Night Thrasher, Calum Worthy (Austin & Ally) as Speedball, Matthew Moy (2 Broke Girls) as Microbe, and Kate Comer (The Comeback) as Debrii. 
Although Freeform is expanding its original programming to four nights a week in 2018, there apparently isn't room for the show next year. So Marvel (which is owned by Disney) asked to get the series back to premiere sometime in the new year. "We are extremely excited about Marvel's New Warriors and look forward to finding the perfect partner to launch the series with in 2018," said Dan Buckley, president of Marvel Entertainment.
Sources said that Marvel is no longer able to sell shows to outside companies due to Disney's planned streaming service that will be home to all of the studio's Marvel movies like The Avengers. But that service isn't expected to launch until late 2019, which means New Warriors could end up on another streaming service like Netflix, which is home to Daredevil, Jessica Jones, Iron Fist, Luke Cage, The Defenders, and The Punisher. But Marvel does have shows on other networks including Agents of SHIELD and Inhumans on ABC, Legion on FX, The Gifted on Fox, and The Runaways on Hulu.
Production on New Warriors could resume in January if the series finds a new landing spot.