Steven Soderbergh's Vision For The Magic Mike Franchise Is Much Bigger Than We Imagined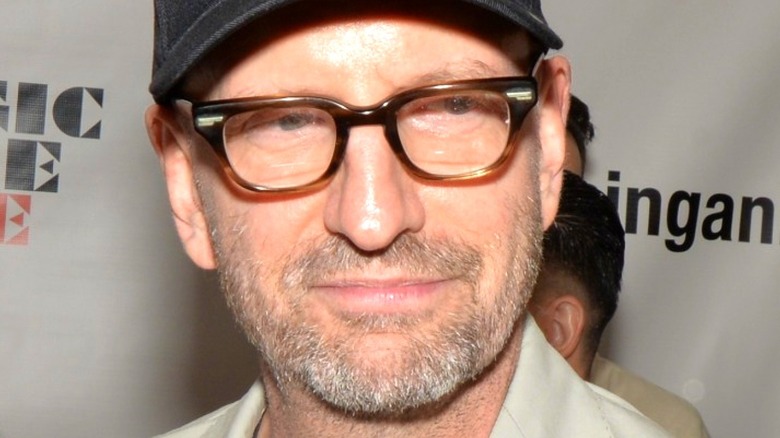 Manny Hernandez/Getty
The spirited and very character-driven world "Magic Mike" centers itself around a group of male strippers whose camaraderie helps get them through money troubles and less-than-stellar personal situations. The central figure of the franchise is the titular Michael "Magic Mike" Lane (Channing Tatum), who gyrates at the Xquisite Strip Club, a Tampa, Florida establishment where dollars and champagne flow freely. 
Stripping is just a side job that Mike maintains while trying to establish his own custom furniture business, but he'll do anything for the brotherhood of friends he's found at the Xquisite. That includes unretiring to help the Kings of Tampa take a convention by storm in the film's sequel, "Magic Mike XXL." The franchise has been so successful that it spawned two spin-off projects: "Finding Magic Mike," an HBO Max reality competition show that debuted in December of 2021, and "Magic Mike Live," a stage review at Las Vegas' SAHARA resort, which will begin touring America this fall.
"Magic Mike's Last Dance," which will feature Tatum once more as Lane, is set to round out the trilogy of films when it drops on HBO Max sometime in the future. But Steven Soderbergh, the legendary director who's headed up two of the three flicks which make up this epic tale, is looking even further into the future than that.
Soderbergh has visions of a Magic Mike universe
In a July 2022 statement to Variety, Steven Soderbergh confessed that while the mainline film series is slated to stop with its third installment, additional "Magic Mike" adaptions might be around the corner in other mediums. "I think there are other things to be done within what I consider now to be a larger 'Magic Mike' universe," he explained. "There are stories that can be told that have the same sort of ethos and are tackling the same subjects that still involve dance but don't have Mike Lane in them."
Sounds like there might be a scripted television show or spin-off series of films in the works, but Soderbergh stayed mum on the topic. He did hint that "Magic Mike's Last Dance" might see a theatrical release due to its popularity with female viewers — and that the film might feature Mike trying to turn his experience as a dancer into a stage show. That's delightfully ironic because a musical treatment of the film was in the works but was ultimately scuttled, per Variety. In any event, it seems that the franchise may be preparing for a renaissance even if Channing Tatum retires from his role.