Simon Pegg Has A Brutally Honest Take On His Own Past Star Wars Comments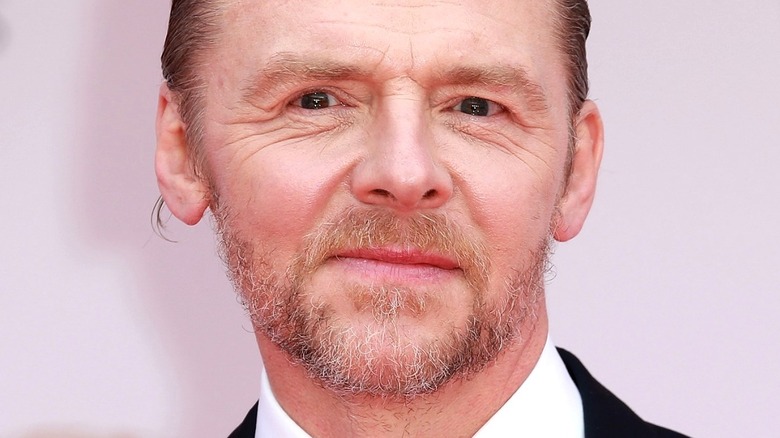 Cubankite/Shutterstock
The fanbase for the "Star Wars" universe extends far beyond general audiences. In fact, several high-profile people in showbiz have made their love for creator George Lucas' sprawling space opera known, including actor Simon Pegg. Together with his frequent collaborator Nick Frost, the "Shaun of the Dead" duo even went so far as to do a massively popular College Humor sketch, where they played bargain basement versions of C-3PO (Pegg) and R2-D2 (Frost) in a feeble attempt to do a "shot for shot remake of the entire 'Star Wars' trilogy" — but only completed one scene.
Naturally, Pegg and Frost's sketch was all done in good fun — and didn't take on the mean-spirited tone of fans who have attacked the Lucas' saga beginning with the prequel trilogy in 1999. Sad to say, Pegg recently admitted he was part of the toxic fandom who criticized the prequel films — and specifically targeted the goofy Gungan character Jar Jar Binks, who was brought to life via CGI and the movements and voice of actor Ahmed Best. What Pegg didn't know was that backlash against Jar Jar was so intense that Best contemplated suicide.
"I've apologized for the things I said about, you know, Jar Jar Binks," Pegg told SiriusXM's "Jim and Sam" radio show in a recent interview (via Mediaite). "Because, of course, there was a f***ing actor involved. He was getting a lot of flack and ... it was a human being. And because it got a lot of hate, he suffered, you know, and I feel terrible about being part of that."
But while Pegg learned his lesson, there are others who haven't, which is why the actor is broaching the touchy subject again.
If you or anyone you know is having suicidal thoughts, please call the National Suicide Prevention Lifeline by dialing 988 or by calling 1-800-273-TALK (8255)​.
Pegg says there's a toxic element in the Star Wars fan base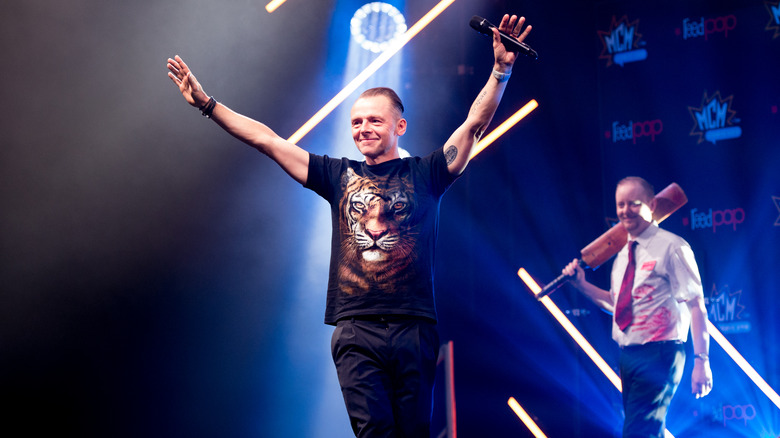 Ollie Millington/Getty Images
Thanks to his director friend and colleague J.J. Abrams, whom he first worked with on "Mission: Impossible 3," Pegg got to fulfill his Star Wars fantasy in 2015 by playing a small role — under heavy prosthetics — as the junk dealer Unkar Plutt opposite Daisy Ridley's Rey in "Star Wars: Episode VII – The Force Awakens." But that film and its two follow-ups — "The Last Jedi" and "The Rise of Skywalker" — once again saw disgruntled fans attacking various actors in the trilogy over social media, throwing racist barbs at the likes of John Boyega and Kelly Marie Tran (via Variety).
Sadly, the online hate didn't abate after the sequel trilogy, with fans most recently leveling racist attacks at "Obi-Wan Kenobi" star Moses Ingram — leading Pegg to call out "Star Wars" hatred in the same "Jim and Sam" interview. "To be honest — and as someone who kind of was, you know, kicked off about the prequels when they came out, the Star Wars fanbase really seems to be the most kind of toxic at the moment," Pegg said. "I'm probably being very controversial to say that."
As an actor who also has the benefit of being involved in another beloved sci-fi franchise — as the iconic character Scotty in Abrams' "Star Trek" reboot films — he told "Jim and Sam" that while Star Wars fans are the hardest to please, Star Trek fans are the exact opposite. "I find the Star Trek fans have always been very, very inclusive, you know, Star Trek's about diversity," Pegg told the radio hosts. "It has been since 1966, it always was."