Nope Already Broke A Major Record For Jordan Peele, And That Could Be A Problem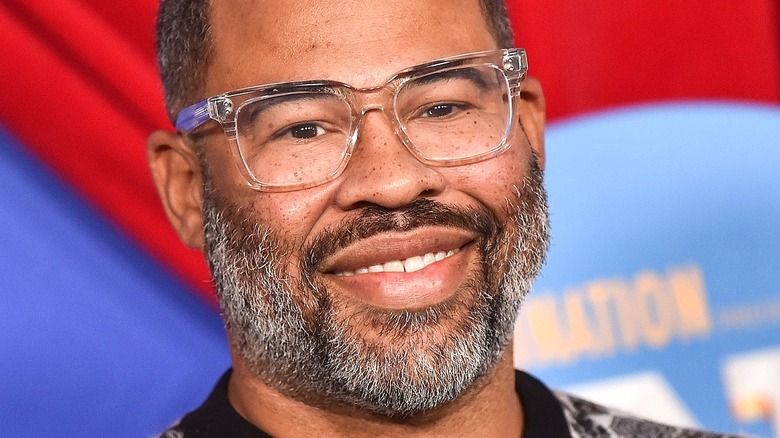 DFree/Shutterstock
After directing and writing the wildly popular 2017 film "Get Out," Jordan Peele delivered another nail-biting modern horror masterpiece full of stinging social commentary with 2019's "Us." With his next directorial feature-length effort, "Nope," just around the corner, audiences are no doubt waiting with bated breath to see whether or not Peele can pull it off for the third time in a row. 
As has become the norm for Peele's films, we don't know much about the full scope of the plot of "Nope," aside from the premise that it stars two siblings living out in the country, OJ (Daniel Kaluuya) and Emerald Haywood (Keke Palmer), who spot what looks like a UFO and attempt to capture footage of an extraterrestrial encounter. The first reactions to "Nope" were mostly positive and as of the time of writing, the reviews rolling in seem to confirm that trend. In his review of "Nope," Looper's own Matthew Jackson called the film "a summer adventure blockbuster in the classic sense, a tremendous exercise in spectacle, and proof that Jordan Peele has only just begun to show us what he can do." If other critics feel similarly, Peele could have another instant classic on his hands. 
However, the metrics for the film's financial success will look very different from Peele's previous efforts for one big reason.
Nope's much bigger budget means it will need to sell a lot more tickets to match Peele's previous financial successes
"Get Out" wasn't just a hit with critics when it was first released — the movie was also a big winner at the box office, grossing an impressive $255.4 million globally against its fairly low $4.5 million budget. "Us" had a similarly successful run with its $255.2 million haul compared to its $20 million budget. Considering all the buzz surrounding "Nope," it's not hard to imagine the film doing as well as Jordan Peele's previous efforts. However, it will actually need to do significantly better than that to match the earnings of "Get Out" and "Us."
"Nope" is arriving as Peele's most expensive film to date, as Variety reports it boasts a budget of $68 million, more than three times the budget of "Us." That means the movie will have to be an even bigger box office draw to match the success of its predecessors. Of course, with Peele's strong reputation as a filmmaker and the movie's commitment to spectacle, it does appear that if any film could clear that hurdle, it very well could be "Nope." We'll just have to wait and see.
"Nope" releases exclusively in theaters on July 22.