12 Shows Like Top Of The Lake Fans Should Watch Next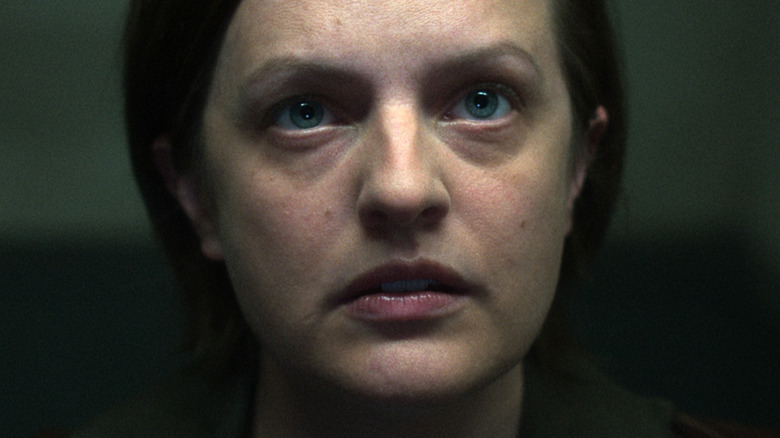 Apple TV+
Haunting crime shows are all the rage these days, but "Top of the Lake" still manages to stand out. Co-created and written by Oscar-winning New Zealand director Jane Campion, this stellar series stars Elisabeth Moss as Robin Griffin, a Sydney detective who has returned to her hometown of Laketop, New Zealand to visit her ailing mother. While there, she agrees to help on a case involving a pregnant 12-year-old girl named Tui Mitcham (Jacqueline Joe). Season 2 of the series, entitled "Top of the Lake: China Girl," follows Robin as she tackles a case back in Sydney involving the death of an unidentified young woman.
What makes "Top of the Lake" so brilliant is its unflinching look at female trauma and attendant lessons about empathy. Rather than taking a clinical look at violence, Robin strives to understand what the victims she works with are going through, creating a powerfully intimate viewing experience. Luckily, "Top of the Lake" is not the only crime show that tackles thorny issues in this meaningful way. If you're looking for your newest mystery obsession, you're in the right place: These are 12 shows you should watch next if you love "Top of the Lake."
Mare of Easttown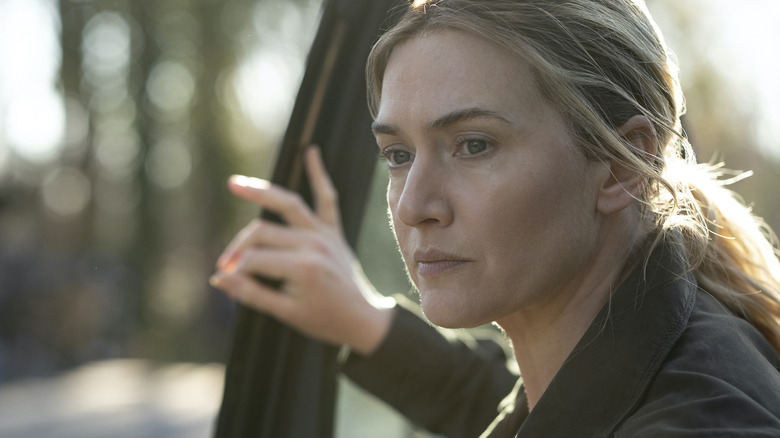 Michele K. Short/HBO Max
Like "Top of the Lake," "Mare of Easttown" stars a critically-acclaimed actress as a troubled and prickly detective trying to solve a murder in her hometown. Kate Winslet turns in a performance worthy as her best movies as complicated Mare, whose investigation kicks off after a teen mother's body is found dead in the Pennsylvania woods. Mare was once a beloved local figure, thanks to her high school basketball record, but her reputation has gone downhill as she's proved unable to find a missing girl. She's also dealing with a host of personal troubles: Her ex-husband is remarrying, she's fighting to keep custody of her 4-year-old grandson, and her mother, played by the hilarious Jean Smart, is getting on her nerves. Beyond all of these immediate issues, she's also still dealing  with the fallout of her son's suicide two years prior.
As with Moss' Robin, all of the issues in Mare's life seem to overlap. Now matter how hard she tries to keep everything compartmentalized, her trauma and dysfunctional family seep into her professional life — occasionally with disastrous results. Winslet is brilliant as the haunted, cantankerous Mare and is surrounded by similarly luminous talents. Plus, if you like Moss' New Zealand accent on "Top of the Lake," you're going to love Winslet's spot-on Pennsylvania mumble.
If you or anyone you know is having suicidal thoughts, please call the National Suicide Prevention Lifeline by dialing 988 or by calling 1-800-273-TALK (8255)​.
Broadchurch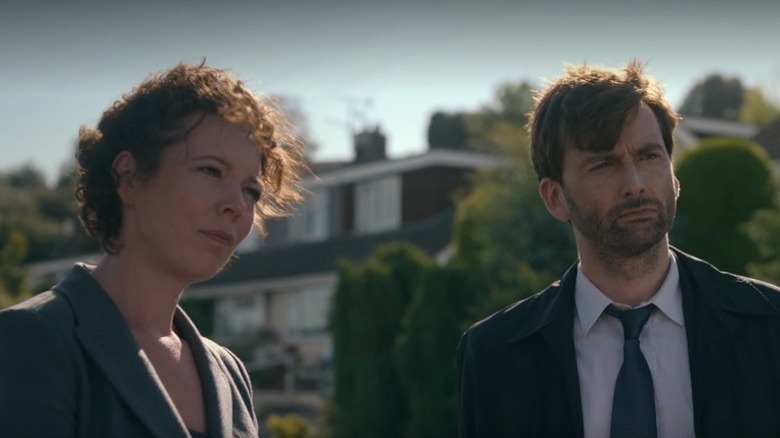 ITV
If you love "Top of the Lake" for its talented cast and devastating revelations, you've got to check out "Broadchurch." Set in the fictional coastal town of Broadchurch, this series kicks off with the death of an 11-year-old boy named Danny Latimer. Out-of-towner Alec Hardy (David Tennant) is called to head up the investigation over local detective Ellie Miller (Olivia Colman). The two struggle to work together, as Hardy is not one to play well with others. Meanwhile, Danny's family struggles to cope with his death, the attendant media attention, and the fact that no one seems to have any idea what happened. Seasons 2 and 3 deal with the ensuing trial and its aftermath, as well as a few new (and old) cases that come along. 
With its all-star cast — including not one, but two actors who have played the Doctor of "Doctor Who" fame — "Broadchurch" is a lavish showcase of excellent performances. Like "Top of the Lake," it's also a stirring portrait of how violent crime reveals a tightly-knit community's greatest strengths and flaws. It's hard to stop watching "Broadchurch" once you start, so you better get going ASAP.
Happy Valley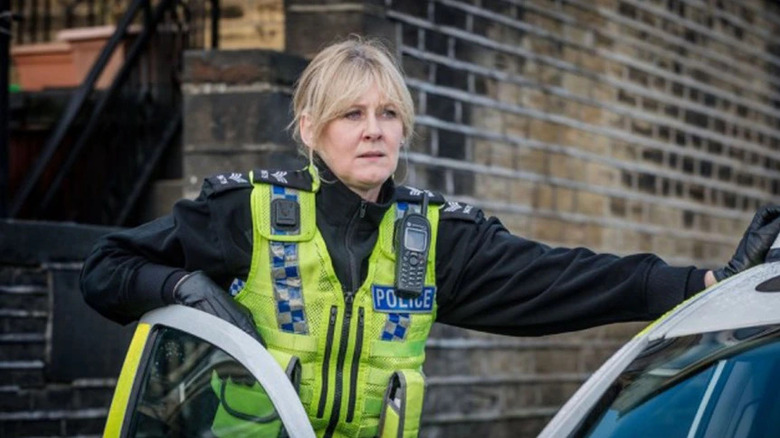 BBC One
"Happy Valley," a brilliant series created by "Last Tango in Halifax" and "Gentleman Jack" creator Sally Wainwright, follows Catherine Cawood (Sarah Lancashire), a police sergeant who lives and works in West Yorkshire's beautiful but troubled Calder Valley. Catherine is haunted by her daughter's suicide, especially since Tommy Lee Royce (James Norton), the man who raped and impregnated her, is out of prison. When a local woman is kidnapped, Catherine is certain he's involved — but can she prove it before it's too late?
Lancashire is excellent as a complex officer who's been let down by the system plenty of times before. Uniquely, Catherine uses her pain to guide her investigation just like Robin does — and, like Robin, she faces derision for it. She turns to a variety of coping mechanisms to deal with this, and while they might not always be the healthiest choices in the world, they sure are compelling to watch. "Happy Valley" is also a vivid portrayal of the small town drug trade. Things work somewhat different in the Calder Valley than they do in New Zealand, but you'll be amazed by how much overlap there is between the networks Robin and Catherine must unearth. If you're looking to be reminded of why so many crime shows with strong female leads are the best the genre has to offer, look no further than "Happy Valley."
If you or anyone you know is having suicidal thoughts, please call the National Suicide Prevention Lifeline by dialing 988 or by calling 1-800-273-TALK (8255)​.
The Killing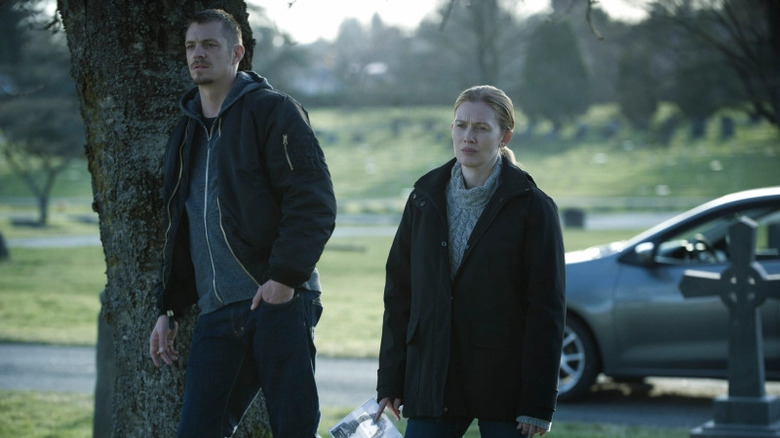 AMC
There's just something about a gray, rainy town that makes it the perfect location for a brooding mystery. This is why Seattle is an ideal setting for "The Killing," which was inspired by the Danish television series of the same name. "The Killing" follows Sarah Linden (Mireille Enos), a by-the-book detective with the Seattle Police Department. Linden is charged with mentoring former narcotics detective Stephen Holder (Joel Kinnaman), a more spontaneous investigator. Though their approaches clash, they end up hot on the trail of whoever murdered a local teenage girl. But this case turns out to be far more complicated than they ever could have realized.
"The Killing" is something of a slow burn, much like "Top of the Lake." This measured pacing eventually builds to something quite chilling, even among crime series. Featuring impressive acting by its leads and some talented names behind the camera ("Wonder Woman" director Patty Jenkins helmed Episode 1), "The Killing" is a hidden gem that's perfect for fans of introspective mysteries.
Shining Girls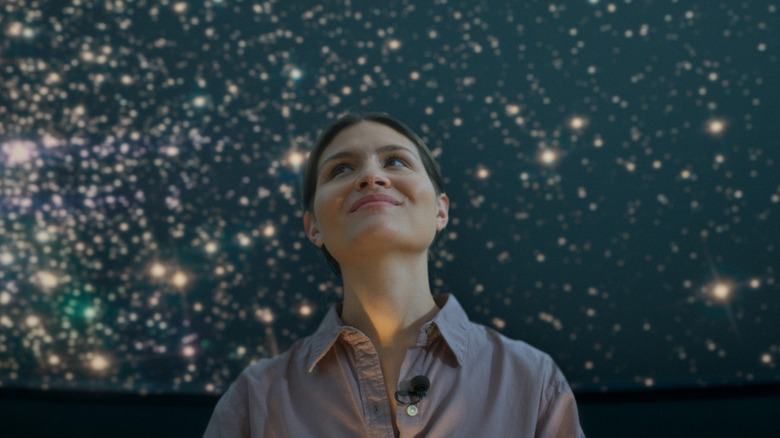 Apple TV+
If another creepy show starring Elisabeth Moss is exactly what your heart desires, then we have just the thing. "Shining Girls" is a vaguely supernatural thriller series, based on Lauren Beukes' novel of the same name. Moss plays Kirby, an archivist who was attacked years ago by an unknown man. When a murder with many similarities to her own ordeal surfaces, she becomes determined to find the killer. But things become increasingly difficult for Kirby as she begins losing her sense of reality and eventually finds herself thrust into different timelines. 
Kirby and Robin are fairly different characters, but they're united by Moss' inimitable skill. Moreover, their presents are both defined by their pasts — though this turns out to be a far slipperier issue for Kirby, what with the sci-fi elements present. While "Shining Girls" is an investigative mystery at its core, there's just enough surrealism thrown in to keep you guessing until the end.
The Fall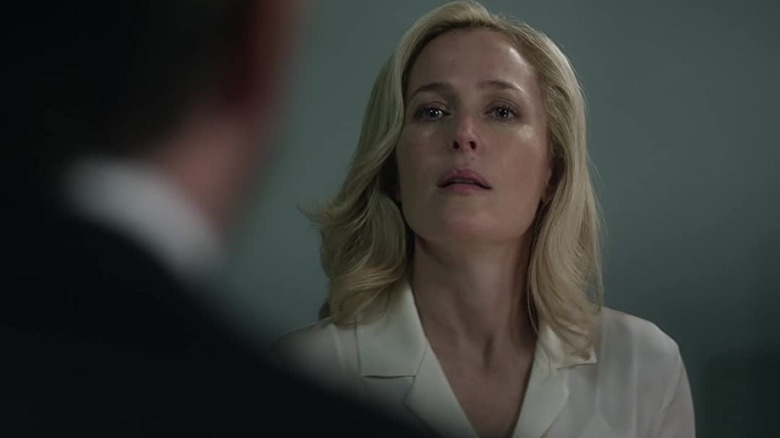 BBC Two
When done right, TV series about serial killers can be incredibly thought-provoking. "The Fall," which stars Gillian Anderson, is one such show. Anderson plays DSI Stella Gibson, a stony sleuth who travels to Belfast to head up a task force aimed at catching a brutal serial killer. We know who the killer is pretty early on: He's Paul Spector (Jamie Dornan), a devoted family man who likes to kill young women in his spare time. As Stella tries to get into Paul's head, Paul tries to get under Stella's skin.
As in "Top of the Lake," "The Fall" spotlights Stella's empathy as her superpower. She's even outright vulnerable at many points in the series, as Robin often is in Laketop, yet this never diminishes the character's strength and presence. Anderson is utterly perfect for the role: The tenacity, intelligence, and complexity she displays puts Stella in the pantheon of all-time great TV detectives. 
Unbelievable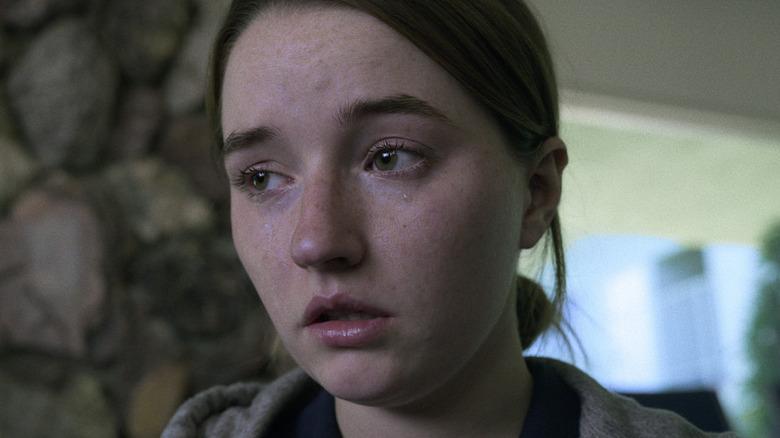 Netflix
Even committed fans of crime dramas sometimes find the violence and brutality portrayed on screen exploitative or unnecessarily vicious, especially when it involves sexual violence against women. "Top of the Lake" combats this tendency by featuring a multitude of female characters with rich internal lives. "Unbelievable" takes a similar approach. After she's raped by a stranger, Marie Adler (Kaitlyn Dever), a teen girl and former foster kid, tells the police. The authorities within and beyond the precinct don't believe her, however, and eventually force her to retract her report. A few years later, two female detectives (Merritt Wever and Toni Collette) investigate a series of attacks that bear a striking resemblance to the one Marie endured.
Unlike other dramas of its ilk, "Unbelievable" doesn't focus on the violence itself, but its aftermath. This makes it a wholly unique series filled with insight, compassion, and some much-needed social criticism. Dever's portrayal of a young woman forced into a corner is utterly riveting, while Wever and Collette's revelatory empathy is a thoughtful balm. Like "Top of the Lake," "Unbelievable knows what's really at the core of any crime: Human people, put into inhuman situations.
If you or anyone you know has been a victim of sexual assault, help is available. Visit the Rape, Abuse & Incest National Network website or contact RAINN's National Helpline at 1-800-656-HOPE (4673).
Sharp Objects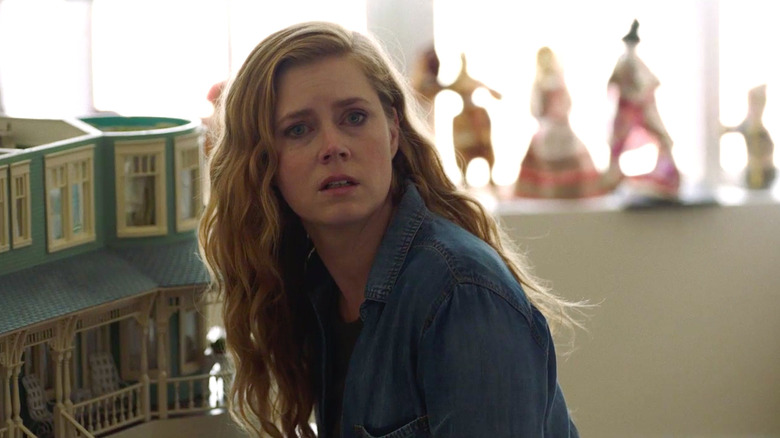 HBO
Based on the book of the same name by "Gone Girl" author Gillian Flynn, "Sharp Objects" is brimming with talent: It's directed by Jean-Marc Vallée of "Big Little Lies" fame, created by "UnREAL" co-creator Marti Noxon, and stars the great Amy Adams. Adams plays Camille Preaker, a reporter who returns to her Missouri hometown to investigate two young girls' mysterious murders. Camille's fragile mental state is soon made worse by her brutally passive-aggressive mother, Adora (Patricia Clarkson).
Like "Top of the Lake," "Sharp Objects" is not for the faint of heart. Camille's return to her hometown prompts a lot of unwanted memories, most of which lead back to a particularly traumatic period from her childhood. She also develops a complicated relationship with her teenage half-sister Amma (Eliza Scanlen), a slippery young woman with secrets of her own. It all culminates in truly unrivaled style: "Sharp Objects" has the sort of ending you'll never see coming. Vallée's distinctive style, which includes the liberal use of short flashbacks, is well-suited to Adams' visceral performance and adds to the creeping doom of the town itself. All in all, "Sharp Objects" is a truly stunning piece of television that is sure to get under your skin.
Marcella
ITV
Oftentimes, the most compelling crime dramas are those in which the perspective (and indeed, the sanity) of the lead character is called into question. After all, what's more engaging than a protagonist who's slightly unhinged? Co-created by famed Swedish screenwriter and novelist Hans Rosenfeldt, "Marcella" is a British detective series shot in the style of Nordic noir. After her husband suddenly decides to leave her, Marcella Backland (Anna Friel), a former London police detective, returns to her job. She's soon drawn back into a string of unsolved murders from a decade prior. 
Like Robin, Marcella is a fascinating protagonist who is quite difficult to pin down. While we see her struggling to balance her work and home life in Season 1, these struggles become more pronounced as the series continues, leading to some pretty shocking developments. But even as Marcella's mental health deteriorates, her desire to find the truth never wavers. What's most interesting about the series is that it, like "Top of the Lake," doesn't always answer the questions it poses. This leaves audience members with a whole lot of satisfying themes, plot twists, and questions to chew on.
The Sinner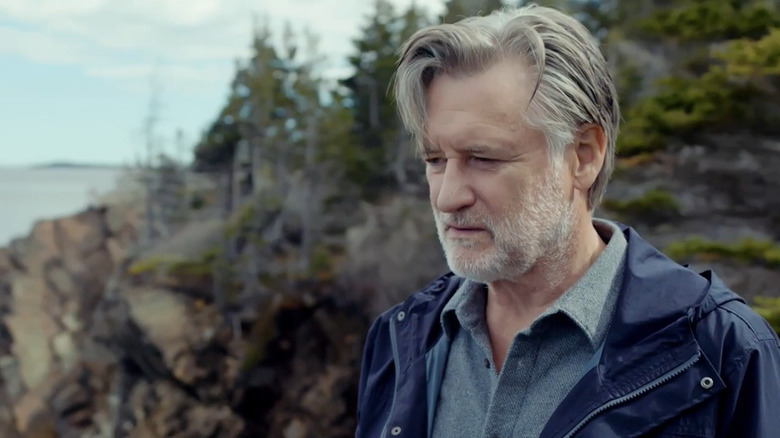 USA Network
While "Top of the Lake" is remarkable for how it explores female trauma and empathy, these conditions aren't reserved for women alone. "The Sinner" is a great example of why more crime series would do well to remember this. Bill Pullman plays Harry Ambrose, a caring but solitary detective who investigates homicides in upstate New York. Like Robin on "Top of the Lake," Harry has a great capacity for empathy, which allows him to connect with victims and perpetrators alike. He also struggles with the legacy of his traumatic childhood, which colors how he tackles the present.
Harry is a solitary man in more ways than one: He's is the only character who appears in every season of the show. Much like "Top of the Lake," each season of "The Sinner" sees him investigate a totally new crime. Season 1 stars Jessica Biel as a woman who suddenly stabs a man, for example, while Season 2 stars Carrie Coon and involves a young boy who has admitted to poisoning people. The cases never get any easier for Harry to solve, and his past continues to weigh on him. By Season 4, he has officially retired, but still gets pulled into one last case. Pullman's conflicted yet sympathetic performance is engaging enough to sustain all four seasons, and the exciting guest stars will keep you coming back for more.
Jessica Jones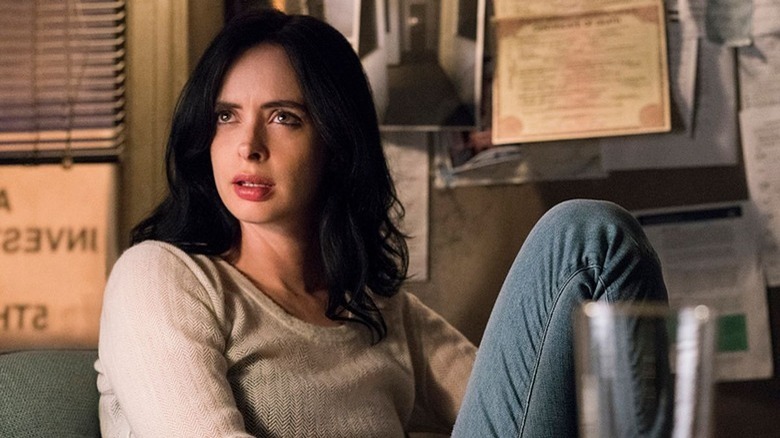 Netflix
"Jessica Jones" may not be a detective drama in the classic sense, but it does contain a lot of similarities to "Top of the Lake." This unique Marvel series follows Jessica Jones (Krysten Ritter), a private investigator who suffers from PTSD, struggles with alcoholism, and has super strength. She's horrified to discover Kilgrave (David Tennant), a vicious maniac with mind control powers, is back on the prowl. More of a hard-boiled detective story than a superhero yarn, "Jessica Jones" brilliantly mashes up genres to create a unique neo-noir style. Jessica can be a hard character to love, but it's impossible not to root for her as she tries to stop Kilgrave from victimizing anyone else. The series also features an eclectic supporting cast including Carrie-Anne Moss, Rachael Taylor, and Mike Colter.
Season 1 is a truly stunning chunk of television that will remind "Top of the Lake" fans of that series' first slate of episodes. Tennant plays Kilgrave, who uses his powers to get people (read: women) to do whatever he wants, with terrifying nuance. His self-pity is especially well portrayed: Even at his worst, he truly thinks he's the victim. While "Jessica Jones" may technically be a show about people with superpowers, its very first outing makes it clear that it's really about violation, consent, and finding solace in the wake of trauma.
The Tunnel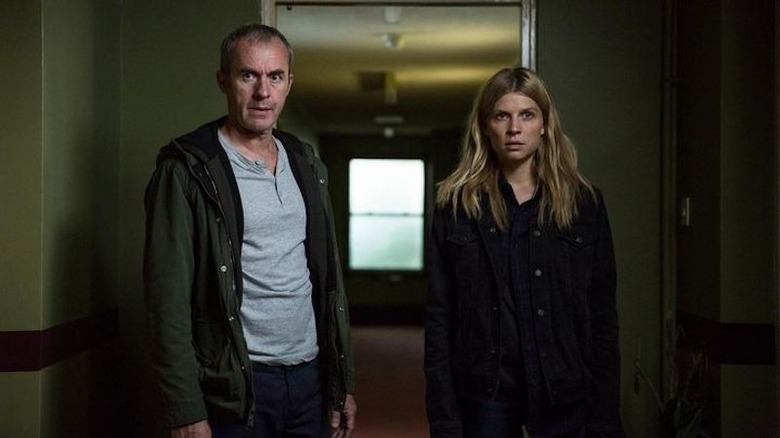 Sky Atlantic
It's hard to overestimate the influence of Nordic noir within the crime genre, especially where British productions are concerned. To give you an example, the Swedish crime series "The Bridge," which follows a murder investigation on the border of Denmark and Sweden, has spawned a whopping six international spin-offs. The first is called "The Tunnel," and it centers around a French detective and a British detective who come together to solve an enigmatic crime involving the Channel Tunnel.
Clémence Poésey plays Elise Wassermann, a serious and brutally honest detective who sometimes lacks social skills. Her partner is Karl Roebuck (Stephen Dillane), a veteran detective who's used to being in charge and doesn't like to be questioned. The two make a rather odd pair, but they eventually come to appreciate each other's quirks and find ways to work together. Refreshingly, they never become a romantic couple, which keeps the series' focus on who they are as individual people and how they're going to solve the mystery. 
Like "Top of the Lake," "The Tunnel" could most certainly be described as a brooding drama: The central crime is a horrific one, and the truth behind it is chilling. But "The Tunnel" also shares the sense of human drama that elevates "Top of the Lake" beyond lesser crime series. This isn't just a story about horrible events — it's a story about people. Intense performances from the top-tier cast make this fact clear in every single episode of "The Tunnel."