Here's What The Actor Who Plays The Creeper Looks Like In Jeepers Creepers Reborn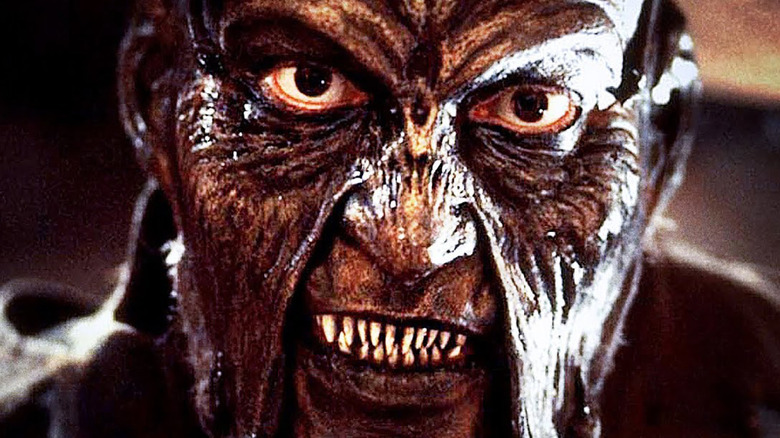 United Artists/MGM
Freddy Krueger, Michael Myers, and Jason Voorhees sit at the big table in the hall of horror icons. However, The Creeper, famed for his slashing exploits in the "Jeepers Creepers" franchise, has carved a strong legacy in his own right. Since 2001, the demonic truck-driving scarecrow has butchered his way through unsuspecting victims over the course of four movies. His latest outing, "Jeepers Creepers: Reborn," is almost upon us, and fans are divided over the trailer.
That said, "Jeepers Creepers: Reborn" has been polarizing horror fans since the project was first announced. The franchise's association with filmmaker Victor Salva — who was convicted of child molestation in 1988, prior to helming the first three "Jeepers Creepers" movies (via The Wrap) — means that it will always be synonymous with controversy and negativity. Fortunately, "Jeepers Creepers: Reborn" looks set to be a fresh start for the franchise, both in front of and behind the camera.
According to MovieWeb, the fourth "Jeepers Creepers" film is the first entry in a brand-new trilogy of movies that will essentially reboot the franchise. Furthermore, the upcoming film doesn't involve Salva in any capacity. "Iron Sky" director Timo Vuorensola has been tasked with resurrecting the next iteration of the franchise. As such, "Jeepers Creepers: Reborn" will also feature a new actor in the role of the Creeper. But who is he, and what does he look like without all of the scary monster makeup?
There's a new Creeper in town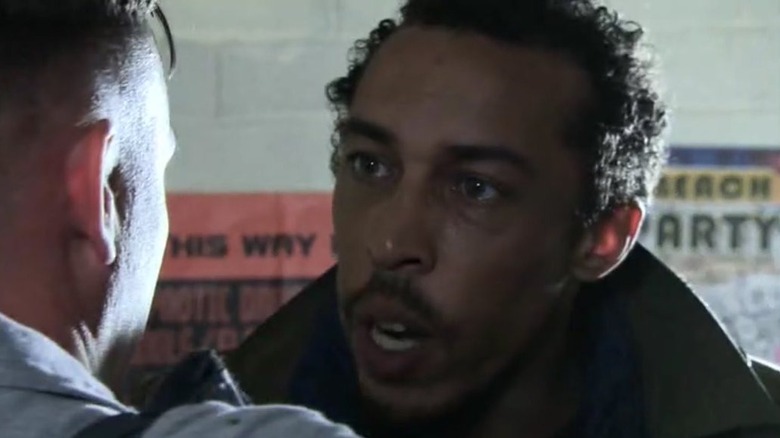 Channel 4/Netflix
The "Jeepers Creepers: Reborn" camp kept the identity of the film's villain top-secret until the first trailer arrived. Some fans expected Jonathan Breck, who portrayed The Creeper in the first three movies, to reprise his role as the organ-harvesting demon. But the reboot is about new beginnings, and Jarreau Benjamin will bring the monster to life in "Jeepers Creepers: Reborn" (IMDb).
The British-born actor isn't a household name yet, but his previous credits include roles in "Top Boy" and the long-running soap "Coronation Street" (per IMDb). He's also appeared in some independent movies, including the horror-tinged "Righteous Villains." Benjamin doesn't have the largest filmography out there, but a role in a hit horror franchise will certainly boost his profile.
It remains to be seen if Benjamin will solidify himself as one of the great monster actors in horror cinema. That said, he certainly possesses all of the tools to make an impact in "Jeepers Creepers: Reborn." As Spotlight notes, he stands at over six feet tall, so fans can expect the new Creeper to be an imposing menace.
If you or anyone you know has been a victim of sexual assault, help is available. Visit the Rape, Abuse & Incest National Network website or contact RAINN's National Helpline at 1-800-656-HOPE (4673).