The Clever Detail You Missed In That Pool Scene On Better Call Saul
Greg Lewis/AMC/Sony Pictures Television
"Better Call Saul" has been setting the world of television on fire with its scorcher of a final season (via Rotten Tomatoes). As Jimmy McGill (Bob Odenkirk) embraces his Saul Goodman alter ego completely and main characters drop like flies all season long, the "Breaking Bad" prequel is making itself increasingly the equivalent of its parent series.
Season 6, Episode 9 ("Fun and Games") sees even more chickens come home to roost as Kim Wexler (Rhea Seehorn) quits the bar and leaves Jimmy in the wake of the untimely demise of Howard Hamlin (Patrick Fabian). The episode also sees Gustavo Fring (Giancarlo Esposito) return to Mexico in order to meet with Don Eladio (Steven Bauer) and Hector Salamanca (Mark Margolis). Yet again, Gus is forced to answer accusations of betrayal levied by Hector.
More casual fans of the franchise may not realize that the location of this druglord meeting is actually a reference that is very specific to Gus' character. In fact, it's one that extends long before "Better Call Saul" and well into the run of "Breaking Bad."
Gus returns to the scene of Max's murder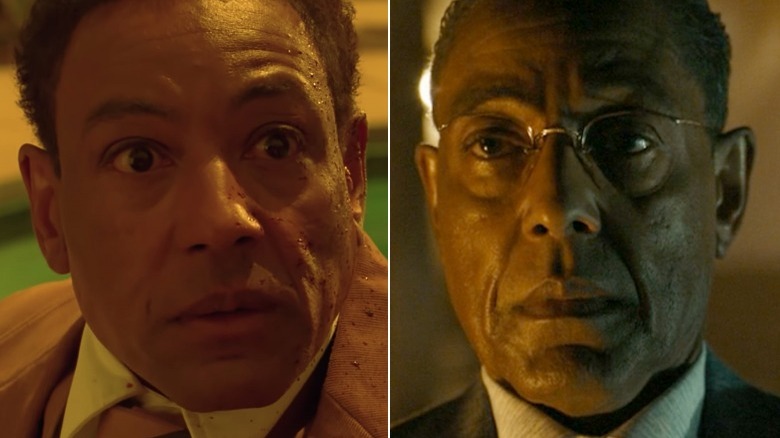 AMC
Eagle-eyed fans of "Breaking Bad" will recognize that the setting of this meeting is the precise location where Gus' partner Max Arciniega (James Martinez) is murdered in "Breaking Bad" Season 4, Episode 8 ("Hermanos"). According to director Michael Morris (via AMC), this "Better Call Saul" scene was very intentionally meant to remind viewers of this moment in "Breaking Bad." During a flashback sequence in "Breaking Bad," Gus and Max come to this same pool to meet Don Eladio and Hector Salamanca, when the latter suddenly executes Max. 
In fact, this entire confrontation is later revealed to be the motivating factor behind Gus' vendetta against the Salamanca family. In "Better Call Saul" Season 6, Episode 8 ("Point and Shoot"), Gus tells Lalo Salamanca (Tony Dalton) that he has left Hector alive so that he can take everyone from him and save him for last. This appears to be part of his long-simmering plan for vengeance against the head of the Salamanca crime family. Of course, part of this plan also includes Don Eladio meeting his end in nearly the exact same location as Max.
While some "Breaking Bad" fans have speculated that Gus and Max may have just been very close, others have ascribed additional meaning to their relationship, with some arguing that Gus is gay (via Pride). Notably, Season 6, Episode 9 ("Fun and Games") would seem to have provided additional evidence for this theory. After the pool-side meeting, Gus briefly flirts with a male waiter (Reed Diamond), dropping his ice-cold guard for a rare friendly chat and offering a further hint at his sexuality.