Why Better Call Saul Fans Have A Different View On Saul After Season 6 Episode 9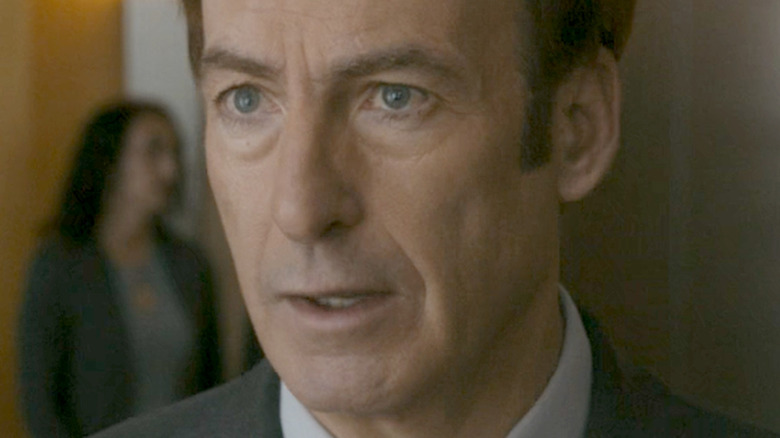 AMC
Season 6 of "Better Call Saul" is really putting its fans through the wringer. As viewers watch the layers of goodness that were once inherent in Jimmy McGill (Bob Odenkirk) fall away in favor of the phony pastiche of his alter ego, Saul Goodman, the timeline has grown increasingly close to that of its parent series "Breaking Bad."
The finality of this being the last season of the show is also setting in as the series approaches its end. With the deaths of Nacho Varga (Michael Mando), Howard Hamlin (Patrick Fabian), and Lalo Salamanca (Tony Dalton), three main cast members have left "Better Call Saul" in Season 6 already.
Still, even with such high stakes and the knowledge that the show is coming to an end, nothing could prepare fans for the abrupt changes that take place throughout Season 6, Episode 9 ("Fun and Games"). With that in mind, fans quickly took to Reddit to discuss the shocking events of an episode that could have left anyone with whiplash.
Fans were devastated by the latest episode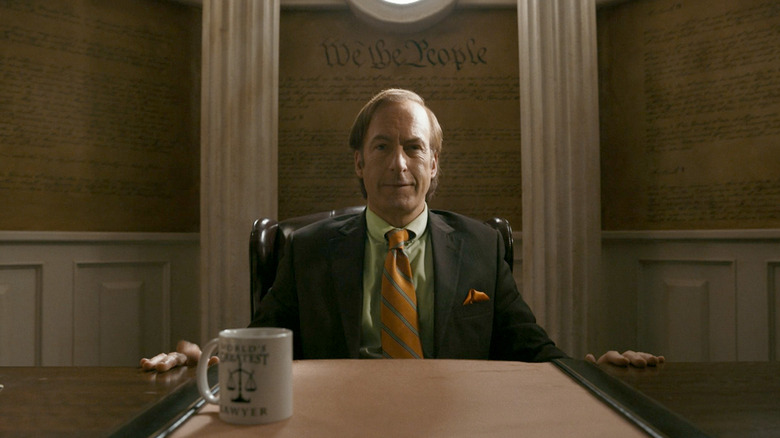 AMC
On the r/BetterCallSaul subreddit, reactions to the episode were gutting. "I found the ending depressing," u/AfterMoonSet said. "When he woke up with the hooker in bed and I realized Jimmy McGill was dead." The user is referring to the sudden time shift that occurs near the end of the episode, a move that shockingly jumps the show forward to some point closer to the "Breaking Bad" timeline. Although it's unclear if Saul has met Walter White (Bryan Cranston) by this time, the criminal lawyer is already in the office he calls home throughout "Breaking Bad."
"Fun and Games" deals primarily with the fallout from the previous two episodes of "Better Call Saul." Gus Fring (Giancarlo Esposito) solidifies control of his territory, Mike Ehrmantraut (Jonathan Banks) gives condolences to Nacho's father, and most importantly, Kim Wexler (Rhea Seehorn) reckons with her biggest mistakes and decides to leave Jimmy as a result.
"It was so bleak," u/becauseindeed wrote. Other fans noted a general wariness about Jimmy's future. "I don't want the Saulification of Jimmy anymore," wrote u/K-ghuleh. But u/Ahrealmonsters9 probably summed up the feeling fans were left with most succinctly. "We used to see Saul as comic relief, a funny quick-witted caricature, but now it seems a depressing shell of a man we pity," they observed. "I hope this isn't what they meant when they said we would look at BB differently after BCS."
Reeling from Howard's death and Kim's abrupt departure, Jimmy seems to embrace the phony Saul Goodman alter ego as a way to hide from his pain and emptiness. It forces the audience to see the over-the-top lawyer persona as more of a sad clown performance and less of the goofy huckster we once viewed him as on "Breaking Bad."
Rhea Seehorn could see the dark place Kim was going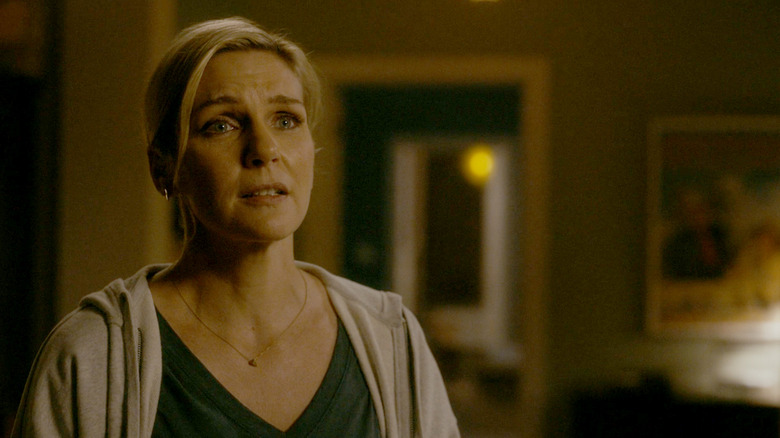 AMC
In an interview released after the episode aired, Rhea Seehorn sat down with Collider to talk about her character's abrupt exit. The actress confirmed what other actors have said about the secretive nature of "Better Call Saul" showrunners Peter Gould and Vince Gilligan. "I did not know they would break up until I saw the breakup," she said. "I did not know she would quit the bar until I saw that."
Seehorn also talked about getting into Kim's increasingly erratic headspace. "I knew that this would end in bad stuff. I understood her compartmentalizing getting to a sociopathic level" she observed. While the Kim we see at the end of Season 5 is already descending to shocking new depths, Season 6 sees the character complete the dark transformation to the point that she can no longer stand her own reflection.
"I knew that it was becoming darker and darker, and I knew that this delicate game was going on of who's influencing who," Seehorn went on. The actress also spoke about what she viewed as Kim's breaking point, the moment when she lies to Howard's wife at his memorial service. "'This is what I'm capable of,'" she said of Kim's realization, noting that the character "has become casually cruel."
Although Seehorn played coy when asked if she would return in the final four episodes of the series (via Rolling Stone), something tells us it's probably a safe bet we haven't quite seen the last of Kim Wexler. Who knows? A sudden reappearance of the character could change our view of Saul in "Breaking Bad" all over again.