Cobra Kai Fans Got Karate Kid Chills From This Big Callback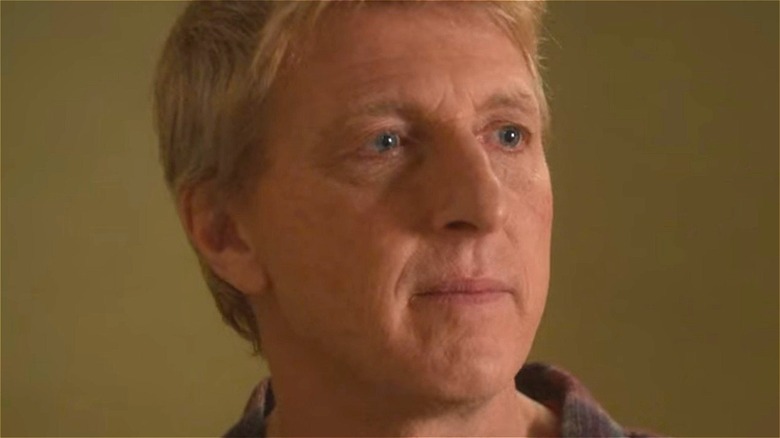 Netflix
"Cobra Kai" is the rare kind of sequel that actually manages to live up to the quality of its predecessors.
Ever since it first premiered on YouTube Red back in 2018, the "Karate Kid" sequel series has received consistently positive reviews from both critics and casual viewers alike (via Rotten Tomatoes). Now, "Cobra Kai" ranks as one of Netflix's most popular and beloved TV shows, and the series' continued success is a true testament to its quality. Indeed, while "Cobra Kai" may have initially garnered attention purely because of its status as a sequel to 1984's "The Karate Kid," the series has managed to carve out its own identity for itself over the course of its time on the air.
That's not to say, however, that "Cobra Kai" has shied away from referencing the original "Karate Kid" films. As a matter of fact, the series has always been willing to pay homage to the movies that inspired it, and its episodes have featured more than their fair share of "Karate Kid" Easter eggs. With that in mind, it turns out that there is one "Karate Kid" Easter egg, in particular, that "Cobra Kai" viewers instantly fell in love with.
The Easter egg in question shows up early on in "Cobra Kai" Season 1, and it probably still ranks as one of the series' most ingenious and clever "Karate Kid" callbacks.
Cobra Kai fans love Miguel's Halloween dance costume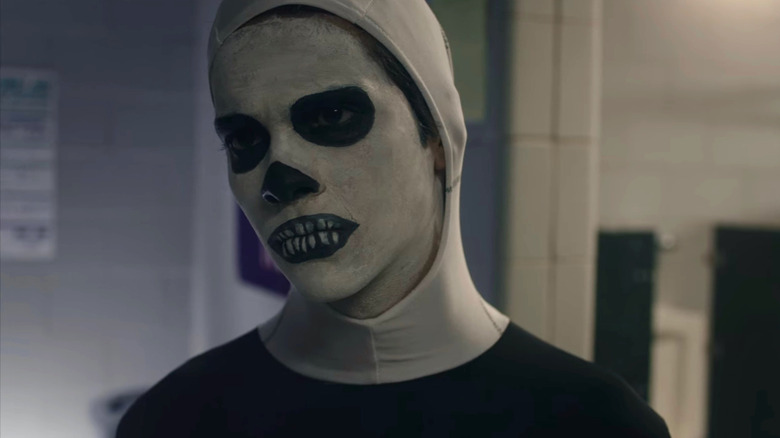 Netflix
At one point in Episode 3 of "Cobra Kai" Season 1, Miguel Diaz (Xolo Maridueña) starts getting ready to go to his school's Halloween dance only to be stopped by his sensei, Johnny Lawrence (William Zabka). Unimpressed by Miguel's homemade costume, Johnny decides to gift his student with a totally different Halloween outfit. Later, when Miguel appears on-screen again, it's revealed that he ended up wearing the exact same skeleton costume that Zabka's Johnny famously wore in 1984's "The Karate Kid" to his school's Halloween dance.
The "Karate Kid" callback came as an unexpected but pleasant surprise to "Cobra Kai" viewers. On Reddit, one fan even created a post about the Easter egg and asked their fellow viewers if they also got chills when Miguel donned Johnny's iconic Halloween costume. In response, u/noitsme99 wrote, "No chills, but [the] nostalgia hit was there," while u/kk123ck joked, "Daniel [Ralph Macchio] definitely got chills lol." Of course, Miguel's skeleton costume is far from the only notable "Karate Kid" Easter egg that has popped up on "Cobra Kai."
In an interview with BuzzFeed, the series' creators, Josh Heald, Jon Hurwitz, and Hayden Schlossberg, even discussed how they come up with the show's "Karate Kid" references. "We are such superfans of the original franchise that the nostalgia comes naturally," said Heald. "We kind of represent the nostalgia when we talk about these characters and what they've been through, and what their backstories and histories are with each other. We let that influence their headspace now, and it trickles down to the next generation."
Now, all fans have to do is wait to see if any of the inevitable "Karate Kid" Easter eggs in "Cobra Kai" Season 5 manage to give them the same kind of chills that seeing Miguel wear Johnny's skeleton costume did.