15 Shows Like Love Island You Need To Watch Now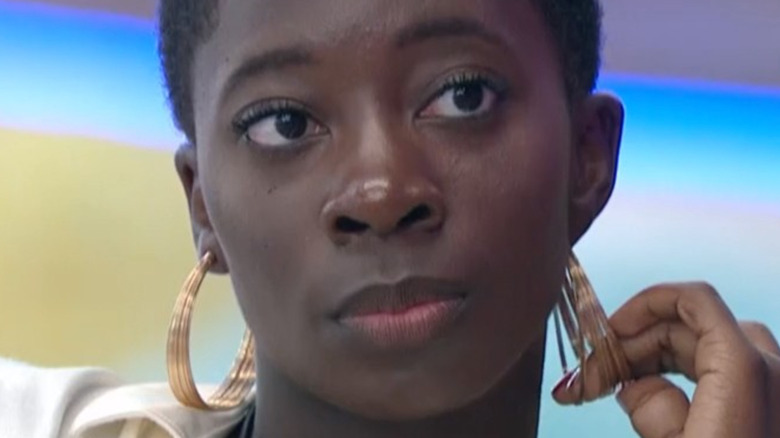 CBS
Beautiful people on a beautiful island paradise is a winning formula for a reality dating show, and "Love Island" is the perfect example of this. After airing in 2015 on British television, it wasn't long before it went international — with franchises expanding to more than 20 countries. Arriving in the U.S. in July 2019, the spicy show is now a fixture in the summer schedule.
Offering pure escapism and heaps of drama, "Love Island" sees the so-called islanders living and coupling up in a beautiful resort or villa. With a prize of $100,000 at the finish line, they can play the game with their heads or their hearts as they pair up for love, friendship, or just to survive. This being a game show, the drama comes when the couples have the opportunity to "re-couple," ditching their current partner and pursuing a relationship with someone else, and those not in a couple have to pack their bags and leave.
Reality shows are undeniably a guilty pleasure, and we often can't help but live vicariously through other people's drama. Additionally, dating shows can bring out our softer sides, and it's heartwarming to root for the relationships we see blossoming before our eyes. How real the relationships are is often called into question, but there are countless examples of couples who have met on reality shows that have proved everyone wrong. If you're loving "Love Island" and need your fix of some more fiery dating shows, these are some of the best.
FBoy Island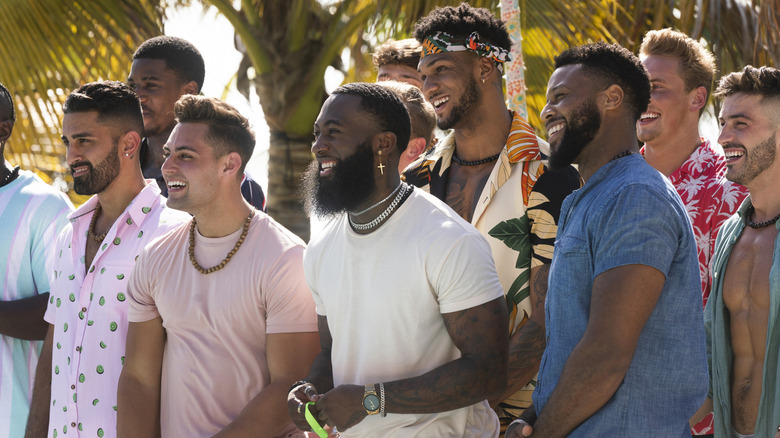 Cortez Vernon/HBO Max
How many people would enter into a reality dating show as a self-proclaimed "fboy?" Well, more than you'd think actually — 12 to be exact. In this hilarious dating show hosted by comedian Nikki Glaser, 12 nice guys and 12 fboys compete for the affections of three ladies — the twist being that the women don't know who is who. Initially, the girls have to try and weed out the guys who are only there to mess them around, but it proves harder than you'd think as many of the fboys are well-qualified in deception.
While the format is reminiscent of shows like "The Bachelorette," "FBoy Island" keeps things fresh by mixing up the format as the season progresses. Around the middle point — as the numbers dwindle and sparks start to fly — the remaining guys have to reveal their status, throwing a massive curveball as the girls wrestle with a big question: Are the fboys being genuine, or are they in it for the money?
Similar to "Love Island," the cash prize of "FBoy Island" is a sizzling $100,000, and the thrill of this show is that even in the final episode, it manages to shock and surprise. (The Season 1 finale ends with one of the greatest examples of someone getting egg on their face that you're likely to see.) The ladies will either be saying "nice try" to the good guys or "F-bye" to the bad apples, and it's a real rollercoaster from start to finish.
Ex on the Beach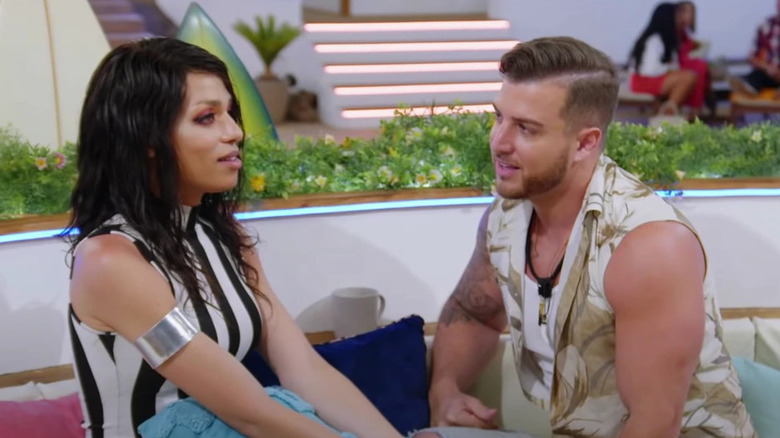 MTV
For hardcore fans of reality TV shows, "Ex on the Beach" offers the dream scenario with a cast made up of former contestants on other reality shows including "The Bachelorette," "Teen Mom," and "Love Island." With a veritable smorgasbord of reality TV personalities, this dating show allows us to see them interacting with different people as some of your favorite shows collide in unexpected ways.
Similar to "Love Island," the show takes place in beautiful surroundings, with beautiful people who are trying to find love. With many of them having already appeared on reality dating shows, it's also their chance to right some of their past dating wrongs with other people who know how to play the game. The fireworks arrive in the form of their exes, who join the love-seeking singles unannounced to shake things up. Whether it's unresolved issues from a previous relationship or even the question of whether they're truly over their exes, the potential for drama in "Ex on the Beach" is what keeps people coming back for more.
While some connections do form, the main draw of this series is in the drama that arises due to the presence of the exes — many of who don't look too kindly on their former partners moving on with other people. It's pretty much a nightmare to have your ex show up with the sole purpose of causing drama, but it's hugely entertaining to see these people squirm.
Love in the Flesh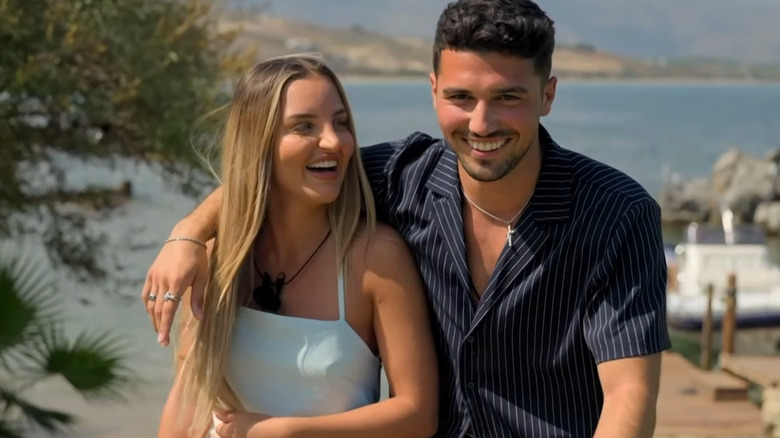 BBC
Online dating has massively increased in popularity over the years, with a reported 40% of Americans using online dating to find their perfect partner (via eHarmony). Taking its inspiration from the prevalence of dating apps, "Love in the Flesh" brings together couples who've so far only connected online.
These potential couples are all brought together on a beautiful island paradise, much like "Love Island," with the key difference being that they're already coupled up with someone they've been talking to online but have yet to meet. For some of the couples, they've only known each other a few months, but for some, it's been years, and previous attempts to meet haven't come to fruition. Those familiar with the MTV show "Catfish" might already be feeling suspicious about this scenario, but fortunately, all the contestants have been honest about who they are on the other side of the screen, and the real test is whether or not connections that are made online stand up to the test of the real world.
Of course, there are inevitable hurdles, with a bevy of sexy singles arriving to tempt people away from their potential partners. While the show exists to test these online connections, no one is completely tied to the person they originally paired up with, and watching other connections happen and the inevitable arguments is all part of the fun. Part dating show and part social experiment, "Love in the Flesh" is a must-watch for "Love Island" fans.
Too Hot to Handle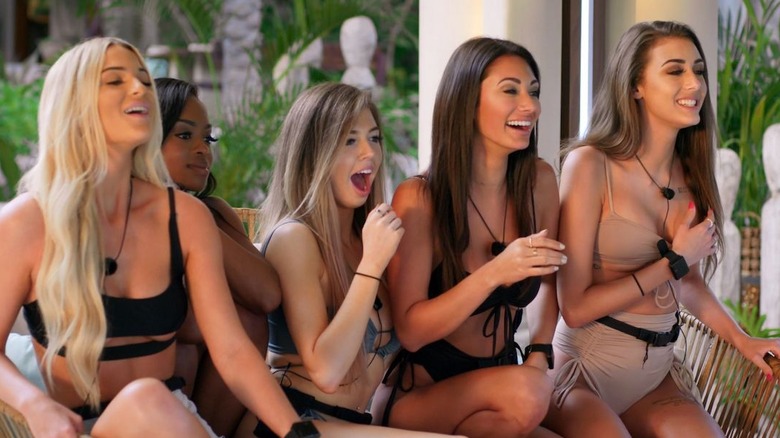 Netflix
As "Love Island" proves, throwing beautiful singles onto an island is a sure-fire way for success when it comes to forming romantic relationships. "Too Hot to Handle" takes a similar tactic, bringing together some of the hottest, horniest singles with just one simple rule — no sex allowed. For this group, it's a seemingly impossible task, but to motivate them a little, there's $100,000 at stake, and the money will plummet if they break the rules.
As much as we hate to admit it, reveling in the torment of others is one of the main reasons why we watch reality TV, and watching these people sweat — in more ways than one — is extremely entertaining. Torturing the contestants and punishing them for succumbing to temptation isn't the only draw of "Too Hot to Handle," and the purpose of the experiment is to see if they can form deeper connections without the physical side. The contestants undertake various workshops and challenges to develop their relationships with themselves and to delve into why they haven't had genuine relationships.
Like "Love Island," this show has some fabulously sassy narration courtesy of the wonderful Desiree Burch who — along with the equally witty virtual assistant called "Lana" — provides a wonderfully self-aware commentary about some of the cliches of reality dating shows. It isn't necessarily offering anything groundbreaking to the genre, but the dating format combined with a transformation element for the contestants as they learn to conduct relationships differently is undeniably watchable.
Love Is Blind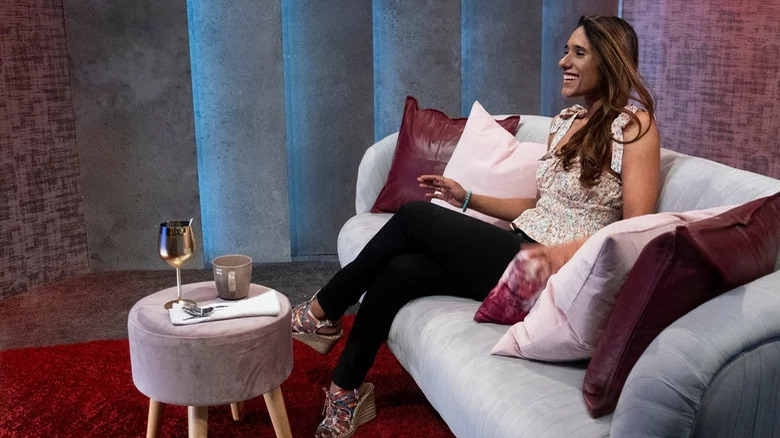 Patrick Wymore/Netflix
Netflix has proved to be a big contender in the world of reality dating shows, and "Love Is Blind" is one of the best examples. Modern dating — particularly with the prevalence of dating apps — has encouraged us to judge solely on aesthetics, swiping left or right based on whether someone is pleasing to the eye or not. This show turns that idea completely on its head, with the contestants first forming an emotional connection before they see each other.
Providing a refreshing counterpoint to shows like "Love Island" — where it seems the contestants are selected based on their looks — "Love Is Blind" begins with the couples communicating through "pods," where they can only hear each other. Based on the connections formed, they have to decide whether to get engaged — and only then do they get to see each other. Outside of the pods, they have the chance to form a physical connection as well, going on a vacation together before moving in and getting a taste of married life.
There is, of course, plenty of drama along the way, but it saves the best for last as the final episodes see the couples decide whether to get married or go their separate ways at the altar. With several of the couples still together, there is a surprising success rate in this fascinating social experiment, and while there are no monetary stakes in this game, there's still a lot on the line for the contestants.
Married at First Sight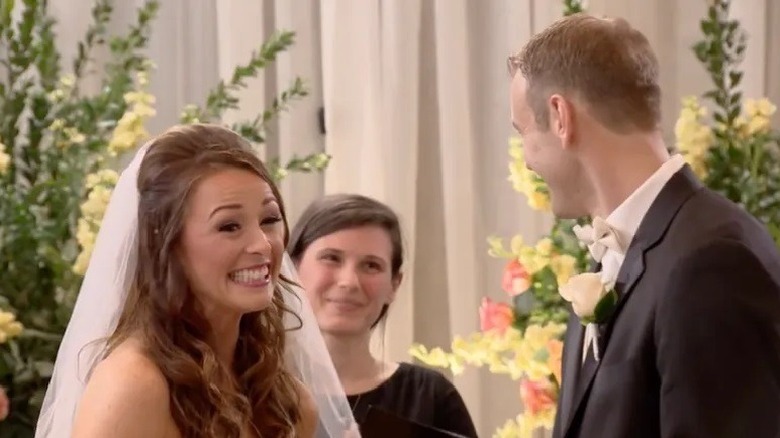 FYI
Would you place your future happiness in the hands of a team of experts who've supposedly found your perfect match? This is the question asked by "Married at First Sight," a reality show with the utterly insane concept that sees people marry someone they've never met until they walk down the aisle. Following the wedding, they then get the opportunity to get to know each other, and by the end, they have to decide whether to stay married or separate.
Originally a format airing on Danish television, "Married at First Sight" has subsequently evolved into a global phenomenon, with some of the most popular international franchises being in Australia and the U.K. While the American version follows a fairly standard format and focuses on the couples as they get to know each other, the Australian version is rich in "Love Island" levels of drama. In the Aussie iteration, the couples get to interact with each other a lot more, and there are even some questionable wife-swapping antics and shake-ups of couples.
It may seem that no good would come of people choosing to marry someone they'd never met, but there are some success stories, including U.S. Season 1 couple Doug and Jamie. While Jamie famously felt no attraction to Doug on their wedding day and had a televised meltdown, they're still happily married. "Married at First Sight" is always a fascinating watch that keeps the drama and the high stakes going right to the end.
First Dates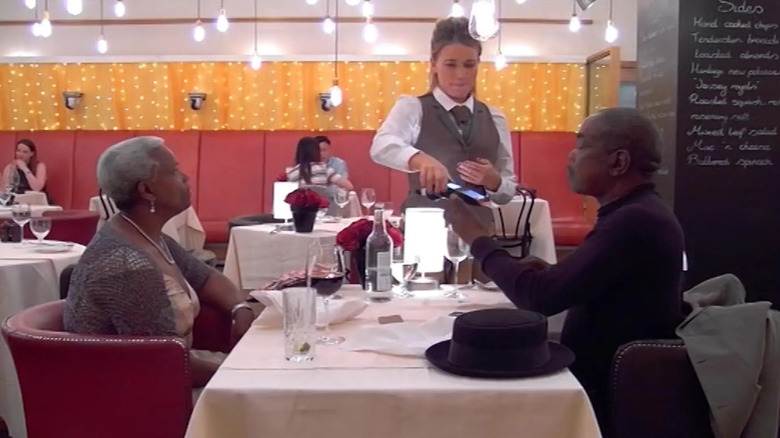 Channel 4
Love them or loathe them, first dates mark that initial first step in a potential relationship where you'll either feel those butterflies or realize there's no chance of taking it further. This show decides to televise those awkward — and occasionally magical — first encounters as the couples sit down to dinner together. The U.S. version was unfortunately canceled following one season, but the original British version is still going strong. Reality dating shows are often rife with drama — it's why we watch them after all — but "First Dates" is an often charming palate cleanser that ends up being surprisingly wholesome.
"Love Island" sees the contestants getting to know each other over a much longer period, but "First Dates" bottles those initial encounters into one dinner. This gives the show an energetic feel, and while it's delightful to see those first sparks fly, there are also incredibly awkward moments that will have you watching through your fingers. Each date ends with the heart-in-the-mouth moment when the couples sit side by side to decide if they want to see each other or not, and it's hard not to feel invested.
For anyone who's ever had a disastrous date or has fond memories of that first meeting with your partner, "First Dates" will resonate, and sometimes it's just nice to live vicariously through others. There's also a wonderful emphasis on diversity, proving that anyone and everyone should have the opportunity to find love.
Love on the Spectrum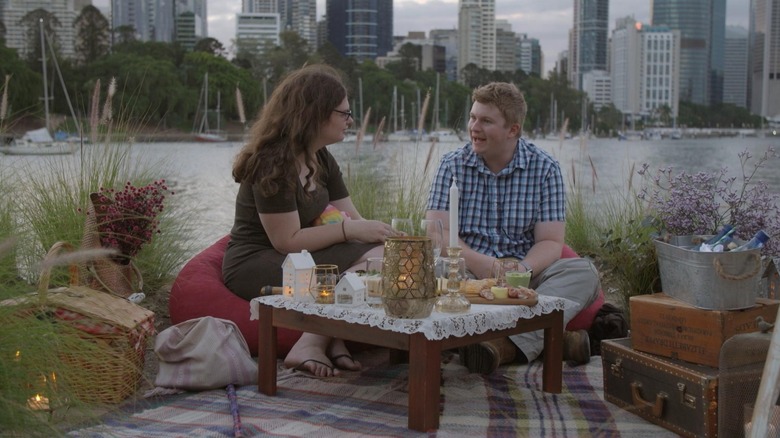 Netflix
The perception of most dating shows is that they often feature one type of person — something that shows like "Love Island" definitely help perpetuate. Originally an Australian series, the U.S. version of "Love on the Spectrum arrived on Netflix in 2022, and it seeks to throw the doors wide open, focusing on a group of people on the autism spectrum as they navigate dating.
With each person at a different point on the spectrum, there's a huge amount of neurodiversity and the opportunity to explore how different people communicate and relate to others in the often confusing world of dating. Not only is it refreshing to see a diverse cast featured, but the show has a warm and personable approach, with the time taken to get to know each person and the struggles they go through, as well as the great joy that comes from finding a person who understands them and loves them exactly as they are. Love is for everyone, and "Love on the Spectrum" cements that.
Both the Australian and U.S. versions of the show were met with largely positive praise for the way they approach dating, offering a more wholesome and less drama-filled depiction of relationships. Writing about the Australian version of the show, Mashable critic Alison Foreman called it "an infectious blend of authenticity and fairy-tale idealism that captures everything about love we find so intriguing."
Jersey Shore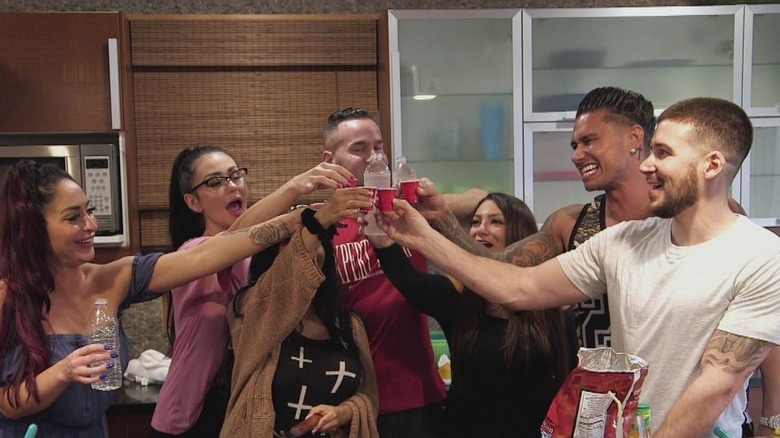 MTV
One of the reasons "Love Island" is so watchable is that it combines two of the best reality show formats into one — the dating show with the strangers living together in a house format. MTV's "Jersey Shore" is a great example of the latter style, placing eight individuals into a shore house for a summer of fireworks, fighting, and fun.
First airing in 2009, "Jersey Shore" was a huge hit for MTV, introducing a number of concepts and catchphrases that have subsequently been adopted into our pop culture lexicon — including "GTL" and "cabs are here." With a cast full of big personalities and copious amounts of alcohol, the drama was inevitable, and some of the spiciest was from the on-and-off relationship between housemates Sammi and Ronnie. While they connected early on, their relationship was always full of drama, resulting in some of the series' most iconic moments, including the infamous letter in Season 2 detailing Ronnie's infidelity and their intense fight in Season 3 where Ronnie trashed all of Sammi's belongings.
The initial iteration of "Jersey Shore" ran for six seasons and made huge stars of its cast, with many of them going on to have successful spinoff shows or making appearances in other reality series on other networks. In 2018, the original housemates — with the exception of Sammi — returned for "Jersey Shore: Family Vacation," expanding the cast to include their spouses and kids as they traveled to vacation hotspots including Miami and Las Vegas.
The Circle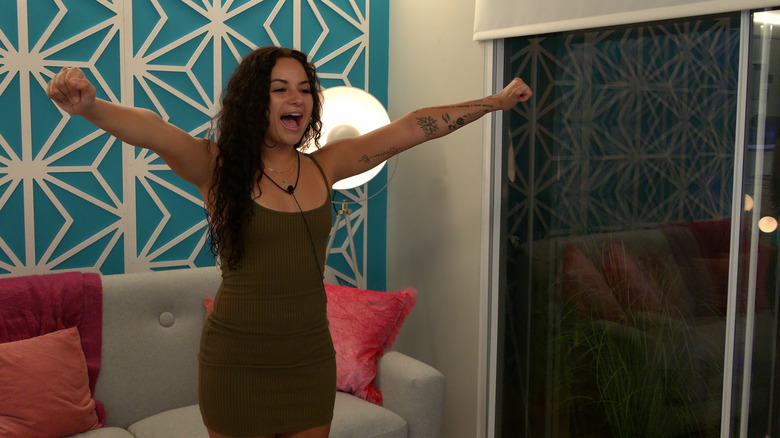 Netflix
With hints of "Catfish" and "Big Brother," "The Circle" is a thoroughly modern game show that sees contestants compete for popularity on the titular social network. While they all live under the same roof, the contestants only communicate through the Circle as they aim to win friends and influence people.
There may be comparatively less emphasis on dating compared to "Love Island," but with many of the islanders having a carefully cultivated online presence or future aspirations of making it big as an influencer, both shows complement each other in terms of demonstrating how modern technology has affected the way we relate to each other and the importance of presenting a certain image. The twist with "The Circle" is that the contestants have a choice — to be 100% themselves, to present the best version of themselves, or to pretend to be someone completely different. This sees many of the contestants choosing to lie about their age, relationship status, appearance, and even gender in order to increase their chances of winning.
The thought of a show featuring a group of people interacting only with a screen might not seem like the most interesting concept, but "The Circle" is a colorful and energetic reality show for a social media-obsessed generation. Watching how the contestants choose to play the game and the tactics they use also says a surprising amount about how easy it can be to deceive others online, proving we shouldn't always accept things at face value.
90 Day Fiance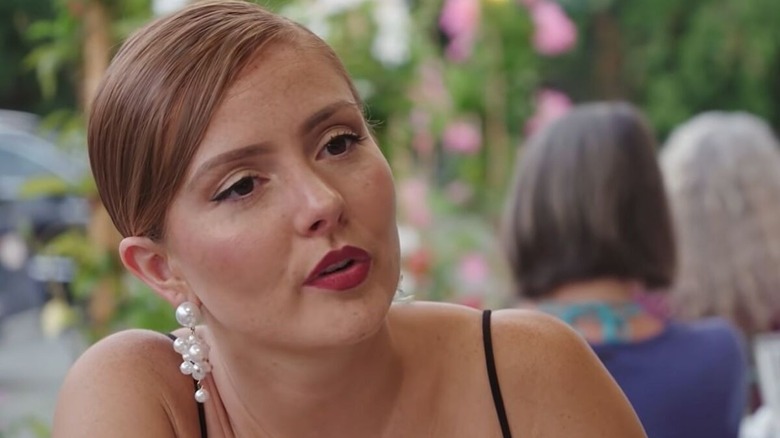 TLC
Adding in a race against the clock element, "90 Day Fiance" follows a group of couples who have just 90 days to decide if they want to marry each other. The couples appearing on the show have all applied for a K-1 visa — a temporary visa that allows the foreign partner of a U.S. citizen into the country to get married. With the couples forced into making a quick decision about their futures and planning their weddings at the same time, the threat of deportation is also looming over them.
As far as stakes go in a reality TV show, the risk of being deported is pretty high up there, and the outrageous concept of this show makes for oddly compelling viewing. "Love Island" only gives the contestants the summer to find their potential partner, meaning there's some sense of urgency but nothing that compares to a lifelong commitment being planned in a little over three months.
Many of the "90 Day Fiance" couples do end up getting married and staying together, but there's plenty of unbelievable drama along the way. In addition to the stresses already placed on the couples, they also have to contend with culture shock, language barriers, and their friends and families who can't quite believe what's happening. While it may be one of the trashiest reality shows, it is also a huge guilty pleasure, and with a plethora of spinoff shows available, there's plenty to keep you occupied.
Are You the One?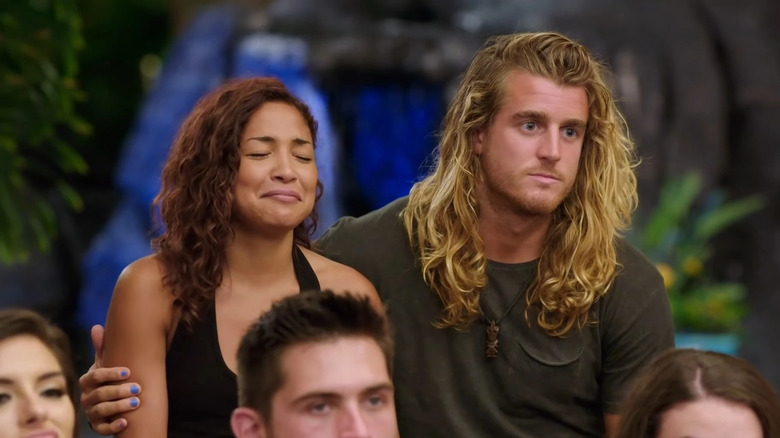 MTV
If you love the insane challenges on "Love Island," then you'll get a kick out of "Are You the One?" Part reality dating show and part game show, it brings together 10 women and 10 men, giving them 10 chances to find the one. Behind the scenes, a team of matchmakers has looked into their compatibility and used an algorithm to secretly pair them up — all the contestants have to do is find their perfect match.
"Are You the One?" combines many of the magic reality TV elements into one package, with the group also living under one roof. The challenges give the couples a chance to win dates, and one pair is nominated to go into the "Truth Booth" to discover if they're a match — leading to inevitable drama. To spice things up even more, where "Love Island" sees the re-coupling happen once a week, this show mixes the couples up every episode as they race to work out who their match is.
With a huge prize of $1 million, "Are You the One?" has some of the biggest stakes, and there's a fascinating team game element, as well as the personal gain of meeting their perfect partner. In a welcome move, Season 8 saw the cast made up of entirely sexually fluid contestants, meaning there were no limitations on the gender of their match. This decision was praised by the LGBTQ+ community, and the season won a GLAAD award for outstanding reality program.
Temptation Island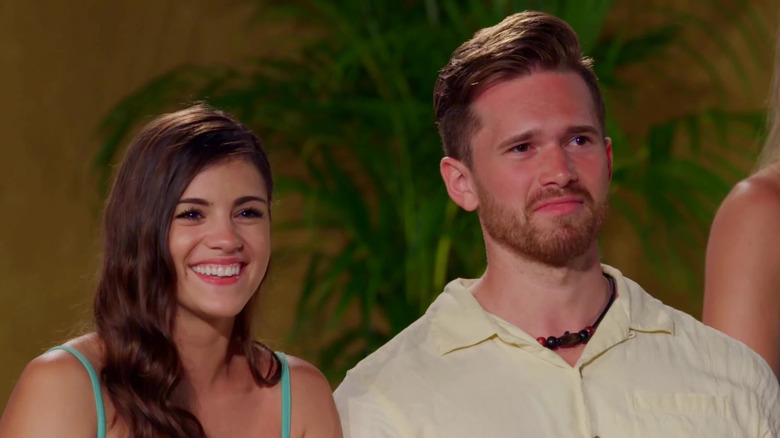 USA Network
Along with the shows that see a group of sexy singles shipped to an island to find love, there's also a subgenre of reality dating shows that seeks to test the durability of supposedly secure relationships. And if you want the tropical paradise setting with the relationship test format, check out "Temptation Island." In this show, four couples who are at a crossroads in their lives are put to the ultimate test, with the men placed in a villa with 12 single ladies looking for love and the women living with 12 eligible bachelors who have no hesitation about breaking up a relationship.
In shows like "Love Island," they all enter as singles so it's a fair game who pairs up with who, but in "Temptation Island," there are much higher emotional stakes, testing the strength of relationships that in some cases have been steady for years. There are parallels with the Casa Amor twist that was introduced in Season 2 of "Love Island," when a batch of new singles arrive to tempt people away from their current coupling. However, "Temptation Island" takes this idea and runs with it for the whole series.
The risk factor of "Temptation Island" is one thing that makes for such compelling viewing, with an all-or-nothing ending for a lot of the featured couples. Many of the relationships end in disaster, but there are a number who make it through, and some even choose to get engaged at the end of their experience.
The Ultimatum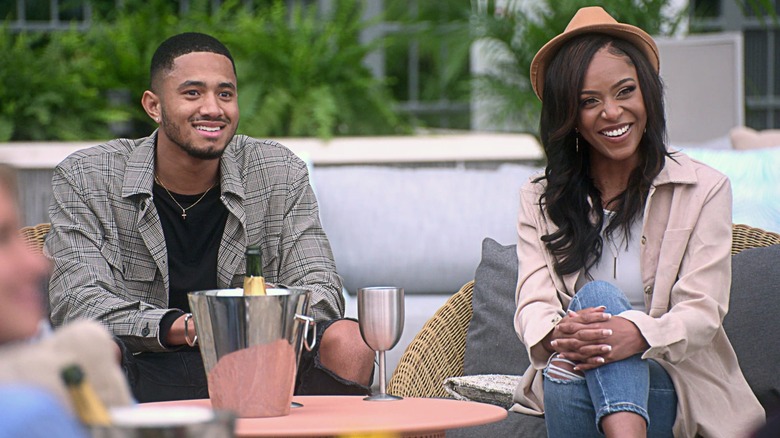 Netflix
A show that puts existing relationships to the test, "The Ultimatum" sees hosts — and married couple — Nick and Vanessa Lachey shake up a group of established couples who've reached a stalemate in their relationships. The time the couples have been together may vary, but they all have one thing in common — one of them is ready to commit and get married, and the other is on the fence. To help them reach a decision, the couples are mixed up, and they move in with their new partner for a few weeks, as well as having the opportunity to test what marriage would be like with the partner they came in with.
Part dating show and part social experiment, "The Ultimatum" offers all the relationship drama you'd expect but also examines some of the questions and doubts that many people have before making a long-term commitment, making it a very relatable concept. For some of the couples, their hesitancy is due to bad previous relationships, financial struggles, or a history of broken families. "The Ultimatum" drills into some of these but also explores that some of these may just be excuses, and the real reason for the delay is they're not sure they're with the right person.
Dating Around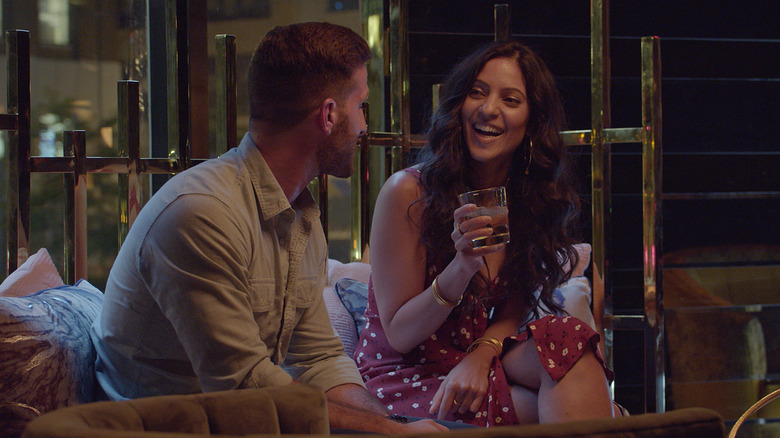 Netflix
"Dating Around" takes a different approach to the big group dating shows like "Love Island" and offers a much more focused and personal insight. Each episode focuses on one single person looking for love as they embark on five blind dates. It isn't dissimilar to "First Dates" in terms of format, but it's much slicker looking and in line with other Netflix reality shows like "Selling Sunset."
In series like "Love Island," you can often lose people in the crowd before clear couples and favorites emerge, but in "Dating Around," you can really get a feel for the singles in each episode. The episodes are also under 30 minutes each, making it a series that's both easy to binge your way through and also drop in and out of as it doesn't have some of those tantalizing cliffhangers that many dating shows do.
It's becoming much more commonplace, but "Dating Around" is also one of the few dating shows that feels more inclusive, representing different ages, backgrounds, sexualities, and body types. If the drama of reality dating shows can be a little much sometimes, "Dating Around" is much calmer, focusing on the art of conversation and the importance it plays in establishing a connection. Not every date goes perfectly, and there are still plenty of awkward exchanges, but it's a refreshingly honest and compelling dating show that removes the competitive elements and just explores the realities of dating that many can connect with.