Hilarious Stand-Up Comedy Specials You Haven't Seen That Are Streaming Now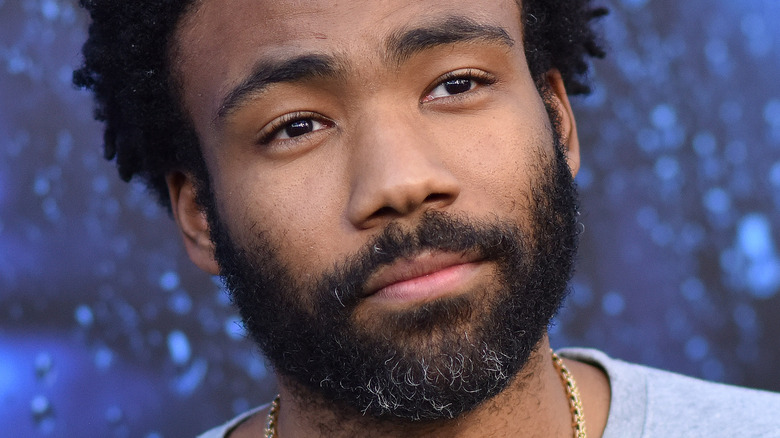 DFree/Shutterstock
Now more than ever, we need good content to make us laugh. Often, that content comes in the form of mainstream blockbusters and snarky sitcoms, but there's also a treasure trove of stand-up comedy specials available across pretty much every major streaming platform, but they're not all easy to find. Whether you want to find someone who can put a phenomenon you've been experiencing for most of your life into words or you want material that will help expose you to new perspectives and experiences without leaving you feeling hopeless, stand-up comedy is the perfect medium through which to find unconventional thoughts and massive laughs. Because, inexplicably, very few streaming platforms have a dedicated section for stand-up comedy, we've taken the time to sort out some of the best from both underrated established comics and newer, up-and-coming voices. Read on for hidden comedy gems on Netflix, HBO Max, and Amazon Prime.
Rothaniel by Jerrod Carmichael (HBO Max)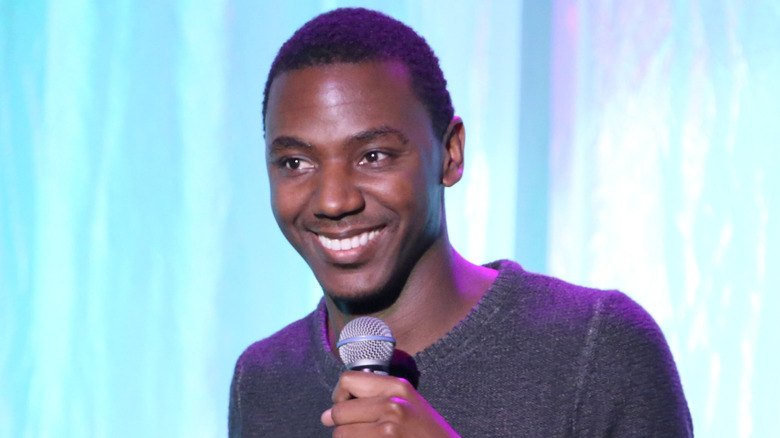 Jonathan Leibson/Getty Images
Jerrod Carmichael has been performing stand-up for years, but it wasn't until the release of his newest HBO Max special "Rothaniel" that he received the hype he's deserved for a long time. You may recognize him as one of the best "Saturday Night Live" hosts of this past season, but he's an exceptional stand-up comic first and foremost. "Rothaniel," directed by Carmichael's close friend and fellow comedian Bo Burnham, is both funny and poignant as Jerrod narrates and discusses his decision to come out as gay to his family, friends, and the world. There's plenty of excellent laughs to be had, but what makes the special particularly good is Carmichael's matter-of-fact vulnerability and willingness to interact directly with the live audience as Jerrod answers thoughtful questions every few minutes or thereabouts. You may have seen Jerrod Carmichael before, but you've never quite seen him like this.
Nikki Glaser: Bangin' (Netflix)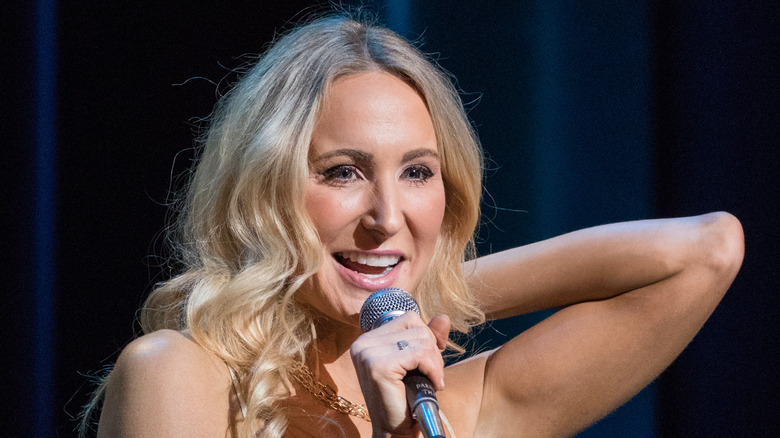 Rick Kern/Getty Images
Nikki Glaser has been a working stand-up comedian for a long time, and she has definitely not received the level of attention and accolades she deserves. In her most recent Netflix special, "Bangin'," Glaser talks about her life (especially the sex part of it) with authenticity and relatability. It's a great reminder that despite some ridiculously antiquated attitudes still held by fossils of the comedy world, vulgar humor about bodies, gender, and sex can definitely come from a woman. And much of the time, as is the case with "Bangin'," a woman can tackle taboo subjects with more bite than most male comedians. Despite the fact that a lot of Glaser's humor trends self-deprecating — "I was diagnosed as an ugly child at the age of 11 by a caricature artist at a Six Flags," goes one gag — her inherent comedic confidence and stage presence are undeniable and make her performance engrossing and particularly fun to watch.
Donald Glover: Weirdo (Netflix)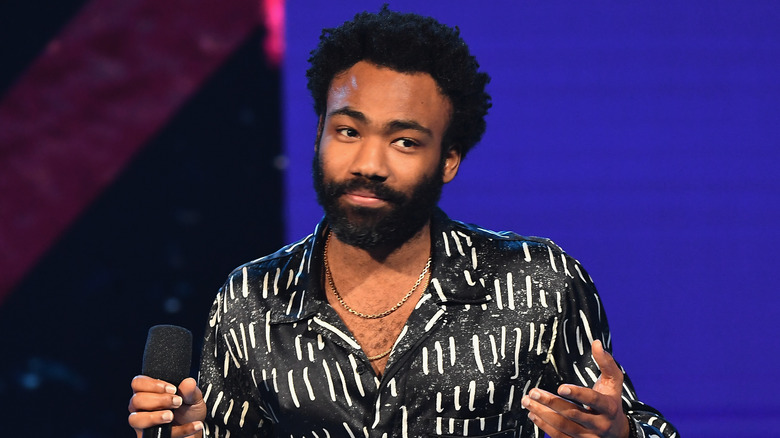 Paras Griffin/vmn18/Getty Images
This stand-up special "Weirdo" from the mind of Donald Glover is one of the shiniest hidden gems on Netflix. Glover performed "Weirdo" when he was still just a talented young guy on "Community" back in 2012, so prepare yourself for some occasionally squirm-inducing, decade-old jokes. Nowadays, Donald Glover is seen as something of a near-mythic Hollywood renaissance man having made incredible music under his alias of Childish Gambino and written and starred in the award-winning TV show "Atlanta." It's easy to spot Glover's inherent talent, even during this early 2010s point of his career, with "Weirdo" blending sarcastic anecdotes and fluid physical comedy to a near-perfect ratio. Stand-out bits include his musings on the online hate he received after being fan-cast as Spider-Man and an iconic childhood story in which what starts as an ordinary trip to Home Depot with his father and brothers takes an unexpected turn for the seriously gross. 
The Standups - Aparna Nancherla (Netflix)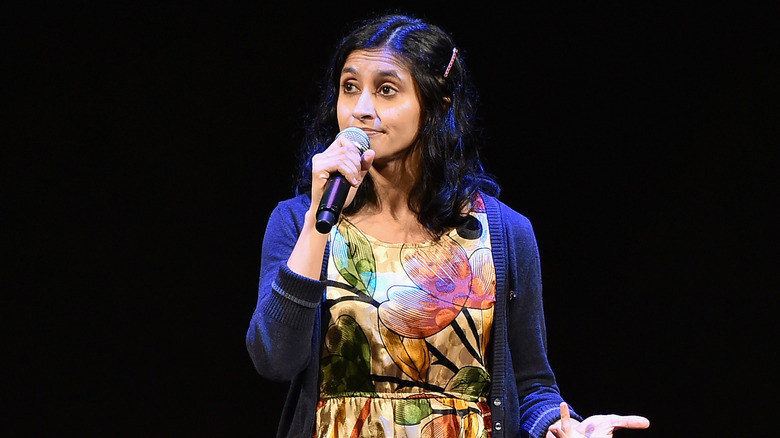 Theo Wargo/Getty Images
"The Standups" is a show on Netflix made up of a series of half-hour specials from up-and-coming comedians. Many of them are worth watching, but one of the best of the best is the first episode of Season 2, featuring stand-up comic Aparna Nancherla. While you might expect her distinctly awkward style to alienate an audience, Nancherla's disarming delivery tends to establish bonds with her crowds instead. Just about any awkward situation you've ever been in can probably be topped by Nancherla's zany life and times. Her various misadventures have been converted into hilarious bits including a PowerPoint presentation in which she discusses online dating, Yelp! reviews, and the emoji and texting habits of her parents. You can also spot Nancherla in guest parts on shows like "Master of None" and "Mythic Quest: Raven's Banquet," and seems way overdue for a major lead role.
Mike Birbiglia: The New One (Netflix)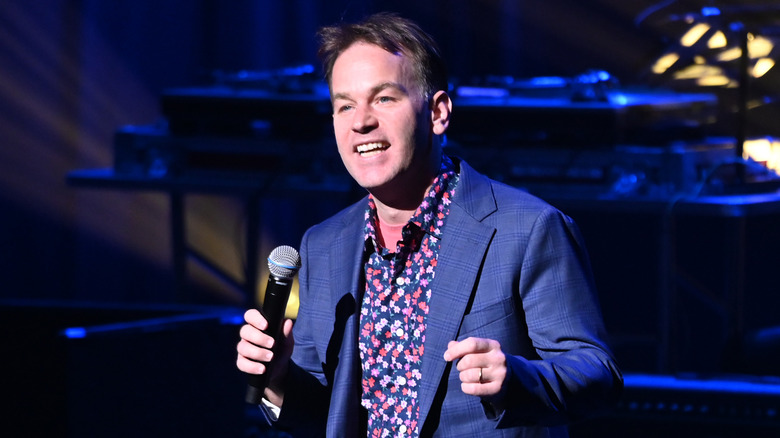 Noam Galai/Getty Images
Mike Birbiglia is the kind of comedian who seems to have rehearsed and reworked his material to the point where his presentation skills are darn near laser-like. His most recent special, "The New One" on Netflix, often feels like a one-man play as Birbiglia traces a narrative for the audience through his long journey toward fatherhood. Birbiglia has been in the game for a while, and his material is delivered with the easy confidence of a stage vet as he explains the six or so reasons why he never wanted to have a child and the fewer but ultimately more important reasons why he ended up doing so anyway. "The Next One" continues ongoing themes in Birbiglia's work, including cynical self-awareness and an optimistic desire to be a better person. Sure, he sleepwalks and therefore has to sleep every night in a locked room separate from his wife while wearing a specially designed sheet to keep him tied to the bed, but he also knows that his wife is an exceptional woman and will be an exceptional mother. "The New One" is about the scary transition from our 20s to our 30s and from single life to parenthood, and there's more than enough laughs for everyone.
Tig Notaro: Boyish Girl Interrupted (HBO Max)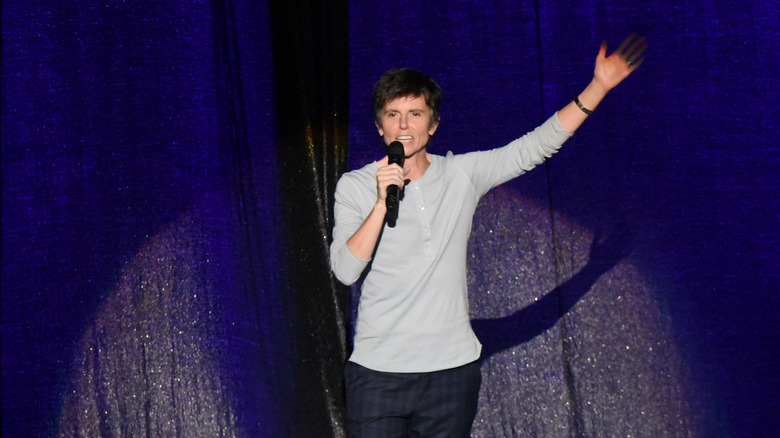 Presley Ann/Getty Images
Known as a comedian's comedian, Tig Notaro has worked with basically everyone in the business, from Amy Schumer to Jim Gaffigan to Zooey Deschanel, and she even directed Pheobe Robinson and Jessica Williams' "2 Dope Queens" live HBO specials. Stand-up comedy is just one of the many mediums through which Notaro shares her genius, but given the joyful energy she exudes onstage, it seems like stand-up might be her favorite of the bunch. This particular special, "Boyish Girl Interrupted," was filmed in 2015 only a relatively short while after Notaro was diagnosed with breast cancer and underwent a double mastectomy. Notaro is playful about her struggles, though, and when she's not serving herself up as the butt of a good-natured joke (by her account, she once performed an entire set in Las Vegas while unknowingly sporting a mustache made of chocolate ice cream) and providing sarcastic commentary on the blunders of others (a running theme in the special is the inability of many to decipher her gender in day-to-day interactions). This is a great special to watch with family too, as Notaro keeps most of her material clean and loopy.
The Standups - Dusty Slay (Netflix)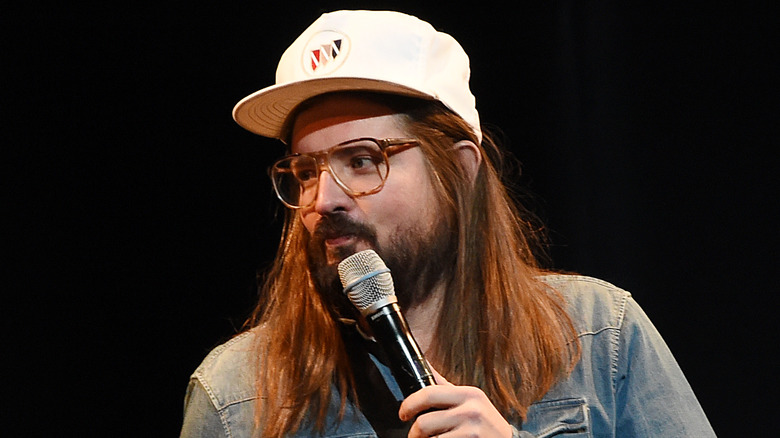 R. Diamond/Getty Images
"We're havin' a good time" is Dusty Slay's signature catchphrase and most likely what you'll be saying to your friends when you sit down to watch his Season 3 episode of "The Standups" on Netflix. With his slight Southern drawl, casual stance, and signature look of long silky locks with a baseball hat and a whole bunch of denim, Dusty Slay jumps out immediately as someone who knows their craft. His aesthetic is vaguely rustic, but his comedy is pure millennial as he often layers his punchlines and allows for the rhythm of his timing to keep the audience slightly off-balance. He talks a lot about growing up poor in a trailer park and makes the room howl when he describes the process through which his parents traded Marlboro rewards points for his new clothes and school supplies as a kid. Even though there's a wry edge to his stories, Slay never comes off as bitter or ungrateful, only amused and baffled by life. 
Ronny Chieng: Asian Comedian Destroys America! (Netflix)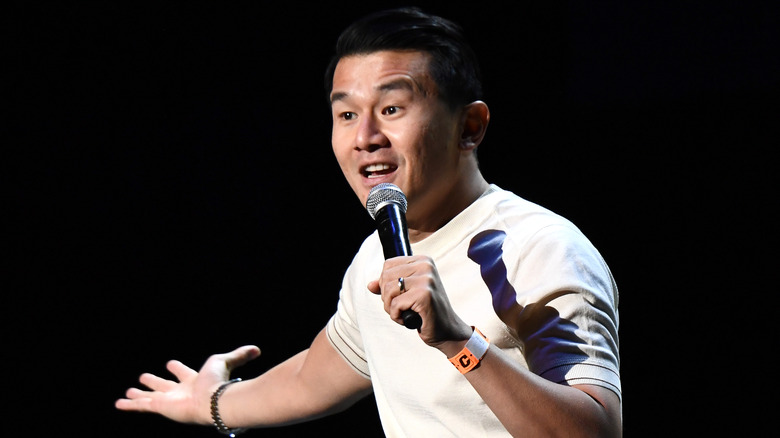 Kevin Mazur/Getty Images
Ronny Chieng has been a correspondent on "The Daily Show" for years now, and he brings the same chaotic energy from his work and persona on the show to his first stand-up special on Netflix, "Asian Comedian Destroys America!" It doesn't take long to realize that Chieng isn't totally putting on an act when he serves up biting sarcasm as a correspondent for Trevor Noah, as Chieng himself says, it's really just his voice — almost everything he says sounds like it might be sarcastic. His performance energy is matched by no other comic as he paces up and down the stage with swinging gestures and loud, scathing admonishments of the many idiotic things people say to him on a daily basis. A particularly funny bit in the special is Chieng's reenactment of his frantic dash to the airport when he realizes he's about to miss his flight to Australia for one of his two wedding ceremonies. In addition to "The Daily Show," Ronny Chieng can also be seen in "Crazy Rich Asians" and "Shang-Chi and the Legend of the Ten Rings."
Jenny Slate: Stage Fright (Netflix)
Noam Galai/Getty Images
"When I was younger, I looked exactly like Anne Frank, and I was incredibly stuck up about it." No one is better at razzing their younger self than the beautiful and brilliant Jenny Slate. Her 2019 Netflix special "Stage Fright" intersperses parts of her onstage set with documentary-style interviews with Slate and her family and tours of the home she grew up in. This trend of using some kind of alternative footage to give the audience a different context for the things they're hearing from the comedian onstage has found its way into at least a few stand-up specials during the past five years or so. "Stage Fright" seems to be Jenny Slate's love letter to the first phase of her life — her youth, teen years, and the tumultuous 20s and early 30s that led her back home to regroup and sort out what to do next. This phase culminates in a quirky anecdote about smoking so much weed that she asks herself, "Did I just f*** the moon?" Slate was only on one season of "Saturday Night Live," but you might recognize her voice from "Big Mouth" or "Marcel the Shell," and her face from the many indie movies she appears in, including 2022's sleeper hit "Everything Everywhere All at Once." 
Ed Gamble: Blood Sugar (Amazon Prime)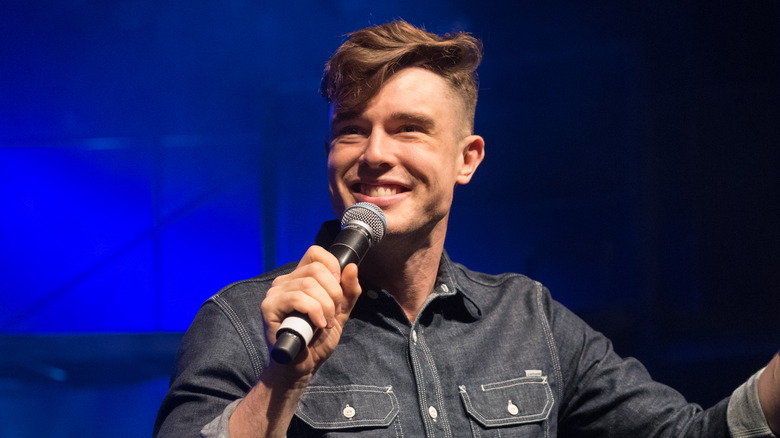 Roberto Ricciuti/Getty Images
Ed Gamble is probably the most obscure comedian on the list because he has yet to develop a large presence in America. He is much better known across the pond in the U.K. where he performs regularly and contributes guest appearances to various quiz shows such as "Mock the Week." The video quality for 2019's "Blood Sugar" isn't perfect, but it's worth the inconvenience to be one of the first of your friends to discover the bright, energetic comedy of Ed Gamble. The last third or so of his special is particularly spectacular, as it centers around Gambles' father's antics. From an anecdote about his father's inability to admit when he's wrong — apparently, he once read "800g" upside down and mistook it for a nonexistent pastry called a "boog" — to that same patriarch's incredible and somehow completely believable emails to his veterinarian from the point of view of his cat, Gamble shares his family's foibles boldly but not without tenderness.
Joel Kim Booster: Psychosexual (Netflix)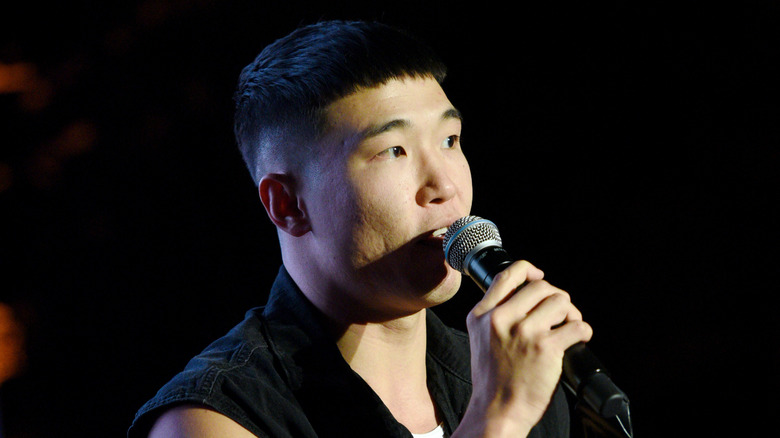 Vivien Killilea/Getty Images
"Psychosexual" is the newest special on this list, having just been released in July of 2022. Joel Kim Booster is a quickly rising star who performs stand-up with the confidence of a veteran entertainer. Most of his special is cold hard humor, but in between laughs he mentions his frustration with feeling like the world expects him to be a perfect representative for both the queer and Asian-American communities. Booster doesn't shy away from talking about his party and sex-centered lifestyle in terms that are probably too blunt for us to reproduce on a family friendly website, but we can nonetheless highly recommend to anyone who isn't bothered by sort of thing. Booster also does some particularly involved crowd work as a framing tactic for most of the show. Joel Kim Booster is someone to absolutely keep an eye on. Beyond this special, he co-stars in Maya Rudolph's new Apple TV+ sitcom "Loot" as her self-absorbed and materialistic assistant.  
Dan Soder: Son of a Gary (HBO Max)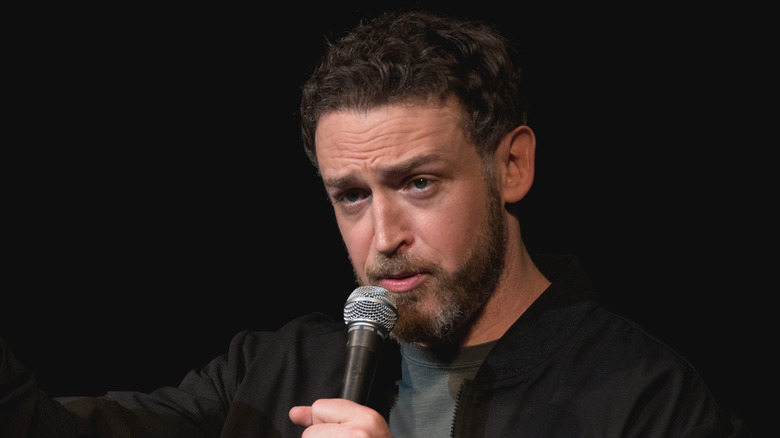 Rick Kern/Getty Images
Dan Soder doesn't believe that what he does is "art," but rather it's just "a step above carnie." But it's hard to agree with him when stand-up comedy is such an incredibly difficult format in which to be successful. A stand-up comedian is completely alone on stage with their microphone 95% of the time, and somehow the best of them find a way to just talk for an hour and get the audience howling. Dan Soder is the kind of stand-up comic that doesn't do any more or less than a great set of jokes, and with 2019's "Son of a Gary" he doesn't disappoint. He talks about his childhood in trashy Colorado, his blunt friendship with his grandma, the early death of his father, the life of a stand-up comic on the road, and so much more in his fantastic, deep and scratchy voice. Somehow, Soder is only ever charming when he makes himself laugh, probably because it's easy to tell that he loves what he does.
Taylor Tomlinson: Look at You (Netflix)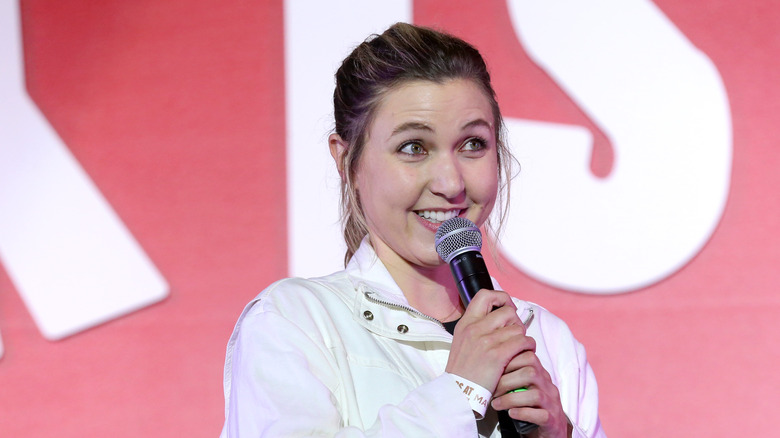 Phillip Faraone/Getty Images
Taylor Tomlinson is not even 30 years old and already has two specials on Netflix. They're both superb, but 2022's "Look at You" brings her comedy to a new level. In her newer special, she discusses not only the life of a 20-something, but a 20-something living with mental illness. The 2020 pandemic had a transformative effect on many people, and it forced Tomlinson to do some soul-searching in order to figure out why she struggled with so many things while also being so successful at many others. The answer turned out to be bipolar disorder, and she speaks about herself with a gentleness that feels new. This is someone who apparently depended on self-deprecation as a coping mechanism for a long time. Tomlinson is the queen of the comedic analogy, somehow always finding a way to simplify the most complex of human feelings and experiences with spot-on comparisons and punchlines built with fluid momentum. "Look at You" is an incredible piece of work, and it'll be exciting to see what Tomlinson does next.
Josh Johnson: # (Hashtag) (Amazon Prime)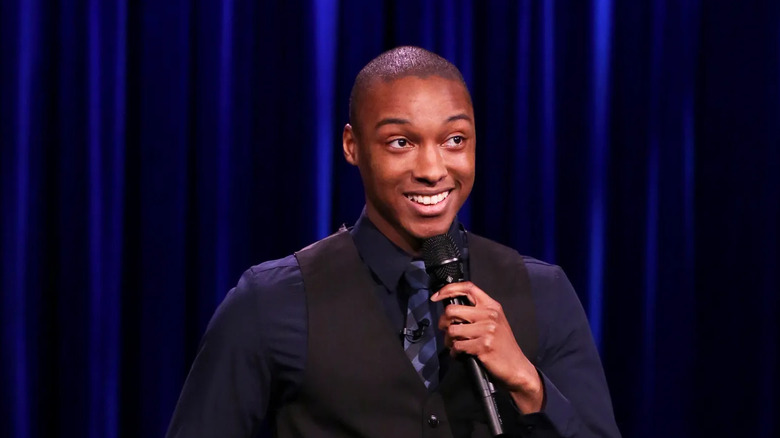 NBC
"The Daily Show" with Trevor Noah writer Josh Johnson is in his 20s and looks to be a star on the rise. His special, "# (Hashtag)" from 2021 is some of the best pandemic-related material written since the beginning of COVID. Johnson shares his observations about people and relationships and the things many of us aren't always proud of, but he does it without passing judgment because he readily admits that he's been there too. His material is especially interesting when he juxtaposes the circumstances of the pandemic with his experiences growing up as a Black man in America — the key difference being that there isn't much of one. "Nothing prepares you for a pandemic in America like being Black in regular America." Let us include a special shout-out to his story about getting a bee stuck in his afro, forcing him to approach random people in the park and shout things like, "It's in me! Can't you hear it?!" and lament the one time he actually needed a white person to touch his hair. 
Conclusion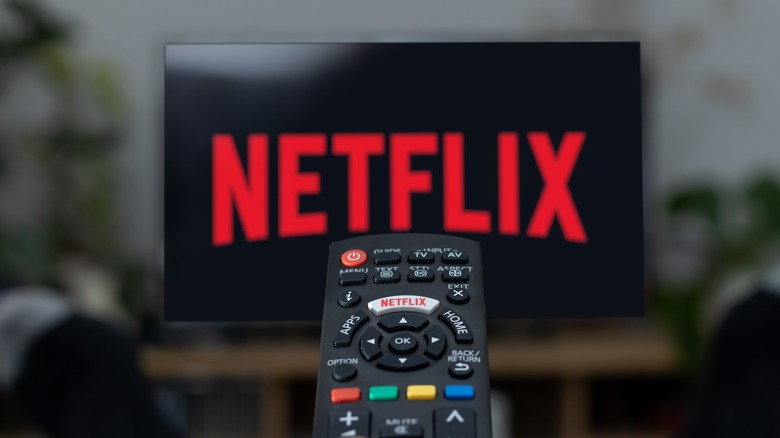 MAXSHOT.PL/Shutterstock
These are just a few of the dozens upon dozens of stand-up comedy specials to be found on streaming platforms like Netflix, Amazon Prime, Paramount+, and HBO Max, and they're a great starting point for anyone looking to laugh a little more in their daily life. Stand-up comedy specials are a great, low-commitment source of laughs, and while well-established, mainstream stars like John Mulaney and Jim Gaffigan are hilarious, there are so many more people out there worth checking out. Almost every comedian on this list has another special or project worth checking out, but these are the best of the best. From zillennial comedic pioneers like Taylor Tomlinson and Josh Johnson to underappreciated veterans of stand-up comedy like Mike Birbiglia and Tig Notaro, there's someone on this list for everyone with every sense of humor. The world may be an uncertain place, but there's always something worth laughing about and there's always someone talented enough to make just about anything funny.