Elizabeth Lail As Sue Storm Is Truly A Staggering Sight To See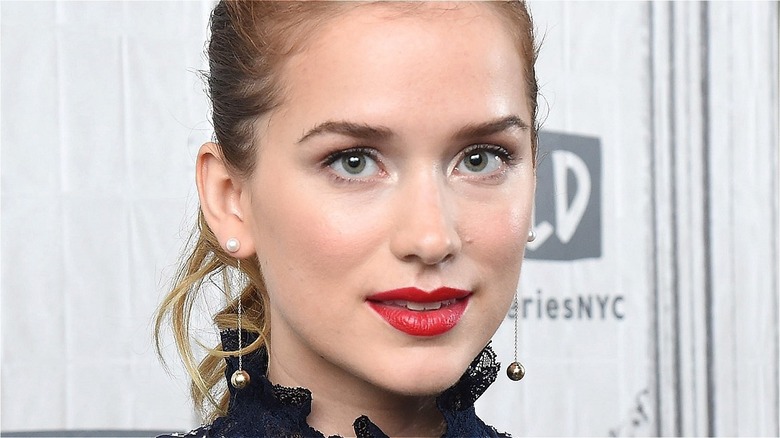 Gary Gershoff/Getty
The Marvel Cinematic Universe is on the verge of adding several new heroes and villains to its already impressive character lineup. Indeed, in addition to confirmed heroes like Blade (Mahershala Ali) and She-Hulk (Tatiana Maslany), many Marvel fans believe that they may only be a few years away from seeing iconic comic book teams like the X-Men and the Young Avengers come together in the MCU. That said, of all of the heroes that Marvel plans on bringing to the MCU in the coming years, none have attracted quite as much attention as the Fantastic Four. 
The superhero team is set to appear in "Fantastic Four," a standalone film that lost its original director, "Spider-Man: No Way Home" filmmaker Jon Watts (via Deadline), earlier this year, but which remains in development at Marvel Studios. Fans have been anxious ever since the film was announced to learn more about Marvel's plans for Reed Richards, Sue Storm, Johnny Storm, and Ben Grimm. However, coming off John Krasinski's cameo as Mister Fantastic in "Doctor Strange in the Multiverse of Madness," the excitement surrounding the Fantastic Four's arrival in the MCU seems to have only increased.
While Krasinski's brief turn as Reed Richards was received well by both fans and critics as well, Marvel has yet to officially cast anyone in "Fantastic Four." As a result, some MCU fans have taken it upon themselves to offer their own casting suggestions for the film. A recent piece of fan art even makes a compelling case for why Marvel should consider one actor, in specific, to play Sue Storm AKA the Invisible Woman.
Elizabeth Lail could definitely look the part
On Instagram, the popular online artist known as @arifinity_ recently posted a piece of fan art that shows what actor Elizabeth Lail might look like were she to play Sue Storm in "Fantastic Four." The image shows the blonde-haired Lail wearing a blue Fantastic Four uniform while up holding her hands, both of which appear to be turning invisible.
If she were to actually be cast as Sue Storm, "Fantastic Four" would, notably, be Lail's biggest project to date. That said, while her film credits have been fairly limited up to this point, Lail has turned in more than her fair share of memorable TV performances over the years. In specific, viewers will likely remember Lail's turn as Guinevere Beck in the first season of "You." In addition to that fan-favorite thriller, Lail has had recurring roles in "Dead of Summer," "Once Upon a Time," and "Gossip Girl" as well. She also recently starred as Jenny Banks in "Ordinary Joe" (via IMDb).
This, notably, isn't the first time that a Marvel fan has named Lail as a possible contender to play the MCU's Sue Storm. As a matter of fact, one Redditor dedicated an entire post to Lail's potential "Fantastic Four" casting, writing, "I wouldn't be opposed to Elizabeth Lail playing Sue Storm in the MCU." In response, u/JackFisherBooks admitted, "I wouldn't be opposed either. She definitely has the look, the poise, and the talent."
In other words, when it comes to playing Marvel's next Sue Storm, it looks like Lail has got a fair amount of support from MCU fans. Now, all that remains to be seen is which actor Marvel actually ends up casting as its Invisible Woman.