The Young Sheldon Actor You Likely Forgot Starred In Cutthroat Island
CBS' sitcom "Young Sheldon" has been a massive breakout gig for a fair few of its cast members, most notably Iain Armitage as the show's titular protagonist. But while the show has been a turning point for the careers of some of the cast, it's also simply the latest in a series of hits for a few veteran actors. Lance Barber, who plays Sheldon's father George, is also widely recognized for his role as the down-on-his-luck Bill Ponderosa on the long-running FX comedy series "It's Always Sunny in Philadelphia," while Annie Potts, who plays Sheldon's grandmother Connie, is well-known for her role as the secretary Janine Melnitz in the "Ghostbusters" franchise, and so forth.
But though many of the established actors featured on "Young Sheldon" have past appearances in some illustrious properties, there is one particular cast member that actually harbors something of the inverse: a credit in a movie that has since become infamous. "Cutthroat Island," a 1995 pirate adventure movie that almost ruined the careers of Geena Davis (recently seen in "Glow") and Matthew Modine (from "Stranger Things" stardom), endures as one of the biggest box office bombs of all time. But who from "Young Sheldon" appeared in the notorious film?
Rex Linn sailed the seas in Cutthroat Island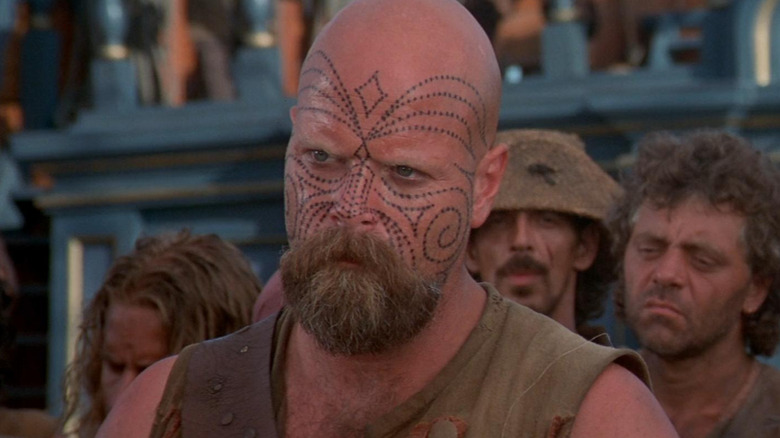 MGM/UA Distribution Co.
"Young Sheldon" fans know Rex Linn as the actor behind recurring character Tom Petersen, the principal of Sheldon's high school. Linn has featured in many beloved properties across his career, including a role on the main cast of "CSI: Miami" and a recurring part on the ongoing AMC drama "Better Call Saul." However, as with any prolific actor, there are some credits that are looked back upon less favorably than others. Such is the case for Linn's role in "Cutthroat Island."
In the movie, Linn portrays Mr. Blair, the resident quartermaster of the pirate crew that Morgan Adams (Geena Davis) helms. While Blair doesn't play a major role, he does serve as one of the movie's most visually distinct character designs, as he sports an eye-catching web of dotted line tattoos across his face. According to Linn, he had a great deal of input on Blair's appearance. "When producer and director Renny Harlin and I first started discussing the character, I wanted to come up with something that was an anomaly," Linn said in an interview with The Oklahoman. "I found a picture of a 17th century Tahitian pirate with tattoos on his face."
While Linn's role in "Cutthroat Island" is far from the pinnacle of his career, it's at least a decently entertaining performance to look back on. As for "Young Sheldon" fans, seeing the visage of Sheldon's mild-mannered principal on that of a swashbuckling pirate offers a strange novelty.