The Munsters And The Addams Family Spin-Off Wednesday Are Heading For An Epic Face Off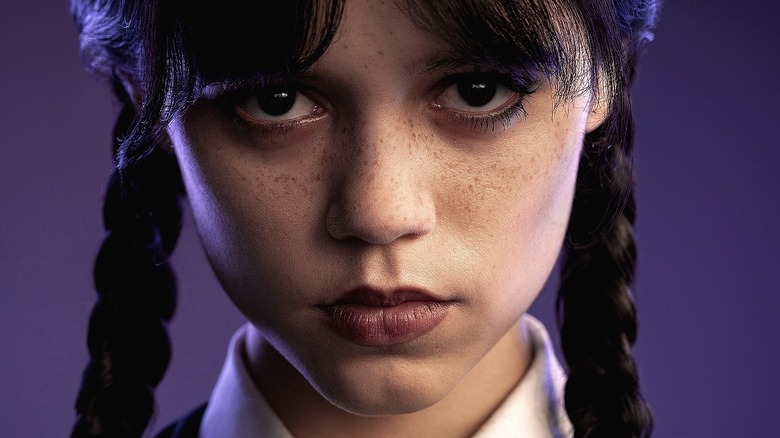 Matthias Clamer/Netflix
Fashionably gothic matriarchs, rambunctious children, and questionable relatives — these qualities define not just one spooky television show, but two. Both airing in the mid-1960s, "The Munsters" and "The Addams Family" were a celebration of all things macabre at a time when the traditional family was the norm.
Even though each show was canceled after just two seasons, the titular families continued to hold sway over pop culture. "The Addams Family," which was originally based on a series of New Yorker cartoons from the 1930s, was resurrected multiple times, most notably in the '90s with the collection of films that helped vault Christina Ricci, who played the deadpan Wednesday Addams, into stardom. As for "The Munsters," Bryan Fuller attempted to reboot the franchise in 2012 as a series for NBC titled "Mockingbird Lane." However, the show only got a pilot before being axed by the network (via BloodyDisgusting). 
And now, "The Addams Family" and "The Munsters" will be pitted against each other once again for the first time in half a century.
Both The Munsters and Wednesday will be airing on Netflix
If you are someone who never remembers which family had Morticia and which had Lily, things are about to get even more confusing, as we've learned that Netflix will be the home for both the "Addams Family" reboot "Wednesday" and Rob Zombie's "The Munsters." 
Zombie is rebooting "The Munsters" as a film, which stars his long-time collaborator and real-life wife, Sheri Moon Zombie. "The Munsters" trailer has certainly raised some eyebrows, but that isn't to say that the film won't respect the original source material. Zombie is known for his many homages to '70s horror, and the trailer for "The Munsters" is full of all the camp that one could ever expect from a loving send-up of the original. Excited to promote his new film, Zombie took to Instagram in a love-filled post.
"This fall we are gonna spook-out like it's 1964! ... THE MUNSTERS and THE ADDAMS FAMILY are returning to the boob tube at the same time courtesy of @netflix. It's been 58 years since this clash of the titans first happened," Zombie posted, confirming that his upcoming revival film will be released on Netflix, and seemingly announcing that both projects will drop in the fall. While Zombie is staying true to the roots of "The Munsters," the other rival in question is doing something slightly different.
"The Addams Family" will be reimagined in an updated version of the story entitled "Wednesday." The titular character will be portrayed by Jenna Ortega and follow her as she embarks on new adventures in prep school (per Deadline). Love for the weird clearly never goes out of fashion.