Blood Of Zeus Fans Want More Episodes In Season 2. Here's Why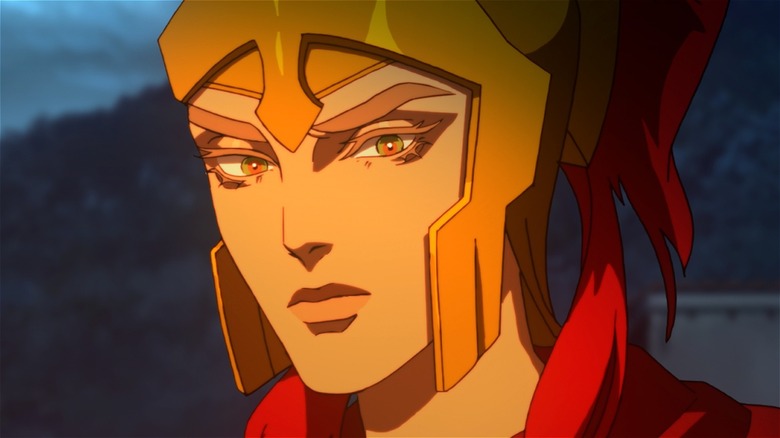 Netflix
Netflix's "Blood of Zeus" manages to pack in a lot of plot and characters over eight fantastic episodes. Chronicling the exploits of the demigod son of Zeus, Heron (Derek Phillips), "Blood of Zeus" has a robust supporting cast, so much so that fans have plenty of options when it comes to choosing a favorite character. That is bound to happen, though, when your show borrows quite liberally from the already established history of the Greek Pantheon of Gods and their many errant children, power struggles, and interpersonal drama — which is probably the reason why so many people binged the show. 
Combing elements of anime with their love of Greek mythology, series showrunners and real-life brothers Charley and Vlas Parlapanides told Inverse in the past about how they feel these ancient Greek characters are the precursors to superheroes and contain stories worth telling, which makes perfect sense when you consider how well known the name of "Hercules" is, and we're not just talking Kevin Sorbo. Both the fan and critical responses to "Blood of Zeus" have been glowing on Rotten Tomatoes, and the show has a 100% critic score and an 84% audience score. Considering the nature of the series, with its retinue of characters and the reception thus far, it seems as if fans want more than eight episodes per season, but why?
Fans want more episodes in Season 2 because they want more story and character development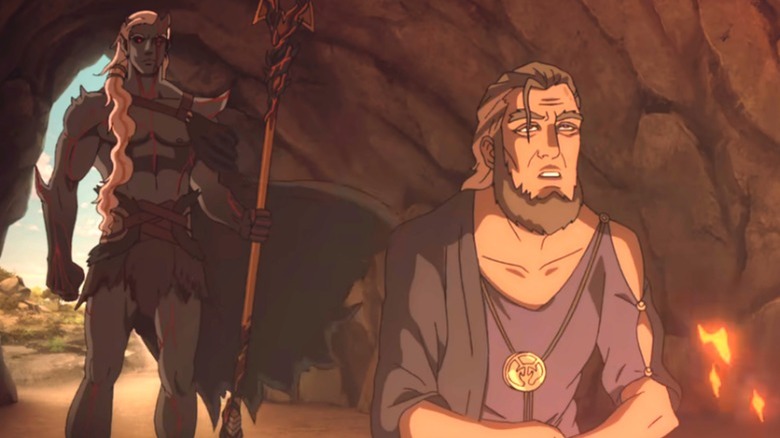 Netflix
The conversation sparked from several unresolved plot elements of "Blood of Zeus," like the motivation of Alexia (Jessica Henwick), the shifting objectives of Seraphim (Elias Toufexis), and Heron leaping into action to save his friends by a Reddit user who finished by saying, "And that's just few examples of what I'm talking about. Seriously, bring back twelve (or fifteen) episode long seasons!" Others were also in simpatico with this request, with another Reddit user saying, "10-13 episodes would've answered all of those questions. You are correct. Things need to be fleshed out more. It also would've given screen time for more of the Gods, i.e., Athena and Artemis. My guess 8 episodes was for budgetary reasons. Netflix needs to give the show the budget it deserves."
u/John-on-gliding replied that they hope "Blood of Zeus" gets more consideration from Netflix and an appropriate budget to flesh out more stories and bring in more Gods. u/Bilal_N4 also thinks "Blood of Zeus" would be better served with more episodes than eight per season and feels like 13 to 15 episodes is the perfect length for any series, mainly because it gives shows breathing room to expand on characters and motivations, while also avoiding running long. However, it seems as if this fact hasn't been lost on the series' creators.
The series creators have noted that a lot was cut from Season 1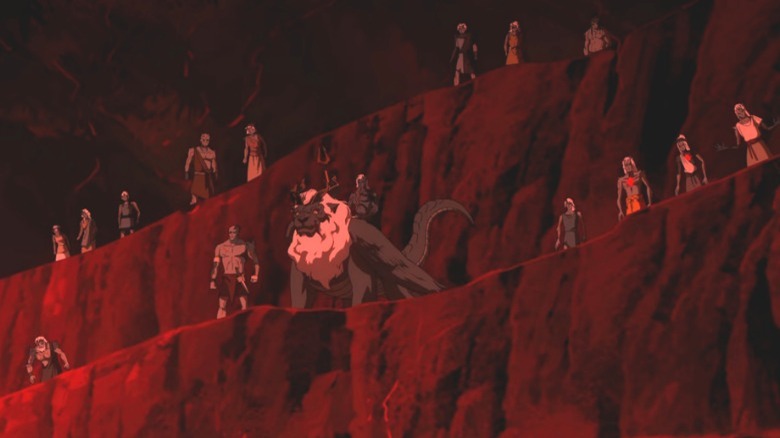 Netflix
Speaking with Comic Book, the series showrunners Charley and Vlas Parlapanides, as well as director Shaunt Nigoghossian, were asked several questions about "Blood of Zeus" and what the future may hold. When questioned on how they formulated an entire season of television, director Nigoghossian replied, "So a lot of it, we had to constrain it a little bit because the story was actually even bigger than it currently is, but we had to pair our scripts down and we had to lose some really great storylines that we are going to put probably in season two, should we get a season two."
The interviewer, Nick Valdez, then asked about how it seemed like there was a bigger world outside of the first season of "Blood of Zeus," and how there appears to be many more characters worth exploring. Series showrunner Vlas responded, "It's a challenge, Nick, because there's so many characters that we love in season one. And we want to spend more time with these characters. And as Shaunt said, we had to basically pare some things back because we only had so much real estate and that was a real challenge."
It seems then that the first season was edited down to eight episodes and that the series creator and director have said that these cut plots and stories will be appropriated for a Season 2. Hopefully, that also means that there will be more episodes because there is certainly a lot to say about the Gods and their internal struggles, as well as the many interesting characters that deserve much more screen time.