The Role You Likely Forgot Alyson Hannigan Played On The Simpsons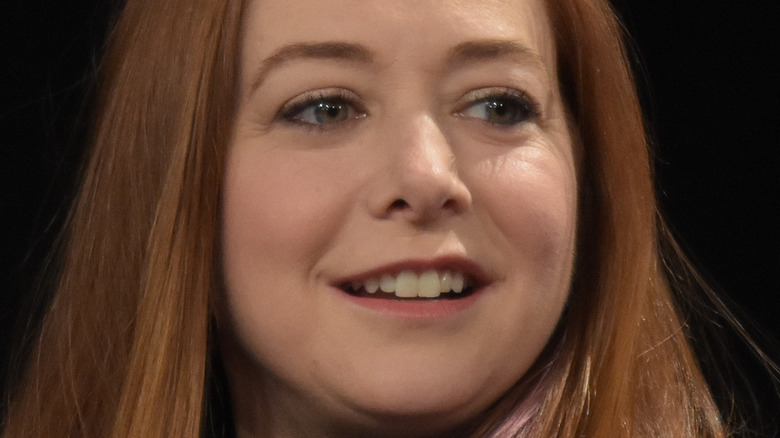 Markus Wissmann/Shutterstock
"The Simpsons" has had so many guest stars over the years it can be difficult for even the savviest of fans to keep track of all of them. In fact, some may have forgotten that a certain TV star by the name of Alyson Hannigan was one of those many talented celebrities to lend their vocal talents to the critically acclaimed animated sitcom (via Rotten Tomatoes).
During her illustrious career, Hannigan has been a solid player for both the big and small screen. She skyrocketed to success with her role in "Buffy the Vampire Slayer" and continued her glorious run in the TV world with "How I Met Your Mother." When it comes to the world of cinema, Hannigan was also a significant player in the "American Pie" franchise, starring in each of its four main entries.
Besides her biggest claims to fame, the talented actress has an array of credits on her résumé, making appearances on a number of popular shows, including the Emmy award-winning, animated series. While it may not be as memorable as other celebrity cameos like Albert Brooks or Lady Gaga, Hannigan's brief time on "The Simpsons" adds to the program's tradition of having big-name stars play a certain character's love interest.
Hannigan's Melody Juniper dated Bart Simpson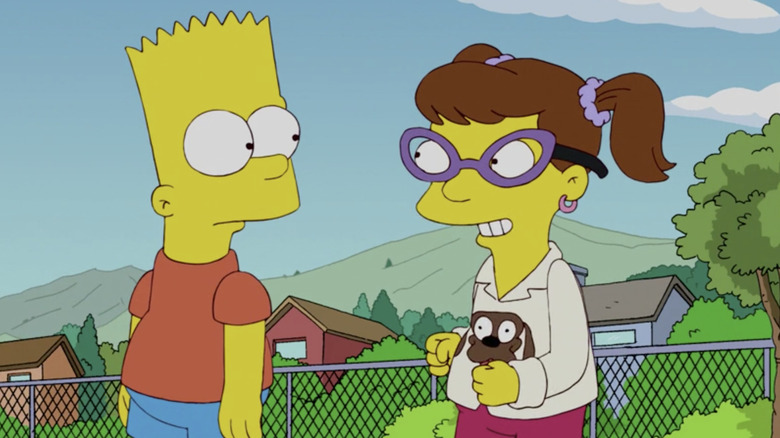 20th Television
In Season 22, Episode 11 ("Flaming Moe"), Alyson Hannigan guest starred in the series as a glasses-wearing third grader at Springfield Elementary School. In the episode, Principal Seymour Skinner (Harry Shearer) has a crush on the new music teacher Calliope Jones (Kristen Wiig). But old Seymour isn't that great with the ladies, so in order to win her affections, he enlists the help of his mortal enemy, Bart Simpson (Nancy Cartwright). Skinner gets Bart to ask Calliope's daughter Melody Juniper (Alyson Hannigan) on a date, and the desperate principal hopes to win his crush's affection while the two serve as chaperones for the fun outing.
Melody is overly obsessed with her Raggedy Ann Doll, and she keeps a dream journal with a lot of intriguing pictures of her with Bart. Unfortunately, Bart decides he isn't interested in dating Melody, which breaks the poor girl's heart. Calliope decides her small family should leave Springfield and Skinner joins them... only to return a whole three months later.
Hannigan is one of many famous actresses to voice a love interest of Bart. Fellow "Buffy the Vampire Slayer" star Sarah Michelle Gellar also played Gina in Season 15's "The Wandering Juvie." Other examples of A-list stars on this list include Natalie Portman, Anne Hathaway, Sara Gilbert, and Meryl Streep (via Comic Book Resources). Hannigan's tenure on "The Simpsons" wasn't very long, but she is in very good company playing one of the many ladies that are probably better off without El Barto.