Robert Downey Jr. Confirms He'll Be Back For Avengers 4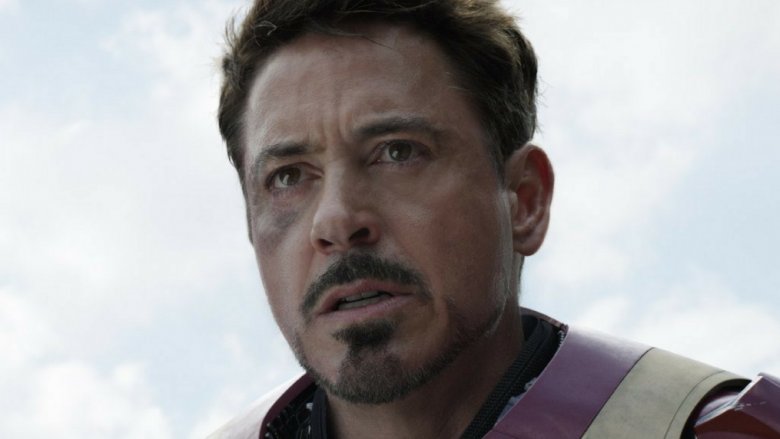 Tony Stark is getting some extra lumbar support on the set of Avengers 4. Robert Downey Jr. recently shared a photo of his chair for the upcoming film, confirming an appearance from Iron Man, along with Scott Lang, aka Ant-Man (Paul Rudd), Natasha Romanoff, aka Black Widow (Scarlett Johannson), and Steve Rogers, aka Captain America (Chris Evans). "New flick, new short chair," he captioned the photo.
We're still slowly learning which Marvel actors will return for Avengers 4, although we do know that just about everyone under the sun has been confirmed for next year's Avengers: Infinity War. That movie has more than two dozen heroes currently confirmed alongside a host of side characters, plus whatever surprises Marvel has up its sleeve.
Infinity War will need all the heroes it can get to fight against Thanos (Josh Brolin) and his villainous lieutenants the Black Order. We don't know which superheroes will survive the battle, although some are theorizing that Downey Jr.'s character is set to bite the dust– alongside some other major MCU names– in one of the upcoming films. (His co-star Mark Ruffalo even confirmed as much in an interview, saying that "everybody dies" at the end of Infinity War.) 
Downey Jr. has fueled these rumors himself with past pics he shared from the set, including a photo from Infinity War of him with co-stars Ruffalo, Benedict Cumberbatch, and Benedict Wong. Although the photo just showed the heroes eating lunch, Downey Jr.'s shirt was ripped in the heart area, suggesting that Tony could be suffering from health problems in the film.
"They're all big," co-director Joe Russo previously said of the films. "It's important for both movies to be distinctly different. It's important for them to have different tones, and different narratives, and different surprises for the audiences. We've worked hard with [writers Christopher Markus and Stephen McFeeley] at ensuring that the films are tonally different and structurally different."
Very little is known about the fourth film at this point, although Marvel Studios head Kevin Feige says it will remain untitled for quite a while, as the title is a spoiler for Infinity War. Captain America: Civil War's Joe and Anthony Russo take on co-directing duties for both of the next two upcoming Avengers movies. Avengers: Infinity War is set for a May 4, 2018 release, while the untitled fourth Avengers film will follow on May 3, 2019.