The Annabelle: Creation Scene David F. Sandberg Regrets Shooting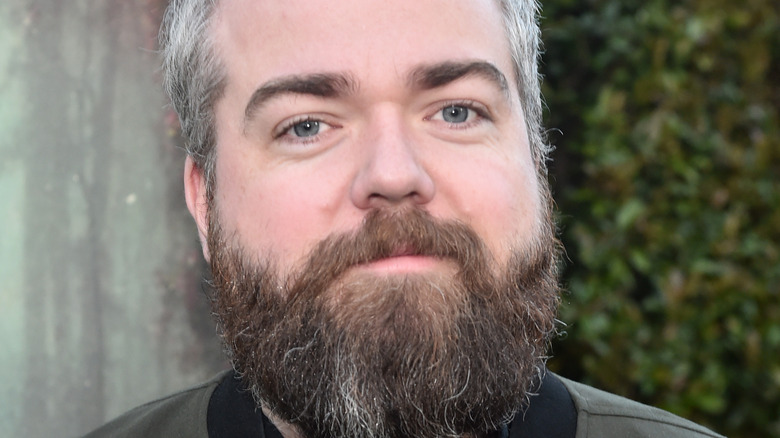 Alberto E. Rodriguez/Getty Images
Not long before he electrified the global box office with the DC superhero blockbuster "Shazam!" in 2019, director David F. Sandberg was shocking audiences in a different sort of way. Those shocks came with the director's horror film "Annabelle: Creation," a 2017 prequel movie that examines the origin of the cursed doll from filmmaker James Wan's "Conjuring Universe." And while "Annabelle: Creation" went on to score another box office win for the film series with a worldwide tally of $306.5 million (via Box Office Mojo) and holds solid review stats from critics and crows alike (via Rotten Tomatoes), Sandberg doesn't seem as keen about one particular moment — and he wishes he could take it back.
Annabelle first appears in a prologue scene in Wan's 2013 horror hit "The Conjuring." The creepy porcelain doll got its own solo movie, "Annabelle," a year later. Released in 2017, "Annabelle: Creation" takes the story back to 1943, when a dollmaker, Samuel Mullins (Anthony LaPaglia), and his wife, Esther (Miranda Otto), grieve the sudden loss of their 7-year-old daughter, Annabelle, aka Bee (Samara Lee), after she is hit by a car. Leaping forward 12 years, the story shifts to the Mullins' home, which serves as a makeshift orphanage for a nun (Stephanie Sigman) and six girls in her care since their previous facility shut down.
One of the dolls Samuel creates is named after his late daughter, and the film reveals how an evil entity came to possess it. The doll rears its ugly head when one of the orphans encounters it in a closet and a demonic spirit begins to haunt the girls. And while the idea of a spirit terrorizing unsuspecting victims is to be expected in an "Annabelle" movie, Sandberg admits he took one of the moments too far.
Sandberg regrets filming an Evil Dead-type of scene in Annabelle: Creation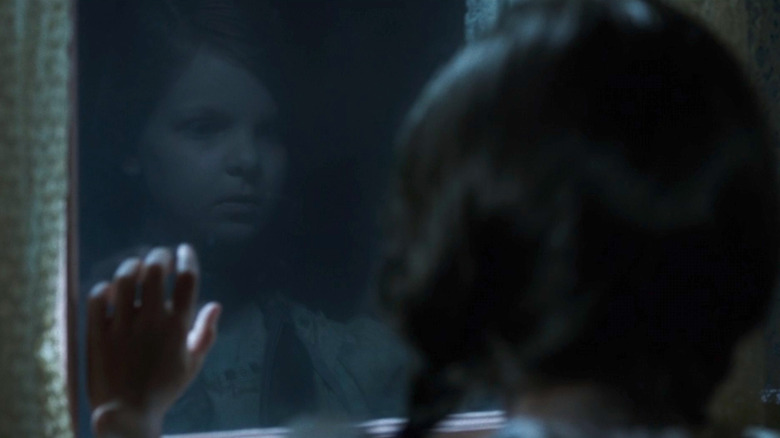 Warner Bros.
Several high-profile filmmakers have expressed regrets over filming specific scenes over the years, and David F. Sandberg counts himself among them. In a Reddit discussion about "Annabelle: Creation" (via ScreenRant), the director confessed the scene involving the character of Janice (Talitha Bateman) and a demonic spirit that's taken over Bee's ghost — specifically the "Your soul!" line (via YouTube) — comes too close to a parody of the demons in director Sam Raimi's "Evil Dead" saga.
"Yeah, I never quite got that one right, and I think of 'I'll swallow your soul' every time I see it," Sandberg said in the Reddit discussion. "If I could redo it, I'd make the make-up creepier and have her not say anything. Or at least whisper the line instead of [a] full-on demon voice. We tried so many variations of that voice during post. 'Maybe if we make the voice really overwhelming, that might take away from the cheese?' Nope."
Of course, "Annabelle: Creation" isn't the first horror movie (either directly or indirectly) to take a cue from one of Raimi's "Evil Dead" movies. Raimi himself, in fact, brought some of his "Evil Dead 2" sensibilities to the blockbuster hit "Doctor Strange in the Multiverse of Madness," explaining why Marvel's Kevin Feige wanted to do it.
"When Kevin first announced the movie, he said this would be 'Marvel's first foray into the horror genre,' and it is," Raimi told Looper in an exclusive interview. "There are demons, and Doctor Strange has to fight some terrifying creatures, and Wanda has to face some spooky stuff also. It's the horror movie aspect that we were trying to bring to it." Admittedly, there is no mention in the film, however, of any demons saying they are going to swallow anybody's souls.