Disney+'s Baymax! Has Fans All Saying The Same Thing
Directors Don Hall and Chris Williams' "Big Hero 6" arrived on the big screen in November of 2014, giving the world an all-new animated adventure to sink their teeth into. Inspired by the comic series of the same name, the film follows a group of kids whose technological proficiency leads to them becoming a team of crime-fighters, pitting them against a mysterious masked entity with seemingly evil intentions for the city of San Fransokyo. Although, for as fun and colorful as these young heroes were, they wouldn't become the standout characters of the feature.
Alongside the "Big Hero 6" crew was Baymax (Scott Adsit): an inflatable medical robot who doesn't have too much to say or highly developed social skills, yet he shows more care, attention, and bravery than most animated characters. As a result of his many fun and sweet moments, he became the film's mascot and a favorite among fans. Even years after he made his cinematic debut, folks around the world still love Baymax, hence why Disney hasn't let the character go. In fact, the company has even given him a spotlight all his own in the form of the Disney+ series, "Baymax!"
Since hitting streaming on June 29, 2022, "Baymax!" has had most viewers saying the same thing. Here's what they think about it.
Disney+ subscribers have found a lot to love from Baymax!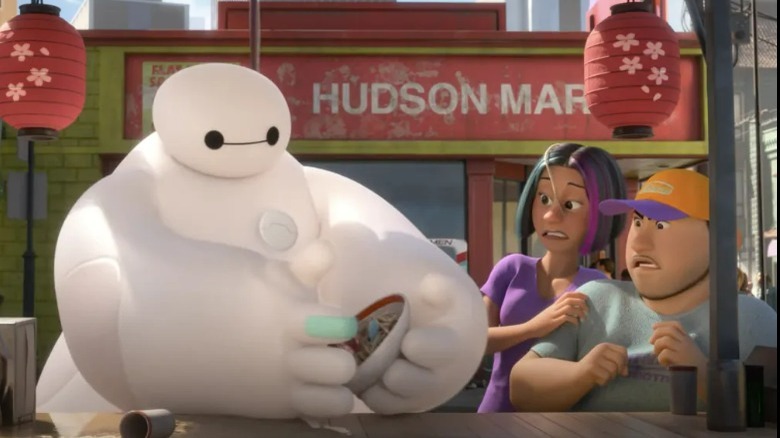 Disney+
Don Hall's "Baymax!" is by no means a complex narrative series, but it has a lot of heart all the same. Each episode sees the titular robot go out into the world and do what he does best: help out those in need without question. At the end of the six-episode first season, he ends up in need of aid when his battery runs out, prompting his friends to return the favor by rescuing him and putting him on the charger. While Reddit user u/deskk0 didn't seem to love it as much as they expected to, many in the comment section of their post showered "Baymax!" with appreciation for a variety of reasons.
On top of its lovely animation and digestible stories, the series has garnered plenty of praise for showcasing things that child-centric pieces of media tend to overlook. For instance, it doesn't shy away from exploring the topic of menstruation, nor does it exclude members of the LGBTQIA+ community. Speaking particularly on the first example, Baymax voice actor Scott Adsit found it especially heartwarming to cover such a topic on the show. "It's just something that happens, and there's a way to handle it with grace or any way they want to handle it, and I found that really beautiful," he told Game Rant in 2022.
While "Baymax!" doesn't necessarily break any new ground from a presentation or storytelling standpoint, the decision of the minds behind it to go into important territory that kid-oriented shows rarely touch is admirable. Most audience members seem responsive to it in a positive way, too. With that, one has to wonder if a Season 2 is in the cards, or even a "Big Hero 6" sequel.