Will There Be A Big Hero 6 Sequel?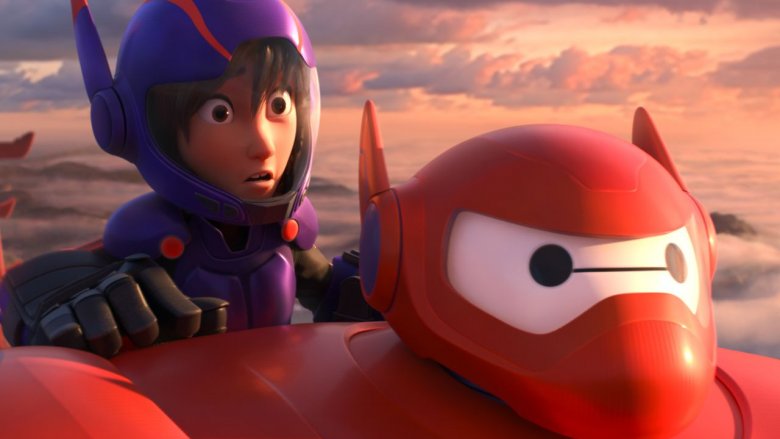 In the time since Walt Disney Animation Studios broke our hearts and put them back together with Big Hero 6 — the 2014 3D-animated film about the young robotics prodigy Hiro Hamada (Ryan Potter) and the inflatable medical assistant Baymax (Scott Adsit) his late brother Tadashi (Daniel Henney) created — fans have wondered whether they'd ever get a chance to visit the futuristic city of San Fransokyo again and reunite with Hiro, Baymax, and their many pals. So, will there be a Big Hero 6 sequel coming our way in the future? Let's discuss. 
Three months after Big Hero 6 launched in theaters in November 2014, the film's directors, Don Hall and Chris Williams, revealed that a sequel wasn't out of the realm of reality... but there's a catch. Hall shared in a February 2015 interview with Creative Screenwriting that he and Williams would have to "see" about making another Big Hero 6 movie, as they were "exhausted from the ordeal of making" the first one. 
The director admitted, "It was really fun, but it was long hours, and it was pretty intense. It's a pretty emotional time for us. These are characters that we've grown to know very well, now it's time to let go of them, and they're going into the world without us. We're in the middle of that phase. So we haven't talked about or thought about any sequels or anything like that."
Williams chimed in to say that the ending of Big Hero 6 does leave the door open for "further adventures," so there would be no trouble crafting a new narrative for a follow-up film. However, at that time, he and Hall had "not talked about anything" pertaining to a Big Hero 6 sequel. "We want to get through the launch of the film, take some time off, and once we're a little more rested, we'll have more time to think about that sort of thing," noted Williams. 
Added Hall, "Having said that, of course, we love these characters, and the thought of working with them again some day definitely has its appeal ... [A sequel] has to feel like a story that really has to be told, or deserves to be told. It can't just be cashing in on the success of a previous film."
A month later, actress Genesis Rodriguez, who voiced Hiro's kind-hearted pal and total chemistry nerd Honey Lemon in Big Hero 6, opened up to MTV News about the possibility of a sequel. She stated that conversations about another Big Hero 6 movie heated up after the flick took home the Academy Award for Best Animated Feature at the 87th annual Oscars, but there was "nothing definitive" happening at that time. 
"There's talks of something happening. We just don't know what yet," said Rodriguez, who shared that she would love to reprise her role for a sequel. "It was just a very special movie with a very special cast. It was so diverse and so fun to work with these people."
The last word we heard of a Big Hero 6 sequel possibly happening came from the mouth of the late Marvel Comics architect Stan Lee. In April 2015, Lee spoke with The Toronto Sun and mentioned Big Hero 6, which was loosely based on the Marvel superhero team created by Steven T. Seagle and Duncan Rouleau. Lee indicated that Marvel Studios was planning to develop a Big Hero 6 sequel to fit in the same Marvel Cinematic Universe phase as Guardians of the Galaxy Vol. 2, Avengers: Infinity War, Captain America: Civil War, Doctor Strange, and Black Panther. He further stated, "I don't even know how they decide what to do next, because every one of them is so exciting and the public is waiting for them."
Unfortunately, a Big Hero 6 sequel didn't make it to the big screen, and there's no telling whether Marvel Studios actually planned to create one. What's even sadder is that there hasn't been any talk of follow-up film in years. 
The upshot of this is that even if a Big Hero 6 sequel never happens, fans do have more Big Hero 6 content to enjoy. Disney Television Animation and creators  Mark McCorkle and Bob Schooley rolled out Big Hero 6: The Series in November 2017, and the show is still airing to this day. As of August 2019, Big Hero 6: The Series is in its second season, with a third season having been ordered in April of that year.
So, while a sequel to Big Hero 6 might be a pipe dream, the characters still have a place on our screens.