Whatever Happened To Readerest After Shark Tank?
The "Shark Tank" bump is real, folks. Whether a business owner makes a deal with the Sharks or not, an appearance on "Shark Tank" guarantees that millions of people will learn about each business that appears on it–the most recent season, Season 13, averaged 3.725 million viewers per episode (via TV Series Finale). According to Inc.com, an average "Shark Tank" appearance doubles or even triples a company's sales.
So, did that happen for ReadeREST?
Entrepreneur Rick Hopper appeared on the show in 2012 to pitch his company, which offers clip-on magnetic eyeglasses holders that can be attached to clothing. Originally, Hopper asked for $150,000 in exchange for 15% equity. While Mark Cuban, Daymond John, and Kevin O'Leary didn't see the potential for the product, QVC maven Lori Greiner offered Hooper $150,000 in exchange for 65% of the company – - an equity stake that she felt was justified due to her home shopping expertise (via Shark Tank Blog).
Greiner promised to make Hopper a millionaire, and he took the deal. So, did Greiner's promise come true?
ReadeREST is one of Shark Tank's biggest success stories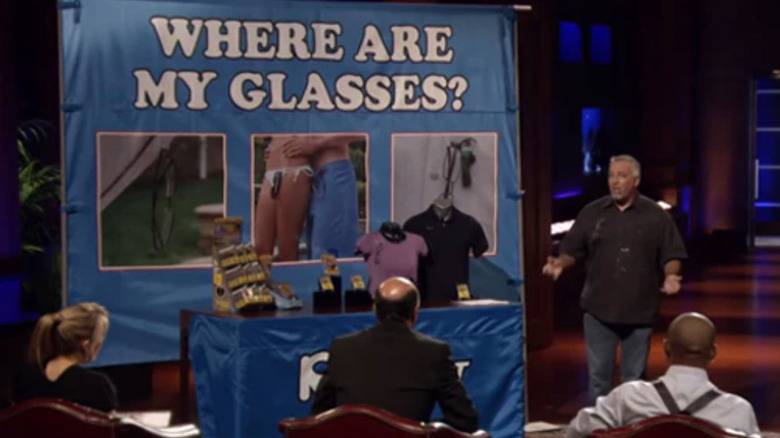 ABC
Before his "Shark Tank" appearance, Hopper was making each ReadeREST glasses holder by hand and had done about $65,000 in sales. Greiner put ReadeRest on QVC as promised, and the product sold out within five minutes. According to Greiner's website, the brand has brought in over $37 million in sales since the episode aired.
Currently, ReadeREST offers four varieties of glasses holders: one in stainless steel, one in black, one with Swarovski-brand crystals, and one with Swarovski-brand pearls. The company also offers ten varieties of reading glasses– which would probably pair nicely with Pair Eyewear's magnetic frame attachments, another "Shark Tank" success. The ReadeREST is available on the company's website, as well as at retailers like Wal-Mart, Bed, Bath & Beyond, and Ace Hardware (via Gazette-Review).