The Worst Criminal In Law & Order: SVU Season 19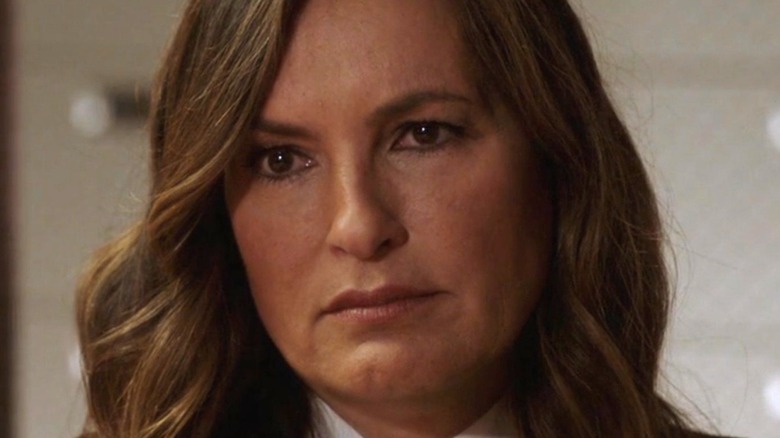 NBC
"Law & Order: SVU" has been on the air longer than any other primetime live-action series. Its long tenure on TV has even surpassed the main "Law & Order" series. Having 23 seasons under your belt requires quite a special recipe, but the strange thing is that the ingredients of "SVU" aren't that complex. The show's success, longevity, and binge-worthiness tie back to its fantastic cast, grounded sense of realism, and the most despicable villains. It's the latter where the series tends to shine as "SVU" is never short of terrible criminals who need to be served justice.
The earlier seasons of "SVU" certainly did not have a problem captivating viewers with storylines focused on the worst television villains. For instance, in Season 6, the worst criminal was a gruesome copycat serial killer and it also featured legendary comic actor Martin Short in a twisted role that most people sadly don't remember. With that said, this doesn't mean the more modern era of the show lacks the amount of evil found in the single-digit seasons. In fact, during Season 19, "SVU" presented a criminal so appalling that his actions made things personal for the Special Victims Unit during a two-part finale.
Sex trafficker Miguel Lopez is the worst criminal of Season 19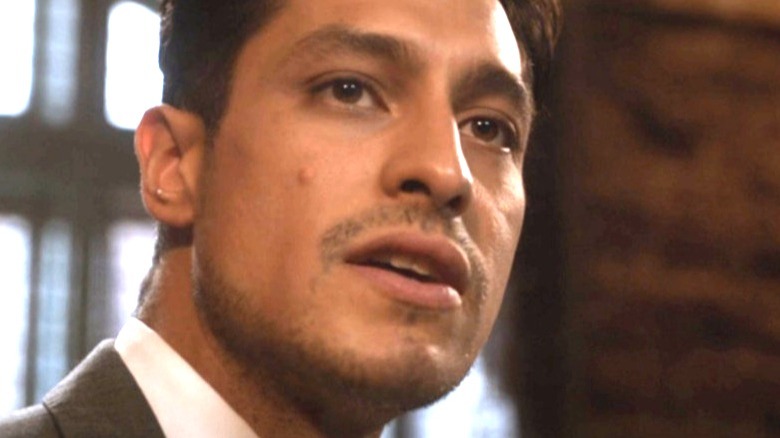 NBC
The two-part Season 19 finale, "Remember Me" and "Remember Me Too," begins with a hostage situation. However, as we later learn, everything is not quite what it seems. To exact revenge, Lourdes Vega (Genesis Rodriguez) holds Miguel Lopez (Carlos Miranda) at gunpoint in his apartment after the two meet in a club. In 2013, Vega and her friend were the victims of rape, torture, and sex trafficking, and she claims that Lopez is responsible. Because the apartment has a camera that live streams to Lopez's phone, police are tipped off, and detective Olivia Benson (Mariska Hargitay) has to talk Vega down, but not before she assaults Lopez's business partner.
The episode contains many complications, mainly in the form of Benson and assistant district attorney Peter Stone (Philip Winchester) clashing over whether Lopez is really responsible for what happened to Vega. Fortunately, a breakthrough occurs when Benson and Stone threaten to lie about Lopez to several contacts and endanger his reputation in a cartel. Lopez's initial crime and denial are enough to earn him the worst villain distinction, but his confession scene truly solidifies his place. Lopez begins his confession with a sob story of how he started trafficking for the cartel. However, it doesn't take long before he suddenly rants like some egomaniacal scumbag. When Benson presses him about taking advantage of the girls he transported, Lopez horrifically responds with, "For a thousand miles, I was their God." It's an eerie breakdown showing how depraved a person can get.

If you or anyone you know has been a victim of sexual assault, help is available. Visit the Rape, Abuse & Incest National Network website or contact RAINN's National Helpline at 1-800-656-HOPE (4673).
The Season 19 finale ends with a personal tragedy for Peter Stone
NBC
What Miguel Lopez did to Lourdes Vega and a host of other victims is atrocious. Unfortunately, his list of reprehensible actions doesn't end there. During the finale, the case becomes uncomfortably personal for Peter Stone. Lopez's cartel kidnaps his sister to get him to drop the case. Stone sticks to the case, though, and his sister's kidnapping causes him to work with Benson in scaring Lopez into finally confessing. The criminal gives the location of the warehouse where Stone's sister is located. But things take a tragic turn when a violent gun exchange leaves Stone's sister fatally shot in the back. Sure, it's one of the cartel gunmen who pulls the trigger, but Lopez's actions and connections are what loaded the bullets.
At the very least, Stone's sister might have had a chance if Lopez had cooperated sooner. As far as the series' overarching plot, the heartbreaking moment for Stone could be seen as the beginning of the end. The character only lasted one more season before saying goodbye in the Season 20 episode "End Game." Philip Winchester has kept plenty busy with other projects since departing the show, but fans shouldn't count on the actor to reprise his "Law & Order: SVU" role again. Winchester seemed content with letting the character go in 2019.