Who Blood Of Zeus Fans Really Want To See More Of In Season 2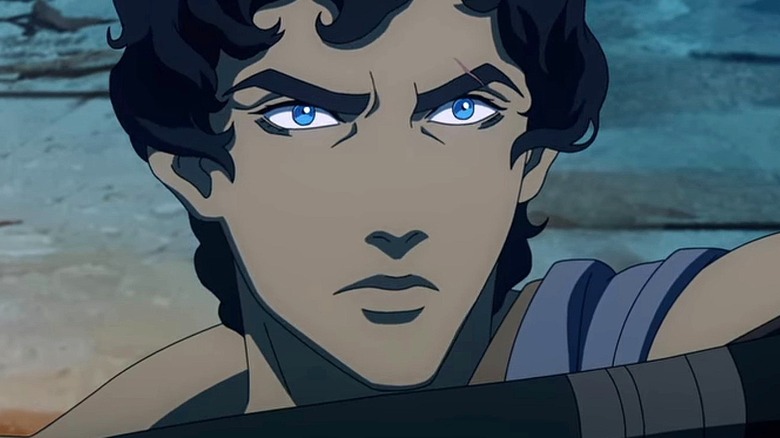 Netflix
For fans of violent, adult-oriented, animated series like "Invincible," Netflix's "Blood of Zeus" checks many of the same boxes as Amazon's edgy superhero cartoon. As its name indicates, "Blood of Zeus" is a story about Greek gods like Zeus (Jason O'Mara), Hera (Claudia Christian), and Poseidon (Chris Diamantopoulos), featuring an original character named Heron (Derek Phillips), son of Zeus, as its protagonist. The series is animated by Powerhouse Animation Studios of "Castlevania" fame, and its bloody action closely resembles that of its vampire-oriented predecessor.
"Blood of Zeus" was a hit on Netflix upon its premiere, cracking the streaming service's top 10 list shortly after its release. In fact, Netflix didn't wait long to confirm that a "Blood of Zeus" Season 2 is on its way, though near-radio silence has followed its announcement in late 2020.
Naturally — and especially in the relative absence of information from official sources — fans have taken to sharing their hopes for the show's second season since the conclusion of its first, including one character a number of viewers would like to appear more frequently.
Blood of Zeus fans want more Artemis
Some months after the conclusion of "Blood of Zeus" Season 1, one user posted to the series' subreddit that they hope Artemis (Jennifer Hale) will appear more frequently in Season 2. Like protagonist Heron, Apollo (Adam Croasdell) is Zeus' son, making him somewhat important to the family at the show's core. Meanwhile, in Greek mythology, Artemis is Apollo's twin sister (via Britannica). However, Artemis' role in "Blood of Zeus" is more minor than that of her brother, hence why this poster — and implicitly the nearly 200 users that upvoted their post — want more from her.
In fact, multiple replies in the comments section expressed that if not Artemis, they would generally like more weighty speaking roles for goddesses other than Hera. For example, user Mcfinley claimed, only slightly hyperbolically, that Hera is the only goddess to speak in the entire series. Meanwhile, user sagewren7 wrote, "Whats the point of showing known goddesses if they aren't gonna talk," accompanied by a dejected face emoji.
Artemis is a hit on Twitter too, with users like @candacesvanessa sharing a fancam for the character, and @mytholgys posting, "just wish artemis from blood of zeus would talk to me" to the tune of more than 450 likes.
Netflix has yet to announce a release date for "Blood of Zeus" Season 2, so fans may have to wait some time to find out whether or not Artemis will indeed make a splash in the upcoming season.