The Strange World Cast Is Gorgeous In Real Life
Buckle your seatbelts and grab your adventuring gear, because Disney's newest animated feature "Strange World" looks like nothing audiences have seen before. Since the debut of the movie's teaser trailer, fans have been buzzing about the sci-fi family film from director Don Hall and writer Qui Nguyen.
Hall's third turn as director for a Disney animated feature, he received high acclaim, and an Academy Award win, for his work on the 2016 Disney action-comedy "Big Hero 6," as well as an Oscar nomination for "Raya and the Last Dragon." This is the second Disney feature writing credit for Nguyen, who also co-wrote "Raya and the Last Dragon" with Adele Lim.
Disney's animated movies often feature a star-studded cast, and "Strange World" is no exception. Breaking down the key players traversing the mysteries of an unknown land filled with wonder and excitement, what some people may not realize is that the voice actors behind the microphones are absolutely gorgeous. Here is what the cast of "Strange World" looks like in real life.
Gabrielle Union (Meridian Clade)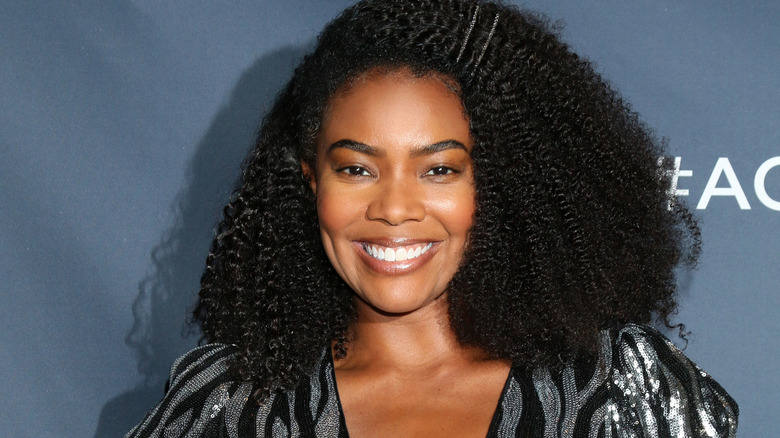 Kathy Hutchins/Shutterstock
Gabrielle Union is the voice of Meridian Clade in "Strange World." Though we don't know much about the character yet, a brief summary from A.Frame says that she is married to Searcher Clade (Jake Gyllenhaal) and is the mother of Ethan Clade (Jaboukie Young-White). Meridian is described as a "natural-born leader," and from what we've seen in the teaser, this feels like a fair assessment. Meridian can be seen piloting the airborne vessel used to traverse the new world, so apparently she's no stranger to peril.
Union appeared in two big teen hits in 1999, "She's All That" and "10 Things I Hate About You." Her career took off after her role in the 2000 teen comedy "Bring It On." Her first starring gig came in 2003's "Deliver Us From Eva," and she went on to do films such as "Cradle 2 the Grave," "Bad Boys II," and the abysmally-received "Honeymooners" reboot movie in the early 2000s.
From 2013 to 2019, Union starred in the original BET drama "Being Mary Jane," playing a TV news anchor who juggles both her personal and professional life. She was a judge for NBC's "America's Got Talent" during the reality competition show's 14th season, but left the series following controversy with the network. In 2022, Union co-starred with Zach Braff in the Disney+ remake "Cheaper by the Dozen."
Jake Gyllenhaal (Searcher Clade)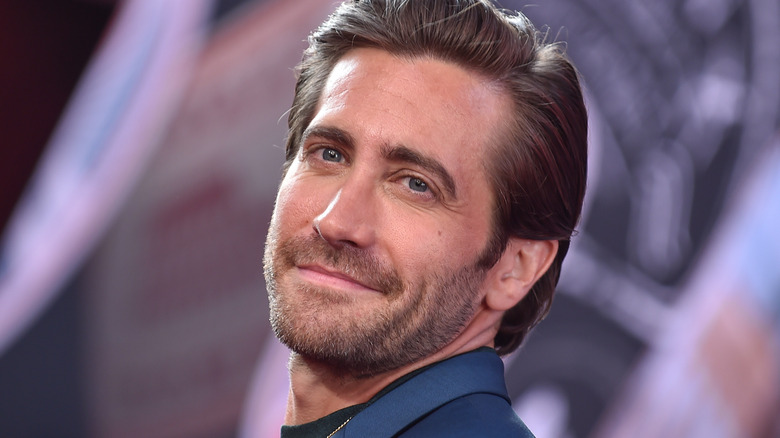 DFree/Shutterstock
In "Strange World," the character of Searcher Clade is the reluctant tagalong in this unique journey. Though he comes from a family of reputed adventurers, he lacks their gung-ho adventuring spirit. In the teaser, Searcher can be heard saying, "I'm not an explorer, I'm a farmer." While Searcher has chosen not to join the family tradition, it is clear that he has many perilous happenings coming his way. Whether or not he chooses to meet them head-on remains to be seen.
Jack Gyllenhaal provides the voice of Searcher Clade in "Strange World." In recent years, Gyllenhaal is most well known for his role in "Spider-Man: Far From Home." He played Mysterio, the imposter illusionist who tricks Peter Parker (Tom Holland) into willingly giving him a powerful piece of Stark tech, only to threaten everything Peter and Spider-Man care for. 
Of course, Gyllenhaal made his mark many years before with the cult classic "Donnie Darko," which was released in 2001. He went on to co-star with Heath Ledger in Ang Lee's "Brokeback Mountain" in 2005, which won Academy Awards for Best Director, Best Adapted Screenplay, and Best Original Score. Gyllenhaal can also be seen in the 2021 Michael Bay action thriller "Ambulance."
Jaboukie Young-White (Ethan Clade)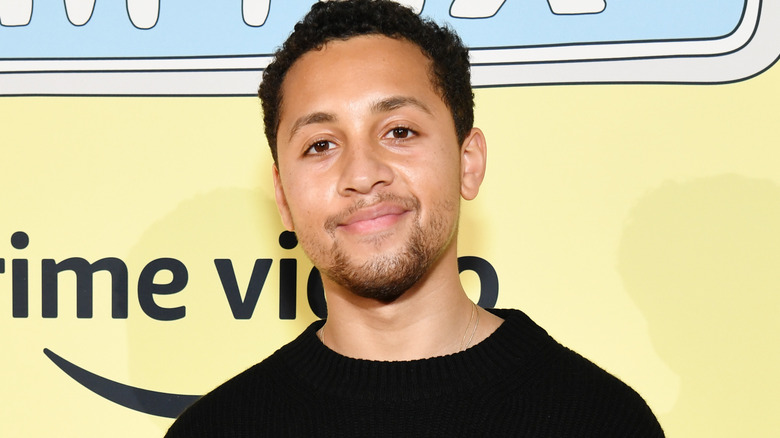 Jon Kopaloff/Getty Images
Ethan Clade is the son of Searcher and Meridian. He can be seen in the "Strange World" teaser wearing a blue knit cap and a yellow scarf, staring in wide-eyed awe at the miraculous sights that surround him. We also witness him in a perilous situation, tumbling down what almost looks like a long, giant tongue (your guess is as good as ours) and struggling to catch his grip. Unlike his dad, Ethan fits in perfectly with the Clade family's innate sense of adventure.
Another clue we have about Ethan's character comes from Variety, which described a preview of the film that was screened by Disney at the Annecy Film Festival in the summer of 2022. According to Variety, a scene shows Ethan flirting with a young man from school, only to be embarrassed by his father, Searcher, who interrupts them. Variety's report confirms that "Strange World" is the first Disney animated feature to include an openly gay teen romance.
Ethan is voiced by actor Jaboukie Young-White. The 28-year-old got his start acting in short films. In 2018, he appeared in the Emmy-nominated limited series "aka Wyatt Cenac," and he voiced a minor character in Pixar's "Ralph Breaks the Internet." Young-White was also a correspondent for three years on "The Daily Show," and he had voice roles in the animated comedies "BoJack Horseman," "Big Mouth," and "Fairfax." He appeared in three episodes of "Only Murders in the Building" as Sam, one of the podcast superfans. 
Lucy Liu (Callisto Mal)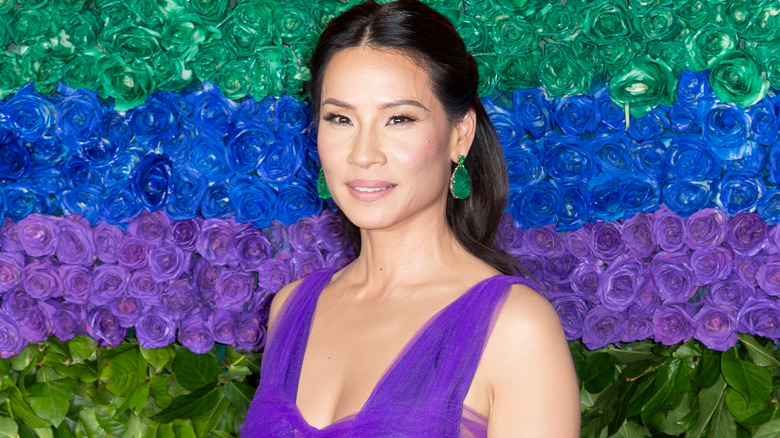 lev radin/Shutterstock
One of the most intriguing characters in "Strange World" is Callisto Mal, who is the leader of the mystical land of Avalonia (according to Variety). Tough as nails and fearless to boot, Callisto may not be part of the Clade clan, but certainly fits in just fine. Tall and with long dark hair in braids, she can be seen in the teaser brandishing two daggers that she uses to attack a flying creature as she jumps onto its back. She also has a one-on-one moment with Searcher, where she tells him, "If you want to back out, this is the time to do it." "Really?" inquires Searcher, to which Callisto replies with a laugh, punches him in the arm, and declares, "No! Messing with you. Let's go make history!"
Callisto is voiced by Lucy Liu, whose acting career has earned her acclaim in both television and film. She played lawyer, and later judge, Ling Woo in four seasons of the Fox series "Ally McBeal." Liu also starred in films "Charlie's Angels" and "Charlie's Angels: Full Throttle" as Alex Munday alongside Cameron Diaz and Drew Barrymore. One of her most memorable roles came from playing the crime boss O-Ren Ishii in Quentin Tarantino's "Kill Bill" Volumes 1 and 2. She also voices the character of Viper in the "Kung Fu Panda" franchise, and co-starred in the CBS mystery series "Elementary" as Dr. Joan Watson from 2012 to 2019.
Dennis Quaid (Jaegar Clade)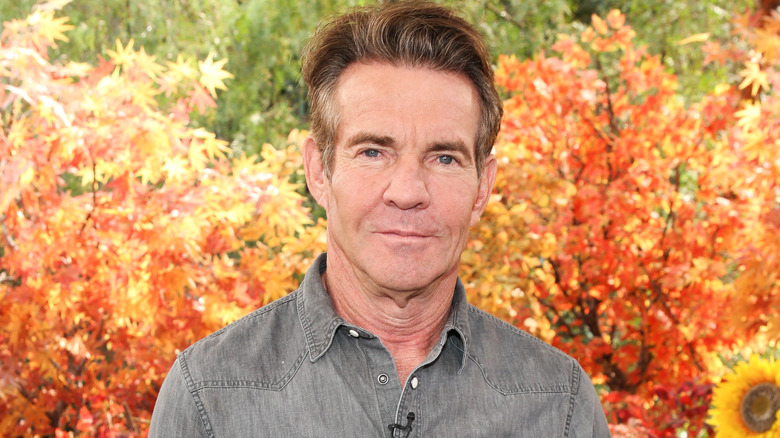 Paul Archuleta/Getty Images
Since we only catch a brief glimpse of him in the teaser, there is still much we have to learn about Jaeger Clade, the father of Searcher and Ethan's grandfather. We can guess that because Searcher is so reluctant to embrace his heritage, there is likely a rift between father and son that caused their estrangement. Perhaps Jaeger neglected his son one too many times during his quest for exploration, causing Searcher to feel abandoned and resentful. We'll just have to wait until "Strange Worlds" lands in theaters to find out.
A veteran of the big screen, Dennis Quaid has performed a range of both dramatic and comedic roles. During the 1980s, Quaid starred in titles such as "Jaws 3-D," "The Right Stuff," and "Enemy Mine." He earned high praise for his portrayal of musician Jerry Lee Lewis in the 1989 biopic "Great Balls of Fire." Quaid went on to play legendary gunslinger Doc Holliday in the 1994 Western "Wyatt Earp," alongside Kevin Costner. Younger millennials may know him as Nick Parker in "The Parent Trap," the father of twins Hallie and Annie (both played by Lindsay Lohan). Quaid's more recent credits include the 2019 Netflix series "Merry Happy Whatever," and the family drama "The Tiger Rising" with Queen Latifah.