The Worst Season Of The Walking Dead, According To 29% Of Fans
Jace Downs/AMC
"The Walking Dead" has gone through many ups and downs throughout its 11-season run on AMC. What started as a rather niche horror show about zombies snowballed into mainstream popularity, and by Season 5, "The Walking Dead" was breaking ratings records (via Forbes). This trend continued for quite a while, but all good things must come to an end. By Season 9, "The Walking Dead" had shed a significant portion of its audience thanks to all sorts of factors involving cast departures and mixed reception to certain storylines (via The Hollywood Reporter).
Even so, "The Walking Dead" remains popular, especially for a cable show that's well into its 11th and final season. The real question remains, then: For a show that has so many seasons with an abundance of episodes to look at, how does one determine the absolute worst season of the bunch? What would go into determining that, from a fan's perspective? Well, as it turns out, Looper conducted a survey of 565 people around the country and asked them to choose their least favorite season of "The Walking Dead."
The Walking Dead fans are not really feeling Season 11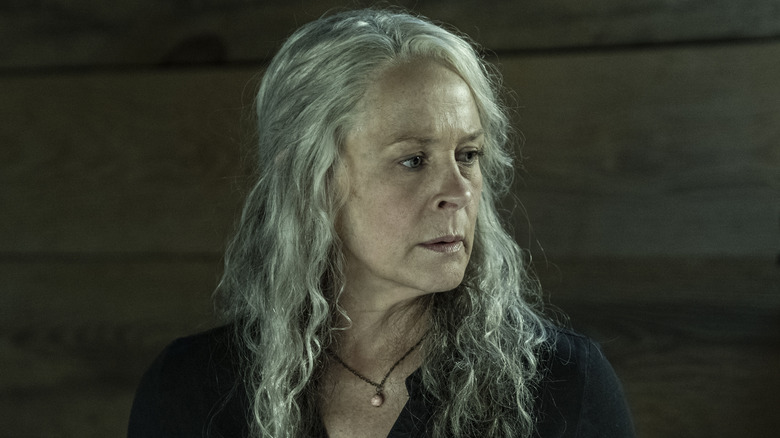 Jace Downs/AMC
Surprisingly, Season 11 received a rather large majority of the vote, with 29.03%. Not exactly an encouraging sign for a show's final season, especially one with a super-sized 24-episode count. Part 3 of Season 11 has yet to air at the time of publication, so there's every chance the last batch of episodes could turn things around for the season. As for the rest of the results, the Negan-heavy (Jeffrey Dean Morgan) Season 7 came next at 17.52%, followed by Season 9 at 16.64%, Season 10 at 15.04%, Season 8 with 12.74% of the vote, and then finally Season 1 at 9.03%.
Season 11 has had to pull a lot of narrative weight, what with trying to wrap up the main storyline while also positioning certain characters to eventually headline their own spin-off shows, including one with Negan and Maggie (Lauren Cohan) titled "Isle of the Dead." Thus far, Season 11 of "The Walking Dead" has been mostly well received by critics, garnering an 83% on Rotten Tomatoes, which is significantly above Season 8's 65%. Regardless, it'll be interesting to see how fans react to the final stretch of the show and perhaps more importantly, the series finale itself. After all, a great ending can oftentimes offset the inconsistencies of the past and at least increase rewatchability for long-time fans.