The Handmaid's Tale Season 5 Teaser Hits Close To Home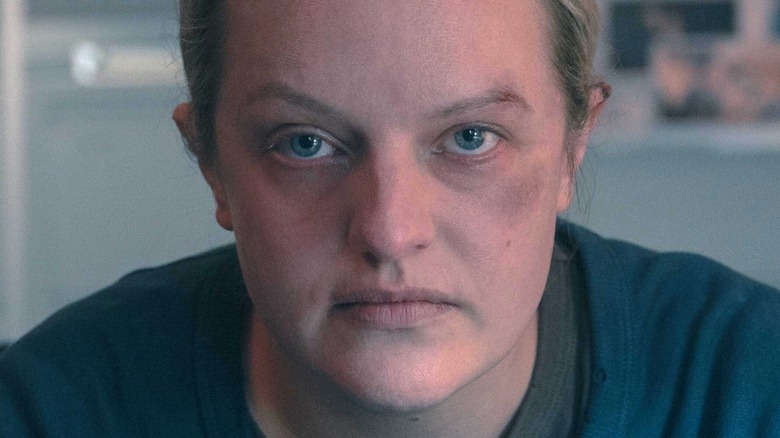 Sophie Giraud/Hulu
Over its existing four seasons, "The Handmaid's Tale" has established a sprawling world far outside the boundaries of its source material. Many think the adaptation of Margaret Atwood's classic dystopian novel could not have come at a better time. Like the book, the show follows June (Elizabeth Moss) as she fights Gilead, the Christian theocracy that has replaced the United States, and which keeps young women like herself as property for breeding stock. 
When Atwood first began writing her novel of the same title, the year was 1984, and Atwood wanted to address what she saw as the pressing political issues of her time. In an essay for LitHub, the author wrote, "Stories about the future always have a what if premise, and 'The Handmaid's Tale' has several. For instance: if you wanted to seize power in the United States, abolish liberal democracy, and set up a dictatorship, how would you go about it?"
However, Atwood's book was a tightly contained narrative. Today, the Hulu adaptation of "The Handmaid's Tale" has shown viewers the full sweep of Gilead's cruelty and created an iconography that frequently spills over into the real world. In 2018, a group of women protested a visit to Philadelphia by then-Vice President Mike Pence by wearing the red-and-white costumes worn by the Handmaids of Gilead. A similar event occurred during Ireland's referendum to overturn a long-standing constitutional ban on abortion (via The Guardian). In fact, the very mention of the show's title has come into vogue as a descriptive term for a patriarchal theocratic dictatorship or any hint thereof.
When last we saw June, she had taken brutal revenge on Commander Fred Waterford (Joseph Fiennes) for his many crimes against her, leaving his wife, Serena (Yvonne Strahovski) a widow. Now, with a new trailer for Season 5, Gilead is gearing up for an all-out war.
June and Serena prepare for a showdown
"I want her to know that it was me," June says in a voiceover during the opening moments of the brand-new teaser trailer for Season 5 of "The Handmaid's Tale." She is, of course, referring to Serena, whose husband Fred she killed along with a group of other handmaids at the end of Season 4. And here, June looks up through her eyebrows with a gleeful Kubrick stare. She's ready for war.
"She can't get to you, so you've got to forget about her," says June's husband, Luke (O-T Fagbenle). But as billboards across downtown Toronto light up with Serena's face, the couple stare up in horror. There's no escaping Gilead, not even once you've made it out alive.
Also present in the trailer is Aunt Lydia, the brutal trainer and primary enforcer of the Handmaids. Ann Dowd is always a treat to behold in the role — with her dripping sadism, Lydia is a contender for the most hateable character on television — but here she seems more fired up than ever as she screams, "Blessed be this day!" Clearly, Gilead is gearing up to take its revenge on June for the damage she's inflicted on the regime. As Sam Jaeger (Mark Tuello) informs us, "A Handmaid killing her Commander? Gilead is not going to let that stand."
The final shots of the trailer show June reaching for a gun tucked in her belt as she spots Serena staring her down, leading June to deliver what may be the defining line of the season: "You want to fight? Let's fight."
The Handmaid's Tale fans think the show 'hits different' in our current political climate
On June 24, the Supreme Court of the United States issued a landmark decision in the case of Dobbs v. Jackson. The result broke with decades of precedent and overturned previous rulings in 1973's Roe v. Wade and 1992's Planned Parenthood v. Casey. Instead of once again affirming a constitutional right to abortion, the decision remanded the issue for individual states to decide. In response, Margaret Atwood tweeted, "When ['The Handmaid's Tale'] came out in 85, there was disbelief. I thought a religious-right takeover was possible in the US, and was Crazy Margaret."
Indeed, fans of "The Handmaid's Tale" think the show takes on a new resonance in our current political climate. On the YouTube video for the teaser, user Nadia wrote, "Handmaid's Tale hits harder after Roe v. Wade has been overturned." Meanwhile, on Twitter, @HonnyDipp noted, "So much has changed in our world since the last season," while @Halcyon270 asked, "Could this arrive at a more opportune moment? The haunting trailer is one sustained cliffhanger and in the fall of 2022, the underlying struggle depicted cuts deep indeed."
Speaking to Entertainment Weekly in the aftermath of "The Handmaid's Tale" Season 4, showrunner Bruce Miller said of Season 5, "It's the American story — can we snap back to normal, or do we have to move on into something new? And that's where June is right now." Miller concluded, "I think it isn't just changing presidents, it isn't just passing one law, like what we're realizing now, but some fights are just a fight you continue to have, a struggle you'll continue to make. The story moving forward is about the long fight, and how do you keep up energy, enthusiasm, sanity, all of those things, while you're trying to fight for something that you may never see the end of?"