Why Anita's New Dress In West Side Story Means More Than You Might Think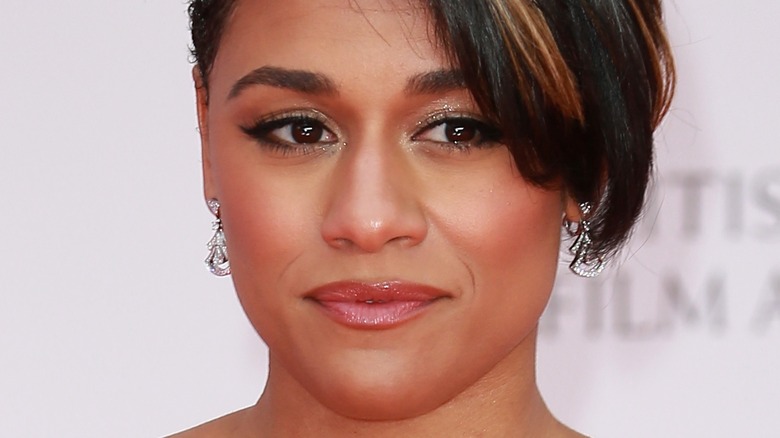 Cubankite/Shutterstock
In 2021, "West Side Story" — an adaptation of the 1957 stage musical of the same name, written by Tony Kushner and directed by Steven Spielberg — was released to theaters. As the first major film adaptation since the acclaimed 1961 film, directed by Robert Wise and Jerome Robbins and written by Ernest Lehman, the 2021 version had big shoes to fill. Luckily for musical theater fans, the new film delivered was well-received among critics and fans (via Rotten Tomatoes).
The 2021 film made some noticeable changes to the 1961 version, including some much-needed updates in casting Latinx actors to play the Puerto Rican characters (almost all of the Sharks in the previous film were white actors in brown face). Spielberg's film also differentiates itself from its predecessor by changing key details, such as the costumes. And one of the new costumes, the dress that Anita (Ariana DeBose) wears during "America," has more significance than you might think.
Costume designer Paul Tazewell used color to represent Anita's character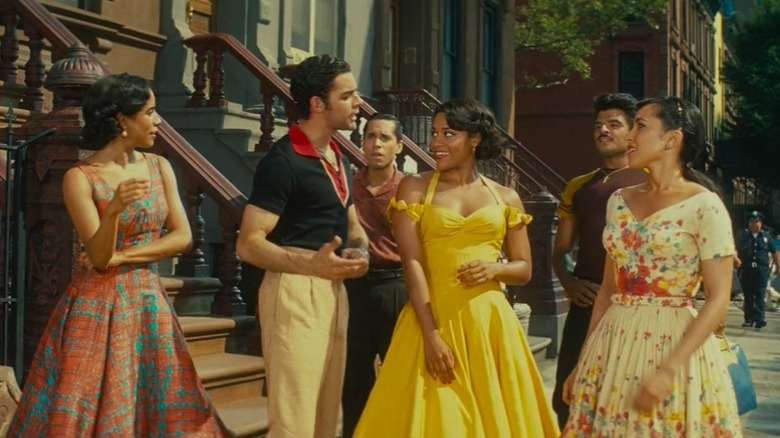 20th Century Studios
At an awards season panel in March 2022, "West Side Story" costume designer Paul Tazewell discussed Anita's costume for her dance number, "America": a vibrant yellow dress with red layers underneath. Tazewell explained that he wanted it to be reminiscent of the dress that Rita Moreno wore as Anita in the 1961 film, but that also had its own uniqueness (via TheWrap). Tazewell said, "There was a great love for the purple dress Rita Moreno wears in the original film. And my task was to create a design that would hold that same kind of energy, and that would live in the same way in people's minds on Ariana DeBose as Anita."
Eventually, after presenting three color schemes to Spielberg, Tazewell found the one that best fit Anita. The costume designer said, "It's become the yellow dress with the red petticoat, the red being, her life force and energy, as well as the yellow. She is the center, you know, and a metaphor for the sun. You know that everything is swirling around Anita."
DeBose loved embodying Anita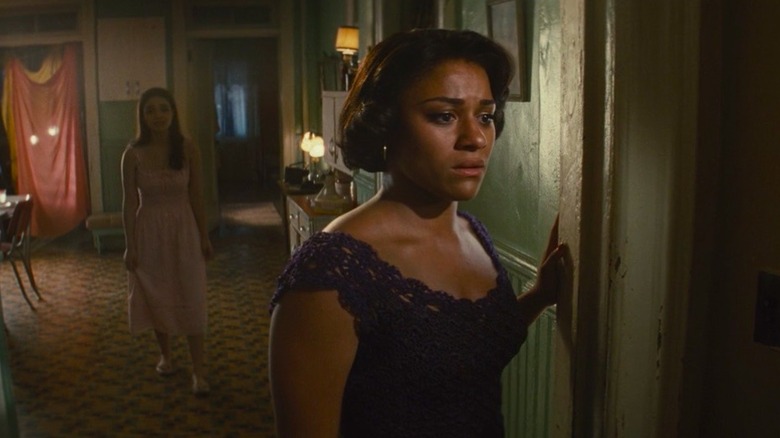 20th Century Studios
While doing press for "West Side Story," Ariana DeBose got to talk extensively about how grateful she is for the opportunity to play Anita. In a March 2022 interview with Deadline, DeBose revealed that she was obsessed with the character of Anita while growing up. First, she saw Rita Moreno's portrayal in the 1961 film — which led to Moreno being the first Latina to win an Oscar — then she learned about Chita Rivera, the first woman to play Anita on stage. DeBose said, "And since [Anita is] what I was training to become, Chita was very much like a star in my universe that I was trying to reach, and then over here is Rita Moreno, doing the film thing, and I was like, what happens if I could meet in the middle?"
When Deadline writer Stevie Wong asked DeBose what steps she took to embody Anita, DeBose had difficulty putting it into words. She said, "I just chose to let her live in me. When I read Tony's script, she just jumped out to me and sat on my chest."
But, before DeBose agreed to take on the role of Anita, she made sure that her true identity would be reflected on screen because DeBose is not only Puerto Rican but also Black. In December of 2021, DeBose told Vogue, "[One thing Spielberg] asked me in that audition was, 'Is there anything else we need to know about you?' I said, 'Yeah, I'm an Afro-Latina. I'm a Black woman. If you're not interested in talking about that in your film set in the '50s, you shouldn't hire me.'"
Luckily, Spielberg did hire her and subsequently included references to Anita being Afro-Latina.