New Look At Pinhead In Hellraiser: Judgment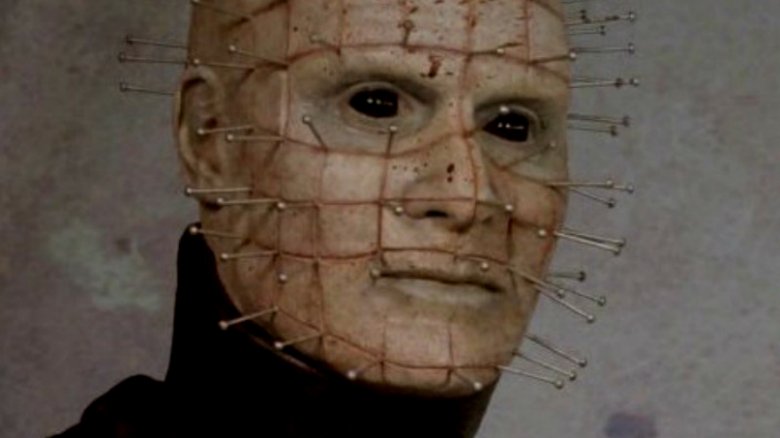 Dimension Films
Although it seems like Hellraiser: Judgment has been in development forever, there's new proof that the movie really does exist.
The Gore Gab podcast released an image (below) of the new Pinhead, played by Paul T. Taylor, and it's among the best looks yet at the revamped horror icon. Doug Bradley played the character in the first eight films, and Stephan Smith Collins portrayed him in 2011's Hellraiser: Revelations.
Written and directed by Hellraiser veteran Gary J. Tunnicliffe, Judgment also stars Heather Langenkamp (A Nightmare on Elm Street), Damon Carney (The Lone Ranger), Randy Wayne (The Dukes of Hazzard: The Beginning), Alexandra Harris (The Veil), and Rheagan Wallace (Malcolm in the Middle).
The movie centers on detectives Sean Carter (Carney) and David Carter (Wayne), who are trying to find a morbid serial killer on the loose. They team with Detective Christine Egerton (Harris) and find themselves inside an otherworldly maze of horror. Of course, it all has something to do with Pinhead, leader of the Cenobites who are mutilated humans from Hell that serve the Order of the Gash. They offer sadomasochistic pleasures to anyone who can solve the puzzle known as the Lament Configuration.
There's still no release date for Hellraiser: Judgment, but we'll keep you posted.
New photo of Pinhead as played by Paul T. Taylor! @PromoteHorror #promotehorror @DreadCentral #HorrorOctober #horrornews pic.twitter.com/NMkSN1InL7

— Gore Gab (@GoreGabPodcast) October 25, 2017