Aaron Paul's Favorite Episode Of Breaking Bad Is An All-Time Classic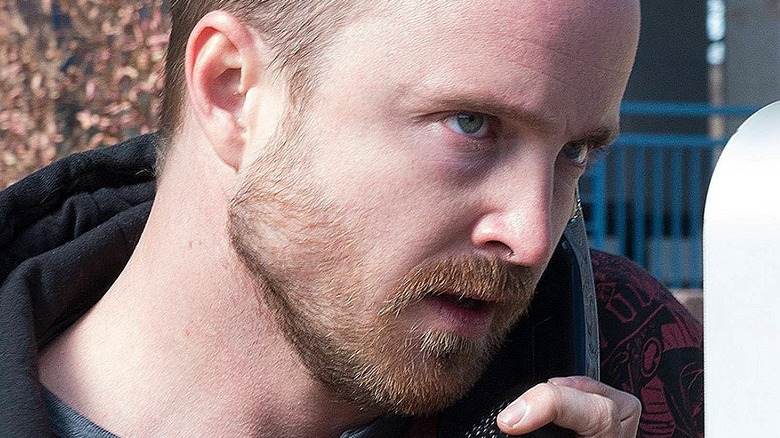 Ursula Coyote/AMC
Over the course of five rich seasons, AMC's "Breaking Bad" introduced viewers to a full roster of well-written characters. While teacher-turned-kingpin Walter White (Bryan Cranston) is the central point of focus in the series, the story would ultimately be crippled without the show's golden-hearted criminal, Jesse Pinkman (Aaron Paul). Although Jesse's journey in the show began as Walter's assistant in the meth business, his story arc grew stronger every season. 
As the story progressed, Jesse quickly became one of the show's most-praised characters, earning the actor who played him a total of five Emmy nominations by the time the series concluded. The sequel film "El Camino", which focuses on the conclusion of Jesse's story, saw Paul reprise his role alongside other "Breaking Bad" alum, and it was also a major hit among fans (via Rotten Tomatoes).
After all this time, some fans may not realize how close "Breaking Bad" came to killing Jesse off during Season 1. According to creator Vince Gilligan, a combination of Paul's impressive performance and a conveniently timed writer's strike gave the character a very worthwhile reprieve (via Paley Center for Media). In a 2019 interview with the UK-based news outlet Independent, Paul talked about how he came to be a part of the series, and he took the opportunity to detail both his favorite moment and his favorite episode from the series.
Aaron Paul's favorite episode came in Season 2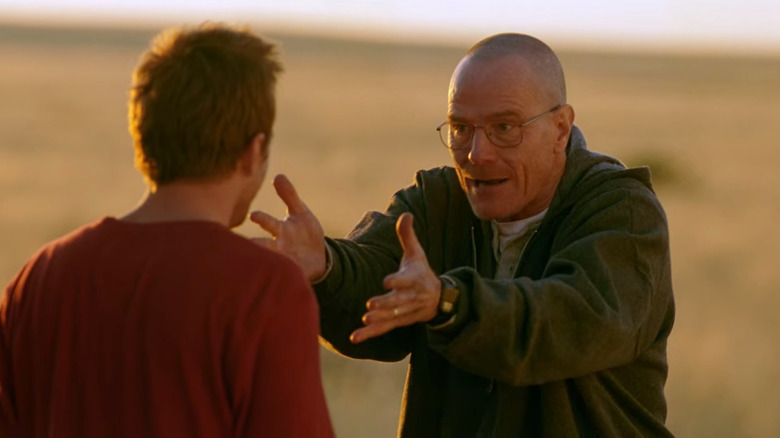 AMC
In the interview, Aaron Paul chose Season 2, Episode 9 ("Four Days Out") as his favorite episode of the series. The classic episode shows the essence of the Walt-Jesse relationship where they are often fed up with each other and yet try to stick together through a difficult situation. The episode sees Walt and Jesse drive their RV into the middle of nowhere to cook meth for four days straight. However, things quickly start to go south when the battery of the RV dies, stranding the duo in the New Mexican desert. The episode presents some intensely dramatic moments as well as some slapstick comic bits, exploring the dynamic between Walt and Jesse in a high-tension situation. As Paul put it in the interview, "Just acting with Bryan — it felt like a two-man play."
Interestingly, Paul's favorite moment from "Breaking Bad" is not from the aforementioned episode, but an iconic one from Season 5, Episode 6 ("Buyout"), where Walt, Jesse, and Skyler share an uncomfortably tense and awkward dinner. Jesse tries to ease the tension by complimenting the food, only to find out it's actually from a deli. Skyler makes things even more awkward by openly mentioning her affair with Ted Beneke (Christopher Cousins) in Jesse's presence. "That was so much fun to shoot and every time when they yelled "Cut", all three of us would just start laughing, because it was so uncomfortable," Paul recollected. "Skyler pouring nearly a bottle of wine into her glass and asking if Walt had told her about their affair. Jesse using his water glass almost like a security blanket, hiding behind it."
Aaron Paul is still open to playing Jesse Pinkman again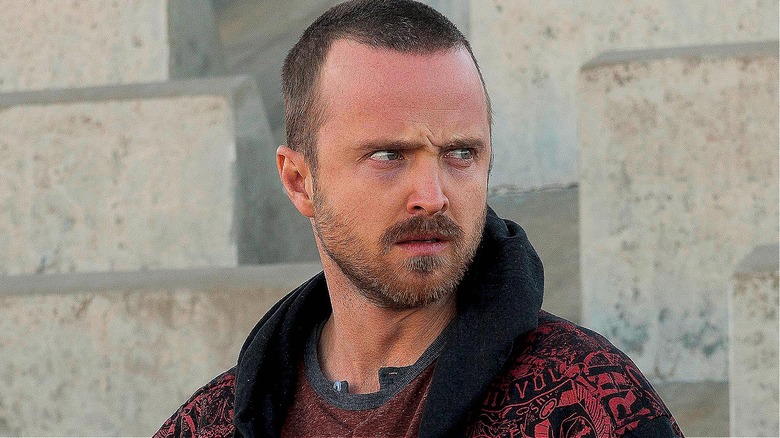 Ursula Coyote/AMC
In the years since "Breaking Bad" finished airing, Aaron Paul has appeared in a number of other high-profile projects, including HBO's "Westworld." However, to many TV viewers, Paul's role in the AMC series is the one for which he'll always be best remembered. Luckily, it doesn't appear likely that Paul will ever tire of reprising his iconic role. Paul once again played Jesse Pinkman in the 2019 Netflix movie "El Camino," and according to him, he'll continue to play the part as long as he is invited back. 
In his interview with the Independent, right before the release of "El Camino," the actor said,  "I would follow Vince [Gilligan] anywhere. When he approached me on this, there was zero hesitation. I know I was a part of Breaking Bad, but I'm such a huge fan of that show. It's good to be proud of your work, but it wasn't because I was in it; it was just such a beautiful show on all cylinders."
Based on history since then, it looks like Jesse Pinkman fans who also watch "Better Call Saul" are sure to be pleased soon. In April 2022, "Better Call Saul" co-creator Peter Gould officially confirmed that Paul will reprise his role alongside Bryan Cranston in the final season of the "Breaking Bad" spin-off (via Variety). In fact, co-creator Vince Gilligan told Variety, "It would be a damn shame if the show ended without [Cranston and Paul] appearing, would it not?"